Greater Palm Springs has long been a destination to relax by the pool with a cocktail, but the oasis is also home to a number of incredible nature photo ops—if you know where to look. Whether you're shooting roadside or willing to hike a few miles, you'll find everything from mountain views to wildflowers, and a variety of options for both early risers and sunset chasers.
Mount San Jacinto (Palm Springs)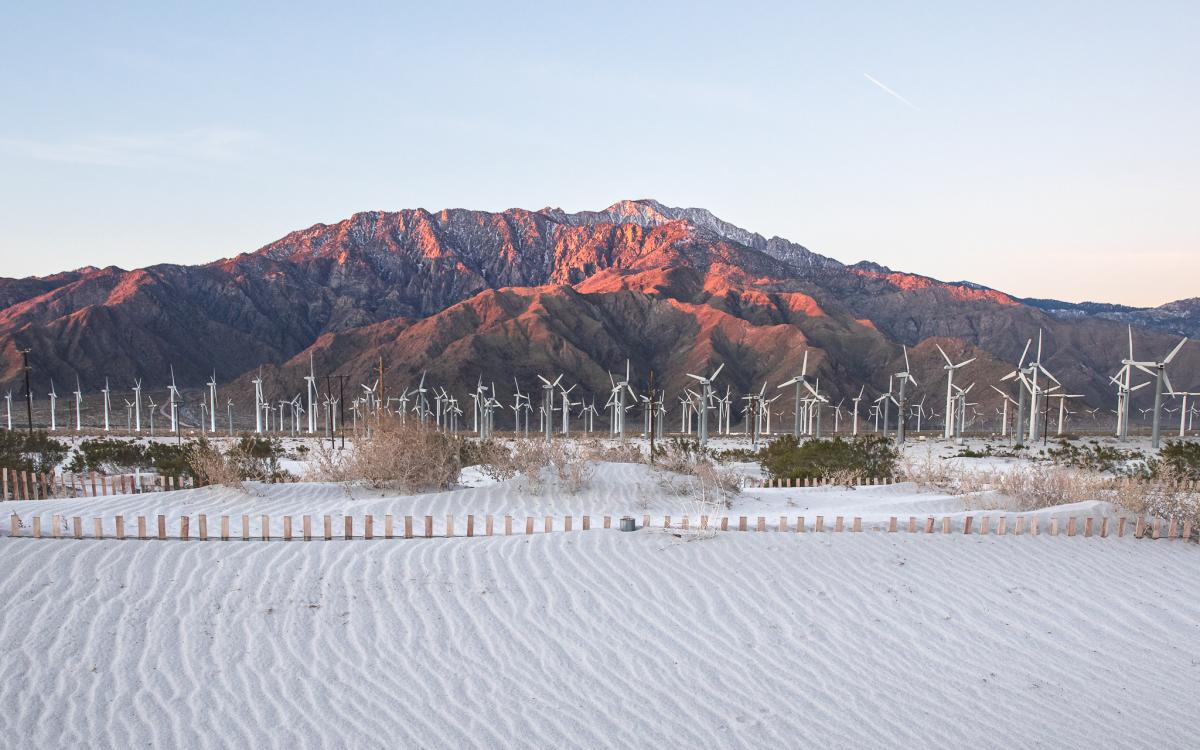 The wind turbines in San Gorgonio Pass have become iconic structures on the road to Palm Springs. Thousands of these green energy machines dot the desert landscape along Interstate 10, and when you add constantly shifting sand dunes to the mix, it's a unique way to shoot Mount San Jacinto (pictured above at sunrise). The best views of "San J" are along Indian Canyon Drive in Palm Springs, though you'll see the impressive 10,834-foot peak from almost every corner of the valley, with or without windmills.
San Gorgonio Mountain (Palm Desert to Desert Hot Springs)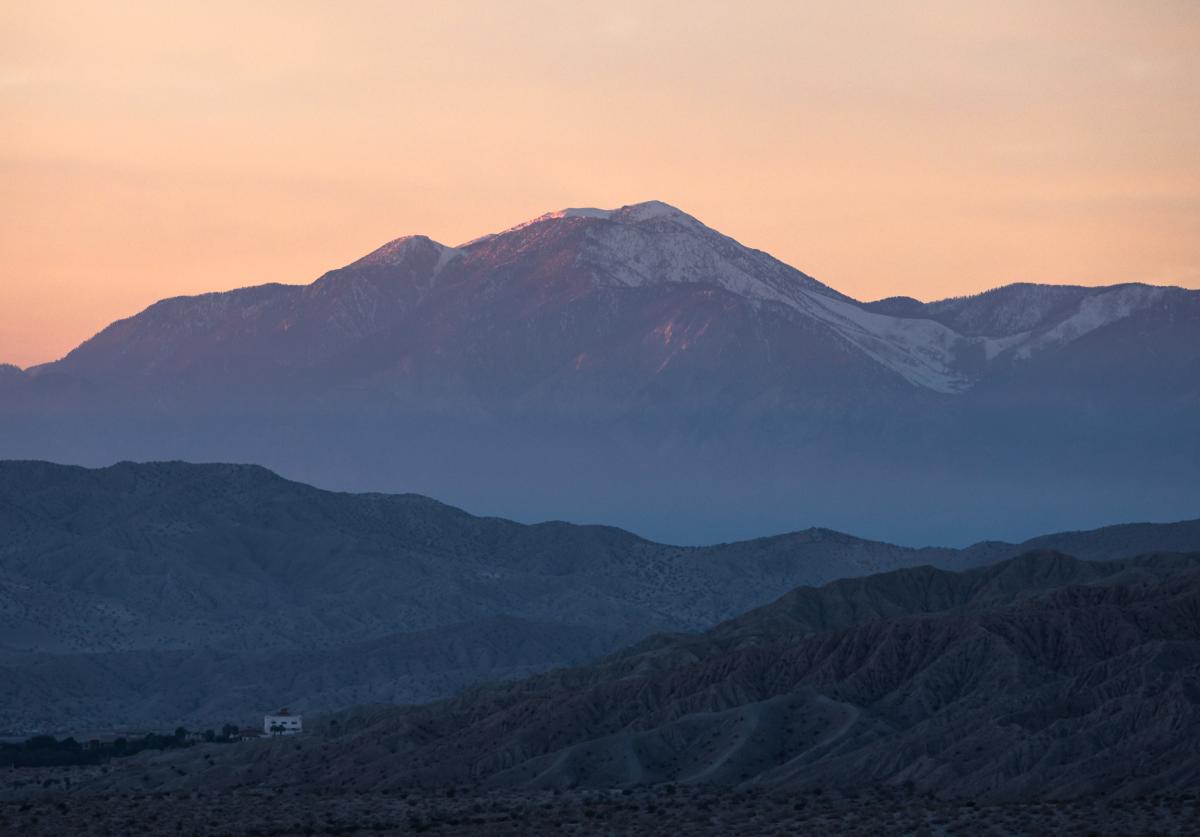 Mount San Jacinto tends to get the most attention as it's accessible via the Palm Springs Aerial Tramway, but the more distant San Gorgonio Mountain generally has a much heavier snowpack, making it just as appealing to photographers. When shot from the southwest, "San G" lights up at sunrise, but it also gets a touch of alpenglow in the evening (pictured above). The peak is best viewed from the north side of Interstate 10, and from the Coachella Valley Preserve in Palm Desert to Dillion Road in Desert Hot Springs, there are plenty of different angles of this hulking 11,503-foot mountain.
Tahquitz Falls (Palm Springs)

It's not always flowing, but if you're lucky enough to visit after a rainstorm, the 60-foot Tahquitz Falls is quite the spectacle. Tahquitz Canyon sits on the west side of Palm Springs on the Agua Caliente Band of Cahuilla Indians reservation, and the trail is a total of two miles with approximately 350 feet of elevation gain. To catch the best lighting, this spot is best shot in the late afternoon, but please note that hikers are not allowed to start the trail later than 3:30 p.m. Day use passes are $12.50 for adults and $6 for children, and Tahquitz Canyon is open from 7:30 a.m. to 5 p.m.
Lake Cahuilla Veterans Regional Park (La Quinta)

This man-made lake in La Quinta offers camping and fishing, and in addition to stunning views, it's a wonderful place to photograph pelicans and egrets, among other avian species. Set up on the east side of the lake to shoot the mountains reflecting on the aqua water, and this is definitely a sunrise spot. Day use passes are $6 for adults and $3 for children.
The Palm Oases at Indian Canyons (Palm Springs)

For those interested in walking through the world's largest California fan palm oasis, the aptly named Palm Canyon Trail in Indian Canyons is the best spot in town, though Andreas Canyon (pictured above) is an even easier trek in the nature preserve with the same stunning scenery. Visitors must pay a daily admission fee ($9 for adults, $5 for children), and hours are 8 a.m. to 5 p.m., with the last vehicles allowed in at 4 p.m.
San Jacinto Mountains (Indio to Desert Hot Springs)

Whether you are standing on the summit of Mount San Jacinto or enjoying a view of the San Jacinto Range, these peaks are easily one of the top natural wonders in Greater Palm Springs. "San J" glows pink at sunrise, but for those who love layers, the foothills at golden hour are truly a sight to behold. Get up close and personal with the hills in La Quinta, or shoot them from a distance in the northeast end of Indio, at the end of Monroe Street.
Wildflowers (Desert Hot Springs, Palm Desert and La Quinta)

Fall and winter precipitation events can cause super blooms, but even without a record amount of rainfall, the oasis has plenty of spots for wildflower aficionados. Dillon Road in Desert Hot Springs is often surrounded by desert sunflowers and sand verbena in the early spring, and both the Coachella Valley Preserve and the La Quinta Cove to Lake Trail can reward hikers with a peek at ghost and desert fivespot flowers. When admiring and photographing these blooms, please remember to follow Leave No Trace principles, which include leaving what you find and staying on established trails.
Explore the outdoors in Greater Palm Springs— Park, relax and enjoy nature at any of these epic car camping spots in the oasis.