Following an electric run to the Calder Cup championship finals in their inaugural campaign, the Coachella Valley Firebirds return for their much-anticipated sophomore season. And the defending Western Conference Championship squad looks to again ignite some fire on desert ice in the heart of Greater Palm Springs.
The Firebirds, an American Hockey League (AHL) affiliate of the NHL's Seattle Kraken, endured an exciting start to their franchise history in 2022-23. While awaiting the completion of their Acrisure Arena home ice, the team played their first 22 games on the road, finally making their home debut just before the new year.
For the 2023-24 season, the Firebirds will enjoy a balanced mix of home and away games across the team's 72-game schedule. Here's a preview of what to expect:
A Fiery Flock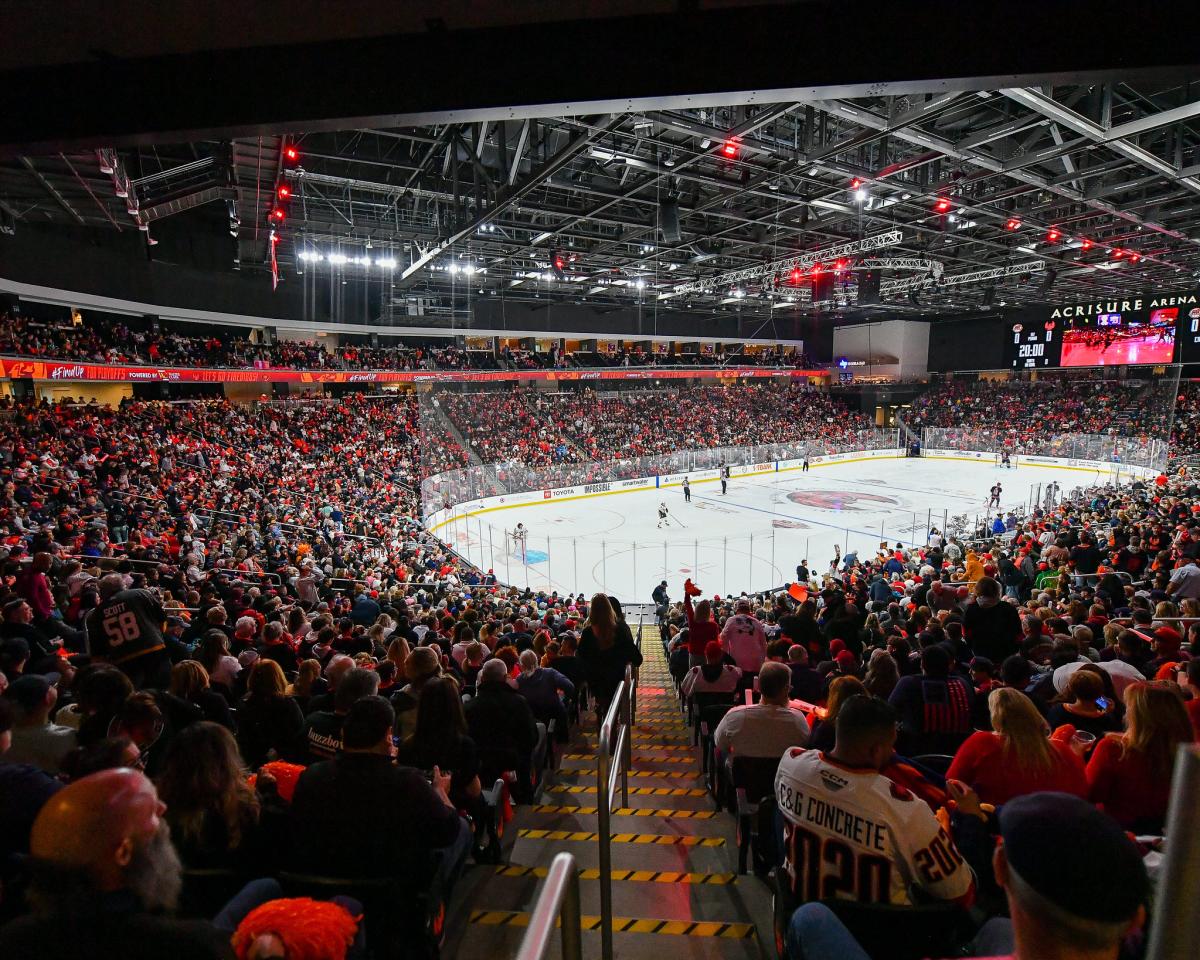 (Image courtesy of the Coachella Valley Firebirds)
With their run to the finals as the first-ever full-time pro sporting franchise in Greater Palm Springs, the Firebirds captured the enthusiasm of not only the community but also the hockey world beyond.
Ignited by 48-17-5-2 record in the record season (including a league-best .764-win percentage on their home ice), their style of play — fast, skill-based, and proactive — proved a perfect fit for the new, burgeoning fan base, with the squad's high-flying 257 goals scored charting third-best in the AHL. The regular season success prefaced a compelling postseason run, which concluded with an overtime Game 7 home loss to the Hershey Bears in the final chapter of the Calder Cup finals.
All told, the inaugural season of the Firebirds hockey spanned an AHL-record 98 games, lasting until the Summer Solstice, and the postseason run included the accolade of setting a new league record for playoff ticket sales.
And the Firebirds appear well-winged to meet the high expectations set in their debut year. Returning to the franchise is the team's full complement of coaches; led by head coach Dan Bylsma, the Firebirds' frontman is surely aiming to add to a career mantle that included a Stanley Cup win as head coach of the Pittsburgh Penguins in 2008-09 and an ensuing accolade as the NHL's "Coach of the Year" two years later.
On ice, in contrast to most minor league teams, the 2023-2024 version of the Firebirds looks to offer a host of familiar faces returning to Acrisure Arena. While popular netminder Joey Daccord (of the "Jo-ey! Jo-ey!" chants) signed a new, two-year $2.4 million contract with parent club Seattle and will likely serve as the Kraken's backup goalie this year, fans should keep an eye between the pipes on Jack LaFontaine, whom the Firebirds signed in August.
As the opening-day roster continues to take shape, the team looks to welcome back several defensive and frontline standouts who starred for the Firebirds last season.
Leading scorer and team captain Max McCormick (67 points) remains on contract with the organization as does top goal scorer (30) forward Kole Lind alongside speedster Cameron Hughes (56 points). Two-time league scoring champion Andrew Poturalski is also under contract with the Kraken, as well as standouts Ville Petman, John Hayden, and Jimmy Schuldt. Additionally, AHL Rookie of the Year Tye Kartye and rising stars Ryker Evans and Shane Wright all could potentially see some time in a Firebirds' jersey this year.
Among newcomers, off-season signee Marian Studenic comes to the franchise fresh off a 48-point season for the AHL's Texas Stars.
Arena Schedule, Tickets, and Theme Nights
Along with a regular slate of concerts, shows, events, and other sporting endeavors, Acrisure Arena in Palm Desert seats about 10,000 hockey fans and will play host to 36 home games this season (and, hopefully, another run of playoff contests!). 
The calendar kicked off with preseason home games on October 6 and October 8. The season begins in earnest with the team's home opener on Friday, October 13 vs. the Bakersfield Condors and lasts until the final regular season game on Sunday, April 21.
Per month, the team's home game count includes October (three home games), November (five), December (six), January (six), February (seven), March (three), and April (six).
For a full game calendar, please see the team's official game schedule, and for arena theme nights — including Dia De Los Muertos (October 31), Ugly Sweater and Teddy Bear Toss (Dec. 23), Pride Night (January 31), and Military Appreciation (March 23) — please skate on over to the Firebirds' full lineup of promotional evenings.
Tickets to attend Firebirds' games come in a full array of opportunities (nine different seating/price options in all) and may be purchased on the team's official website and mobile app (the app also proves a fine way to grab tickets for all events at Acrisure Arena).
Fans seeking to attend hockey games can choose between single-game tickets, full-season plans, half-season tickets, groups, and flex plans. Options for seating include suite, premium, and club level.
For parking, Acrisure has zones dedicated for both ride-share apps and a drop-off area; for guests wanting to drive themselves, it's highly advised to pre-pay for parking by using the Firebirds' mobile app.
The Berger Foundation Iceplex

(Image courtesy of the Coachella Valley Firebirds)
Just as the Firebirds' success has sparked a skating interest across Greater Palm Springs, the arena's on-site Berger Foundation Iceplex rink has also proved a community boon.
Since its debut, the 36,000-square-foot Iceplex — which features NHL-quality ice, mezzanine space, off-ice seating, locker rooms, and concessions — has graduated to a full calendar of blade opportunities for all ages and levels of skaters.
Open seven days a week and available for parties, events, meetings, and hourly rentals, the Iceplex has further achieved the nod as the "Coolest Place in the Desert" with a full daily complement and calendar of games, instruction, and skating fun.
The calendar includes: all-ages public skates, figure skating, pick-up hockey (for multiple age ranges), goalie pick-up hockey, women-only hockey scrimmages, adult public skating, and stick & puck pick-up hockey.
In addition, the Iceplex features a host of hockey leagues, ranging from adult hockey (A, B, and C level leagues) to the Firebirds' Youth Rec League and the Junior Firebirds.  
Check out the rink's full event calendar for a monthly breakdown of Berger Foundation Iceplex activities, including times and pricing. Want to know about more entertainment in Greater Palm Springs? Check out our complete list of upcoming events happening this month.