Whether you stand on two legs or four, there's no better way to enjoy your time in Greater Palm Springs than by going outside to soak up the sunshine and picturesque skylines this Southern California oasis has to offer. Once your pup is ready to romp, take them over to the dog park, they are bound to get some of those 'zoomies' out. 
 
Freedom Park

A popular hotspot for dogs and pet parents alike, Freedom Park in Palm Desert offers nearly 3-acres of grassy and partially shaded land for your puppies to run free on! Split between two enclosed areas, one for small dogs under 30 lbs. and the other for the larger dogs, dogs can play fetch and make friends with the others. To make sure your dog doesn't get overheated, there are plenty of drinking stations throughout the gated area, as well as misters that cool everyone off. For the owners, there are benches so you can enjoy all of the happy dogs. Dogs are allowed to adventure through the park with you, as long as they stay on leash at all times when outside of the specified area. To keep the park clean, there are stations with bags for you to use when picking up after your dog. 
Info: 77400 Country Club Drive, Palm Desert
 
University Dog Park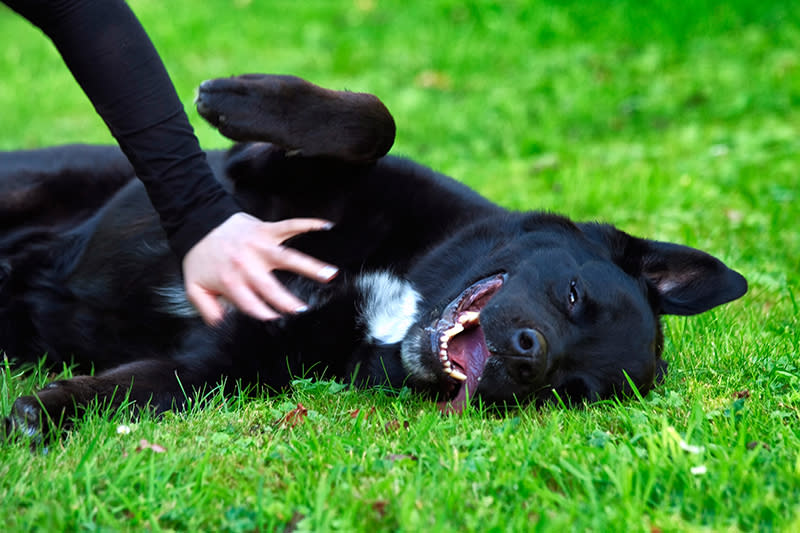 University Village Park in Palm Desert is perfect for pets and owners looking to meet other dog lovers during their stay.  Dogs can frolic through the small- or large-dog sections of this 2.5-acre dog park, complete with grass, water fountains and doggy bags. Benches, both covered and uncovered, let you relax with fellow owners while your furry friends enjoy a playful afternoon. Though parking spaces are limited, there is ample street parking available.
Info: 74802 University Park Drive, Palm Desert
Civic Center Dog Park 
The Palm Desert Civic Center is one of the most popular parks in Greater Palm Springs, not to mention the largest in Palm Desert. The dog park includes two off-leash areas for small and large dogs, where dog parents can hang out on the benches while pups chase after balls, roll around on the grass, and make new furry friends. Afterward, put the leash back on to explore everything else this 72-acre park has to offer.
Info: 43900 San Pablo Ave, Palm Desert
 
Mulligan Dog Park 
Need to make a pit stop for your pup? It's hard to beat the location of Mulligan Dog Park, located right off the I-10 freeway in Indio. This park is perfect for those dogs who just want to run all of their energy out. With ample room, grass, shade and benches for the owners to sit on, this is like a dog's haven. To make it more convenient, the park provides you with doggy bags and water stations to keep your friend hydrated.
Info: 45353 Van Buren Street, Indio
 
Station 87 Dog Park
Another dog park gem in Indio is Station 87 Dog Park, where you and your doggy can find 2 fenced-in play areas, that separate the smaller and bigger dogs. The park provides treed and covered benches for shade, solar lights for those who enjoy evening outings, water stations to keep everyone hydrated, and expansive turf areas. 
Info: 42900 1/2 Golf Center Parkway, Indio
 
Pioneer Park
Your puppy is going to feel lucky when you take them to Pioneer Park in La Quinta. The park offers two large enclosed compounds where dogs roam free off-leash, running around on the grass and chasing you or their new friends. There are water stations and waste stations, to make cleaning up easy on you. You can also find benches and pavilions to sit under while your dog enjoys playtime. 
Info: Seeley Drive, La Quinta
 
Palm Springs Dog Park
Your pup will fall in love with Greater Palm Springs at the Palm Springs Dog Park, offering 1.6 acres of fenced-in rolling grass for four-legged friends to enjoy. Let your dog off their leash to explore the small or large dog area. Fountains keep you and your friend hydrated while they are running across the large park and fire hydrants are a cheeky touch to make your pup feel at home. There are benches and picnic tables for the owners to relax on while enjoying shaded areas or, if you are a night owl, lights that are solar-powered. 
Info: 3200 E Tahquitz Canyon Way, Palm Springs
For more resources, check out the dog-friendly Greater Palm Springs page.
If your dog is your best hiking buddy, you won't want to miss these trails.
Read More
Need reservations for your furry friend? These local restaurants have you—and your pooch—covered.
Read More