Greater Palm Springs has long been a chosen destination for filmmakers looking to capitalize on the beauty of the desert and its distinctive landmarks, properties and visitor haunts. It's not unusual for visitors to catch a glimpse of larger than life personalities strolling Palm Canyon Drive on hiatus from daylong movie shoots, or perhaps to spot Leonardo DiCaprio sipping a cappuccino while visiting his Palm Springs home. We've put together a guide of some notable productions that have taken place in the last decade in the area so that you can take a walk in one of your favorite celebrity's shoes.
Mission: Impossible III (2006)
In Mission: Impossible III, Tom Cruise gets embroiled in a helicopter chase over the San Gorgonio-area wind farms. Visitors to the area can take a bus tour of the windmills, which are lovingly called "Desert Highrises," with Palm Springs Windmill Tours. For 90 minutes, you can learn why the San Gorgonio Pass is considered to be the best place for sustainable wind energy development; discover the various parts involved in making this all happen while walking through an outdoor display; and tour an outdoor exhibit of various windmills that have been installed over the last 35 years.
Hell's Kitchen (2014)
During Season 13 of rambunctious master chef Gordon Ramsay's show, Hell's Kitchen, finalists were regaled with a ride on the Palm Springs Aerial Tramway. You, too, can buy a ticket to ride, ascending two and a half miles in the rotating car high above the valley floor to another world of pristine wilderness. Have lunch at the top before embarking on a hike to the peak of Mt. San Jacinto. During snow season, you can explore the area via cross-country skiing or snowshoeing.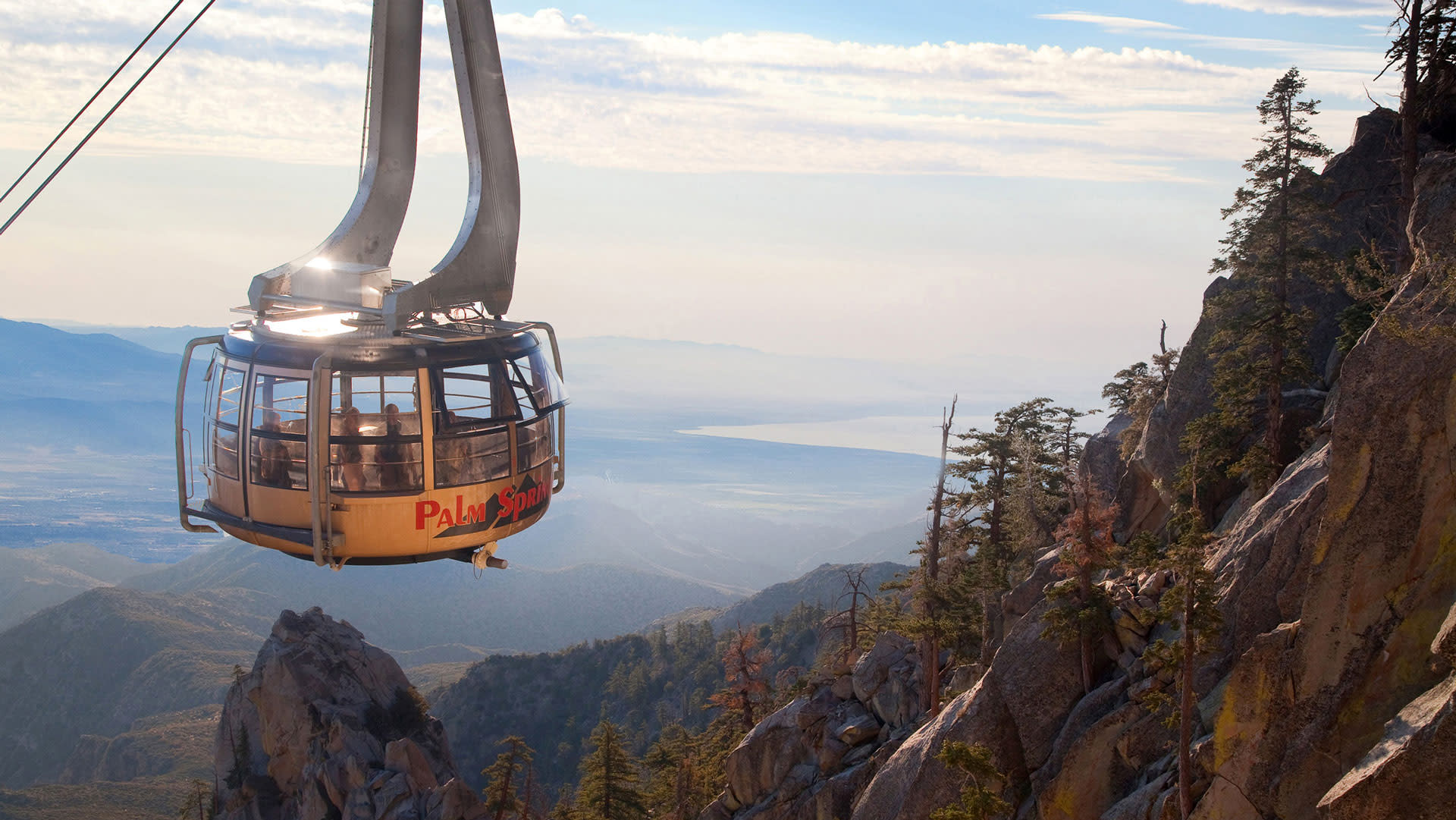 Behind the Candelabra (2012)
In Behind the Candelabra, a chronicle of the six-year romance between the King of Kitsch Liberace and his lover Scott Thorson, stars Matt Damon and Michael Douglas played out this drama between two Palm Springs homes.One of the properties is at 701 W. Panorama Road in Vista Las Palmas; grab a map of the area and put on your walking shoes to visit the site along with other gorgeous homes en route, including many midcentury modern gems.
Better yet, why not book your stay in the second home? Casa de Monte Vista is nestled in the historic Old Las Palmas neighborhood of Palm Springs, one of the original homes built in the late 1920s. Frequented by some of the most legendary luminaries from Hollywood, this Old Spanish estate was owned by Robert Stack in the 1950s. The property is gorgeous, walled and gated, complete with a "caterer ready" full kitchen, covered patio for dancing, guest casitas, organic herb and vegetable garden, solar powered saltwater pool, palatial grounds, lush landscaping and spectacular mountain views. During your stay here, roam the rest of the Old Las Palmas neighborhood where you can also catch a glimpse of the house at 999 N. Patencio Road where bits of Ocean's Eleven (2001) were filmed. You can also see Liberace's real Palm Springs home and other famous residences on a Palm Springs Celebrity Grand Tour.
Scenes from the film were also shot at Palm Springs City Hall located at 3200 E. Tahquitz Canyon Way. The Albert Frey designed midcentury modern landmark is a must see for architecture buffs, featuring a modern screen wall and metal tubing arranged in columns to showcase the shadows of the rising and setting sun.
Zoey to The Max (2015)
Scenes for the Home Alone-esque movie Zoey to the Max were shot at Palm Springs' Frances Stevens Park, centrally located between Downtown and Uptown Palm Springs at the corner of Palm Canyon Dr. and Indian Canyon Dr. This sprawling green space and playground is a great spot for a romantic picnic, a mid-vacation game of basketball or a bout of morning yoga in one of the area's oldest neighborhoods.
VillageFest, which also appeared, occurs every Thursday night in Downtown Palm Springs. The street is closed off so that pedestrians can enjoy a stroll among the many vendors selling everything from caramel corn and fresh local produce to artisan crafts and more.
Little Loopers (2015)
In the family sports comedy (think Bad News Bears) Little Loopers, a former golf pro must do community service by teaching teenagers to play golf. Take a few morning swings on the same greens at Tahquitz Creek Golf Course, one of Palm Springs' premiere public golf resorts. It's two championship golf courses are conveniently located within minutes of the Palm Springs International Airport.
Christmas in Palm Springs (2014)
Two kids try to reunite their separated parents in Christmas in Palm Springs, where their parents' business trips take them to a variety of Palm Springs hot spots. One such hot spot? The Palm Springs Art Museum, designed by renowned architect E. Stewart Williams and located in the heart of downtown Palm Springs. Spread over 150,000 square feet, the museum boasts major collections of modern and contemporary art, glass, photography, architecture and design and Native American and Western art. It has two outdoor sculpture gardens, a café featuring American and Continental cuisine and a museum store that includes one-of-a-kind gifts and art-related merchandise.
Book your stay in the oasis at the colorful Saguaro Hotel which features pool, mountain, garden, courtyard or city-lights view rooms. The onsite cantina is famous for its taco Tuesdays and sangria margaritas. Daily yoga classes are offered as well as cruiser bike rentals for nearby downtown jaunts. Or relax poolside and drink boozy frozen drinks with a great view of Mt. San Jacinto.
Stop by the patio at Georgie's Alibi Azul for a festive happy hour in the historic 1934 General Telephone Company building. The two-story establishment also features dinner and various forms of live entertainment including renowned drag queen shows and cabaret acts.
Palm Swings (2016)
Two popular Greater Palm Springs restaurants appear in Palm Swings, a comedy/drama about a young couple whose marriage is tested when they discover their neighbors are swingers. Purple Room Supper Club is a fun, intimate space that was known as a hangout for the original Rat Pack back in the days when it was part of Club Trinidad Resort. Today, it offers a great 3-course purple prix fixe menu alongside classic American upscale fare and regular entertainment. It is also known for frequent celebrity sightings. Trio, located in an historic midcentury building in the sophisticated Uptown Design District, is a lively restaurant with a menu that offers Midwestern comfort food with a California contemporary feel. Think Yankee pot roast, braised lamb shank and roasted baby beet salad washed down with funky, creative cocktails from the always-booming bar.
Housewives of Beverly Hills
The Housewives of Beverly Hills simply can't get enough of Palm Springs. Lisa Vanderpump was coined "Queen of the White Party" in 2012 for her work helping to raise awareness for LGBT rights in general and in the Palm Springs community. She has been an avid supporter of Desert AIDS Project and even launched her book tour for Simply Divine in Downtown Palm Springs. She received a star on the Palm Springs Walk of Stars and when the City learned she was to be honored, they rolled out the pink carpet for her. A map of all the stars and their locations can be found online making for a fun afternoon trek to discover them all.
In 2016, when fellow star Erika Jayne was named "Queen of the White Party," the ribbon cutting ceremony took place at Lulu California Bistro. The popular restaurant features an airy, vast ambiance, creative California cuisine with gluten free and vegetarian options and a vibrant bar scene right in the heart of downtown.
Top Chef (2016)
On the manicured lawn of Colony 29 in Palm Springs, Top Chef hostess Padma Lakshmi ministered marriage to 25 couples during an episode where finalists were asked to cater the grand event. With six acres of botanical gardens and beautiful backdrops painted by the San Jacinto Moutnains and Indian Canyons, Colony 29 is one of many great places to get married in Greater Palm Springs.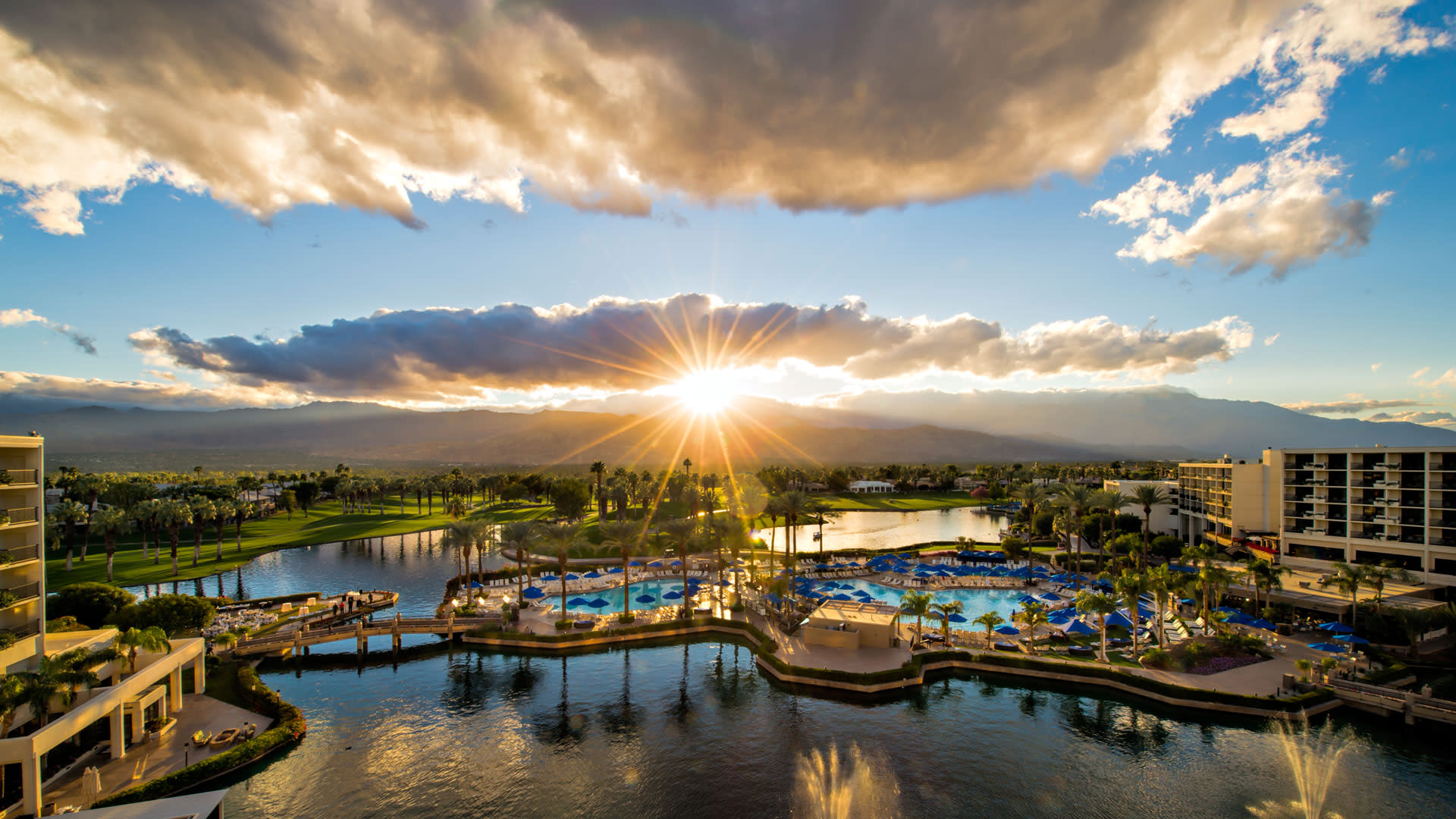 7 Days in Hell (2015)
The made-for-TV tennis mockumentary 7 Days in Hell filmed many of its segments at the JW Marriott Desert Springs Resort and Spa in Palm Desert. The luxurious resort is a great place to stay boasting one of the top-ranked tennis programs in the world with spacious, sunken grass courts that helped create a Wimbledon look for the film. Take a romantic boat ride through the vast waterways and even dock at a dining spot along the way.
Ben Hur (2016)
One of the scenes in the recently updated Ben Hur was shot in Painted Canyon, one of Greater Palm Springs' most unique hikes. Located in the Mecca Hills (about 40 miles southeast of Palm Springs) Painted Canyon's ladder canyon hike takes you through one of the most distinctive slot canyons in all of California. Hop aboard a Desert Adventures Eco-Tour to Mecca Hills and Painted Canyon to see this incredible canyon for yourself.