In an era where many people are searching for rejuvenation in their ever-busy lives, sound bath meditations have emerged as a stellar option. There are plenty of perks, after all. Sound baths require little effort for the participants. Typically, somebody attending a sound bath can just show up to the venue, and all that's required is for them to either sit in a chair or lie down on a yoga mat and simply allow sound frequencies—from crystal sound bowls, brass bowl, or gongs, or any combination of—to do the work. 
Better still, sound baths/sound frequencies have been proven to act as a restorative measure, as the sound frequencies stimulate and aid the cells in our bodies. Nikola Tesla once noted: "If you want to find the secrets of the universe, think in terms of energy, frequency and vibration." Meanwhile, Dr. Jeffrey D. Thompson, renowned Director of the Center for Neuroacoustic Research at The California Institute for Human Science, said: "Since the human body is over 70 percent water and since sound travels five times more efficiently through water than through air, sound frequency stimulation directly into the body is a highly efficient means for total body stimulation, especially at the cellular level. Direct stimulation of living cellular tissue using sound frequency vibration has shown marked cellular metabolism and therefore a possible mobilization of a cellular healing response."

With that in mind, take note of this round-up of some of the best places to experience a sound bath meditation to relieve stress, enhance your immune system, and rejuvenate your body and soul all around.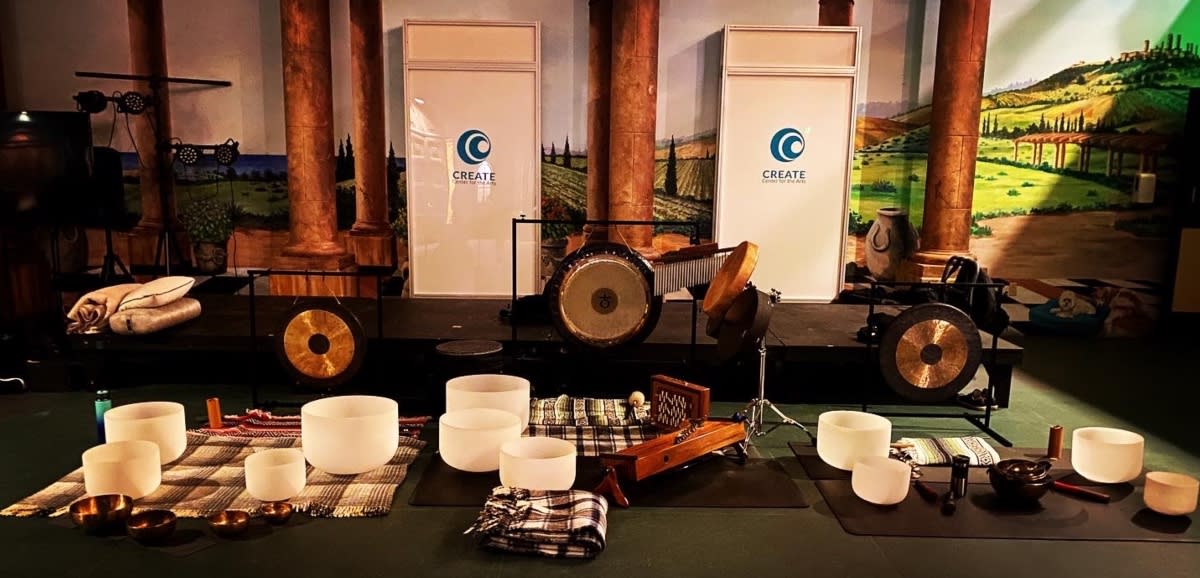 With long-time sound healing practitioner William Cordell at the helm, folks are in good hands here. The spa offers a myriad of services, many of them which revolve around sound bath meditation—Cordell also hosts events at various venues around Greater Palm Springs, so check the website for updates. Here, releasing into deep transcendental meditation while balancing chakras—energy points within the body—Cordell's use of vibrational sound is downright effective. At many of his external events, the man's enormous gong is the star of the show. Meanwhile, as Cordell masters the gong and his brass bowls, your body absorbs the vibrations. Take note of the website's monthly events—there are monthly Sound Bath Ceremonies held at Create Center for the Arts. In-house services can include massage with sound baths, as well. 
Info: 73896 El Paseo R-12, Palm Desert, 760-895-7065, blisschakraspa.com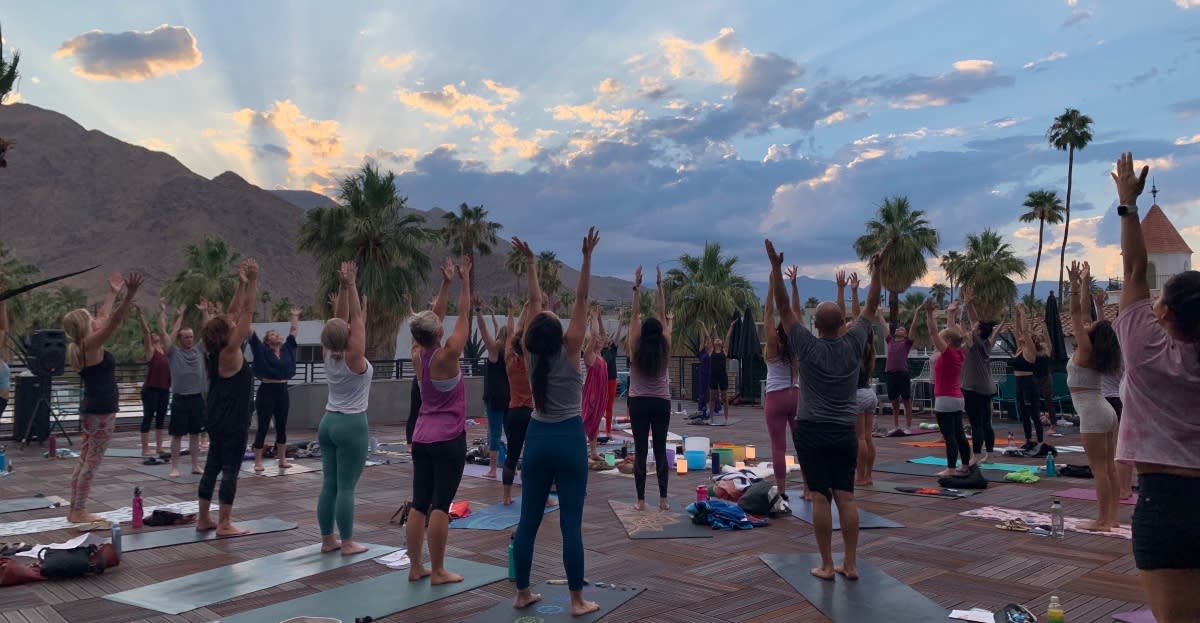 Power Yoga Palm Springs has long been offering locals and visitors ample opportunities for renewal. Between its long list of yoga classes and its friendly staff, it's hard not to walk out of this place feeling rejuvenated. One great offering to note is the venue's Slow Flow & Soundbath on Saturday afternoons. This noteworthy class begins with a gentle yoga flow designed to move "energy" in the body in preparation for a remarkable sound bath experience. From there, the acoustic bowl sound therapy takes over. Lie back. Bliss out. Float on with your day.
Info: 333 N Palm Canyon Dr UNIT 214, Palm Springs, 760-422-5223, poweryogapalmsprings.com
What's great about Grounded BodyWorks, is that visitors can book the practitioners to come where they are for a restorative sound bath. This is ideal for business group functions or even family destination vacations. Under the masterful flow of Lisa Botts, who has been offering reiki and sound therapies for many years, the entire group—and even couples and individuals—can experience an uplifting sound bath. Imagine you and your clan afterward—relaxed, feeling spacious, and ever so calm and renewed.
Info: 1701 N Palm Canyon Dr Ste 3, Palm Springs, 760-848-8587, groundedbodyworks.com
While sound bath experiences aren't always on the list of regularly scheduled activities, the Valley's popular resort does occasionally offer them, so it's worth visiting the venue's website for updates. What happens: picture yourself bathing in restorative mineral water while enjoying the sensory stimulation effects of a sound bath. Sublime. The visit also includes two-hour day spa use.
Info: 12699 Reposo Way, Desert Hot Springs, 760-251-6700, the-spring.com.
Check the venue's website for updates on sound baths, which have been offered regularly in the past, then place this one near the top of your list. The immersive sound experience quickly takes visitors into a lovely, relaxed state of ease. Known as the LunaEssence blend of singing crystal bowls and gongs, it's all designed to offer restoration and enhance, "strengthening the connection to oneself."
Info: 67589 Hacienda Ave, Desert Hot Springs, 760-251-2000, azurepalmhotsprings.com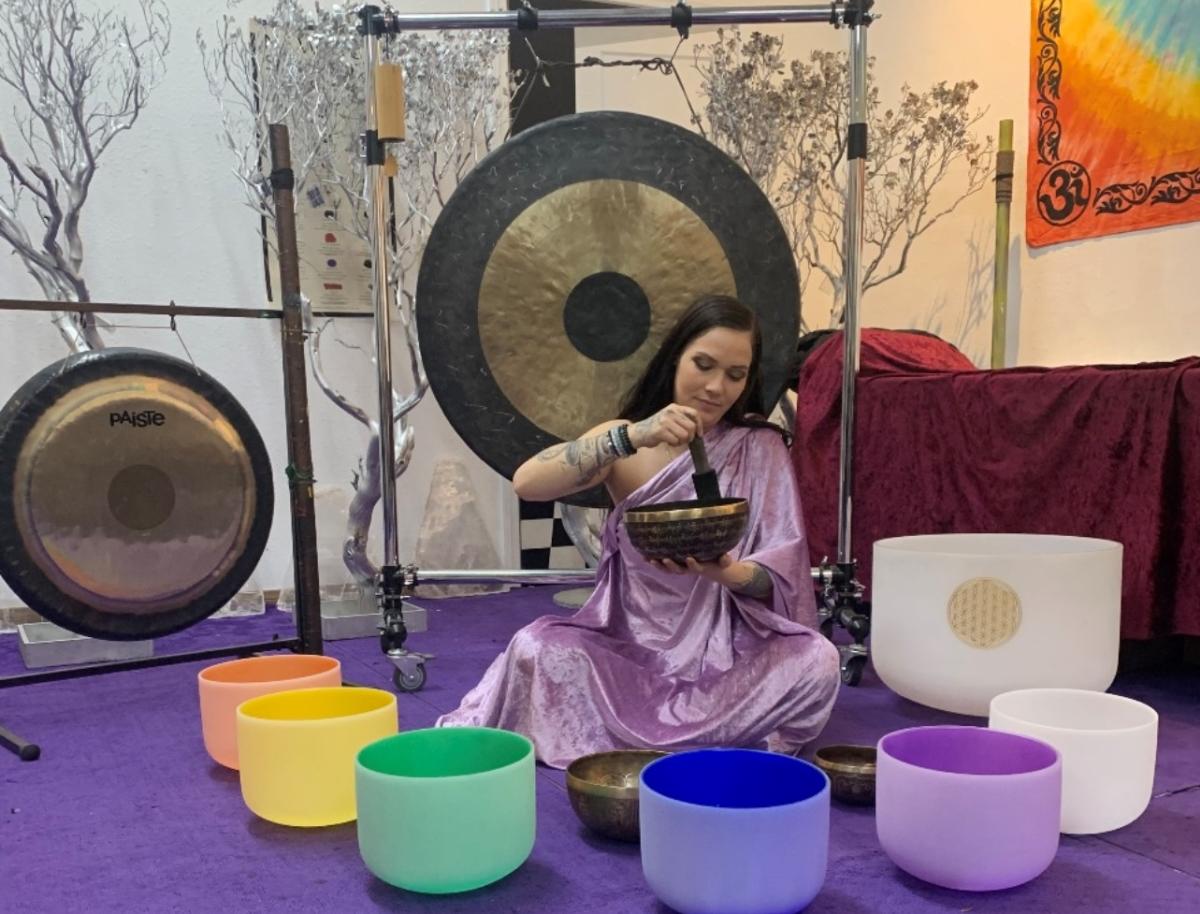 There's plenty to savor at the area's popular metaphysical venue, but the Sound Bath Journey with Mike D. certainly stands out. Experience Mike's 38-inch Chao Gong, Tinshas, Crystal Singing Bowls, 22-inch Paiste Gong, chimes and more. The venue has chairs, but guests are encouraged to bring a yoga mat and/or pillow. Check the website for all the details. Om!
Info: 268 N Palm Canyon Dr, Palm Springs, 760-322-7799, crystalfantasy.com
The Integratron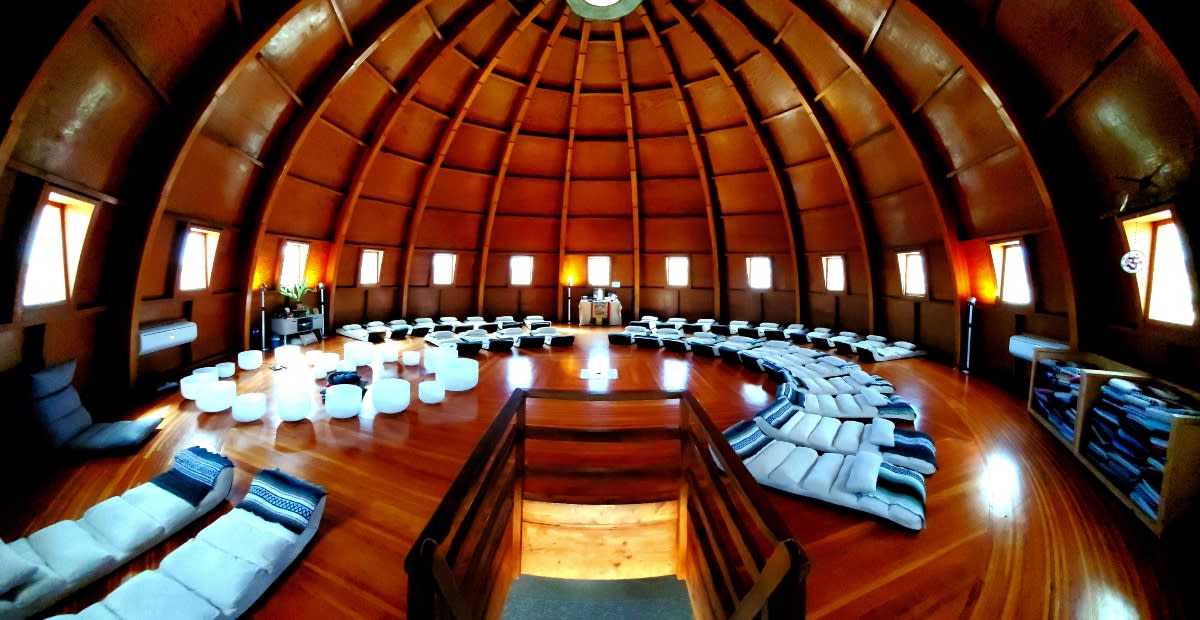 Perhaps the most well-known sound healing in Southern California, The Integratron was built in 1960, and has been captivating locals and visitors ever since. This remarkable 38-foot-tall cupola structure has a diameter of 55 feet. It was designed by ufologist and contactee George Van Tassel, who claimed the Integratron was "capable of rejuvenation, anti-gravity and time travel." Any way you spin it, this place offers the most fascinating if not unforgettable sound experience in the California desert. It's ideal for anybody seeking deep relaxation and rejuvenation—even introspection. Sound baths here run 60 minutes. There's a brief introduction to the structure's history, followed by 35 minutes of 20 quartz crystal singing bowls played live. The remaining portion of the hour is used to integrate the sound and just relax. Typically, ambient music is played. Take note: according to the venue, "each sound bowl is keyed to the energy centers or chakras of the body, where sound is nutrition for the nervous system." 
Info: 2477 Belfield Blvd, Landers, 760-364-3126, integratron.com
Are you seeking other relaxation and wellness options in Greater Palm Springs? Take a look at your variety of spa experiences throughout this beautiful Southern California oasis.