Spring break is a great time to visit Greater Palm Springs. The wide-open spaces, sun-kissed skies and swaying palms set the scene for perfect patio dining—and this Southern California oasis is home to an array of outstanding restaurants that offer outdoor dining, as well as takeout and delivery. Here is a round-up of a few favorites to add to your Greater Palm Springs itinerary, so you can savor spring break the right way.
Bubba's Bones & Brews, Cathedral City & Palm Desert
If you've got a hankering for barbecue, look no further than Bubba's Bones & Brews in Cathedral City or in Palm Desert. With tasty traditional barbecue favorites like pulled pork, sausages and an array of beer to choose from, you'll leave full and happy. Their spacious, shaded patio is a great place to enjoy the nice weather and suits everyone from couples to families to groups of friends looking for a hearty lunch and some cold ones.
Fernanda's Salvadorian Food, Cathedral City
Family-owned Fernanda's Salvadorian Food serves up Salvadorian food, including traditional corn pastry-wrapped pupusas, chilaquiles and fresh fish. Dine on the patio or grab your bites to go.
The Nest, Indian Wells
The Nest, a local dining landmark, has created an expansive south-facing patio right in front of the restaurant that's perfect for outdoor dining and soaking up the sun. Enjoy favorites like crab cakes, cabbage rolls or veal piccata, or ask friendly, hands-on proprietors Dodi and Kevin for their personal faves.
Pink Cabana, Indian Wells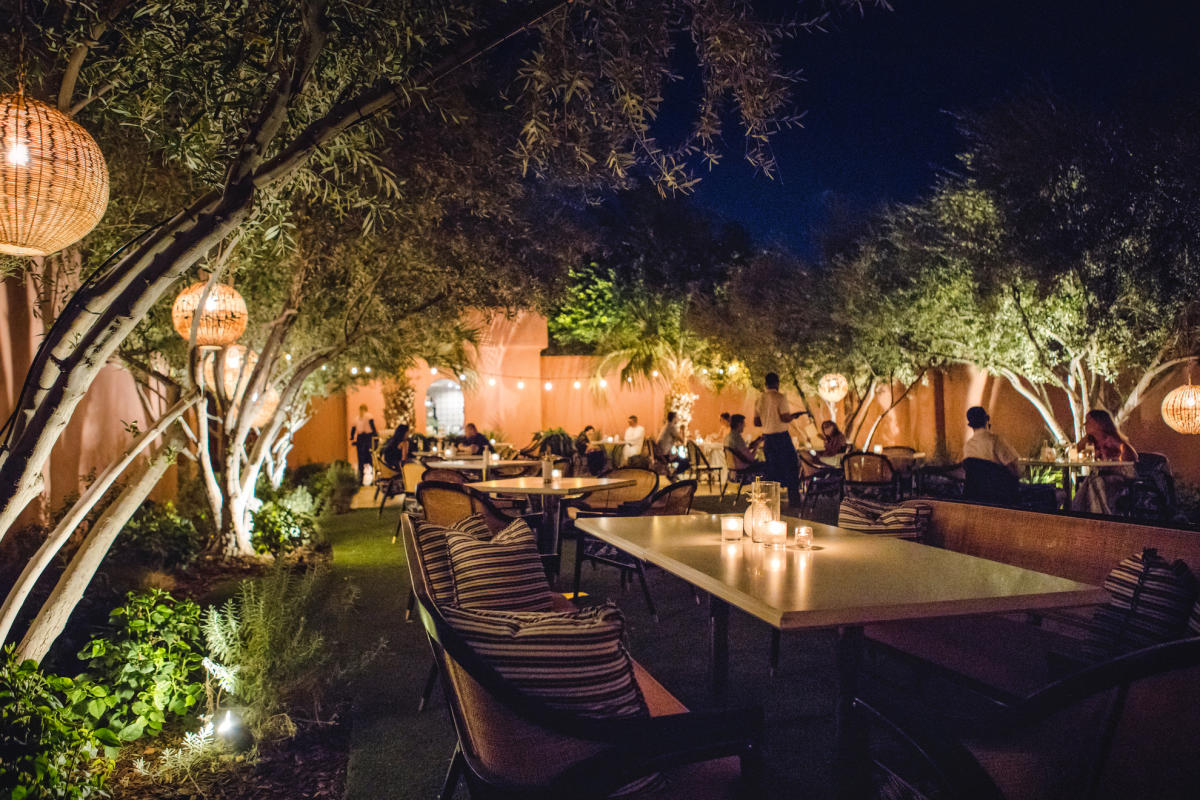 Around the backside of the same building that houses The Nest, you'll find the fabulous Pink Cabana, attached to the Sands Hotel & Spa. The restaurant itself is a feast for the eyes with its bold, Moroccan-inspired designs. Indulge in Mediterranean cuisine and a seasonal cocktail (or two) in their inspiring outdoor dining space.
Tu Madres Cantina & Grill, Indio 
Tu Madres Cantina & Grill takes a fresh and unique spin on traditional Mexican and Baja style cuisine. There is a great patio space for you to enjoy while you eat with the entire family or just want to grab a delicious margarita for happy hour. 
Cuistot, Palm Desert
This Palm Desert patio is legendary, and there's plenty of room to dine safely at a distance—with ample heaters in case you need to ward off the evening chill. A more formal dining option, Cuistot is ideal for anyone looking to celebrate a special occasion, and everything on their French- and Italian-inspired menu is impeccably prepared and always fresh (plus the drinks are poured deep).
Musashi Sushi, Palm Desert
If sushi is your thing, you'll want to visit Musashi Sushi, a Palm Desert sushi spot known for its friendly atmosphere, fresh fish and creative presentation. Grab a takeout order and bring it back to your hotel to eat poolside.
Fisherman's Market & Grill, Palm Springs
Another amazing stop if you're looking for seafood, Fisherman's Market has some of the freshest seafood in Greater Palm Springs. The large, open-air dining areas make it a nice place to dine alfresco (though you can always take a meal back to your hotel or vacation rental).
Eight4Nine, Palm Springs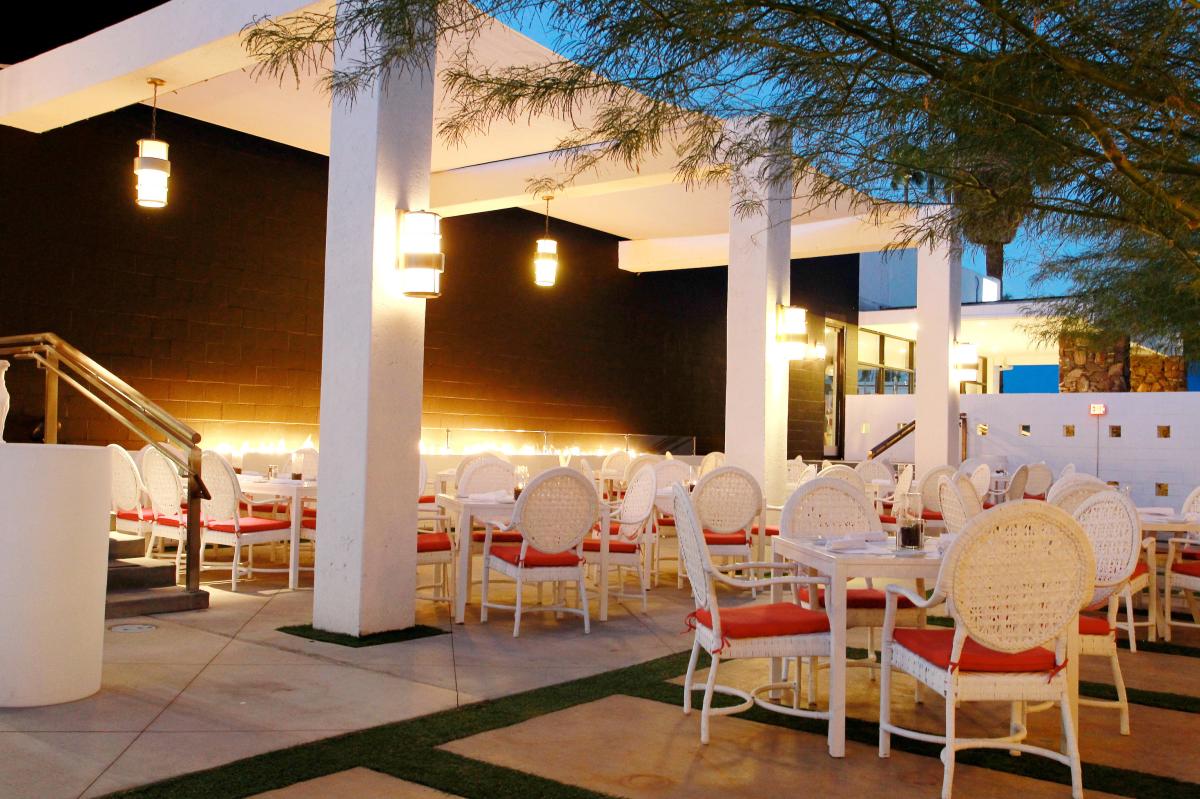 This colorful spectacle of a restaurant will become your most-liked post on Instagram in no time. Eight4Nine's kaleidoscopic decor is matched only by the food, which is delicious and creatively prepared.
The High Bar at Kimpton Rowan Palm Springs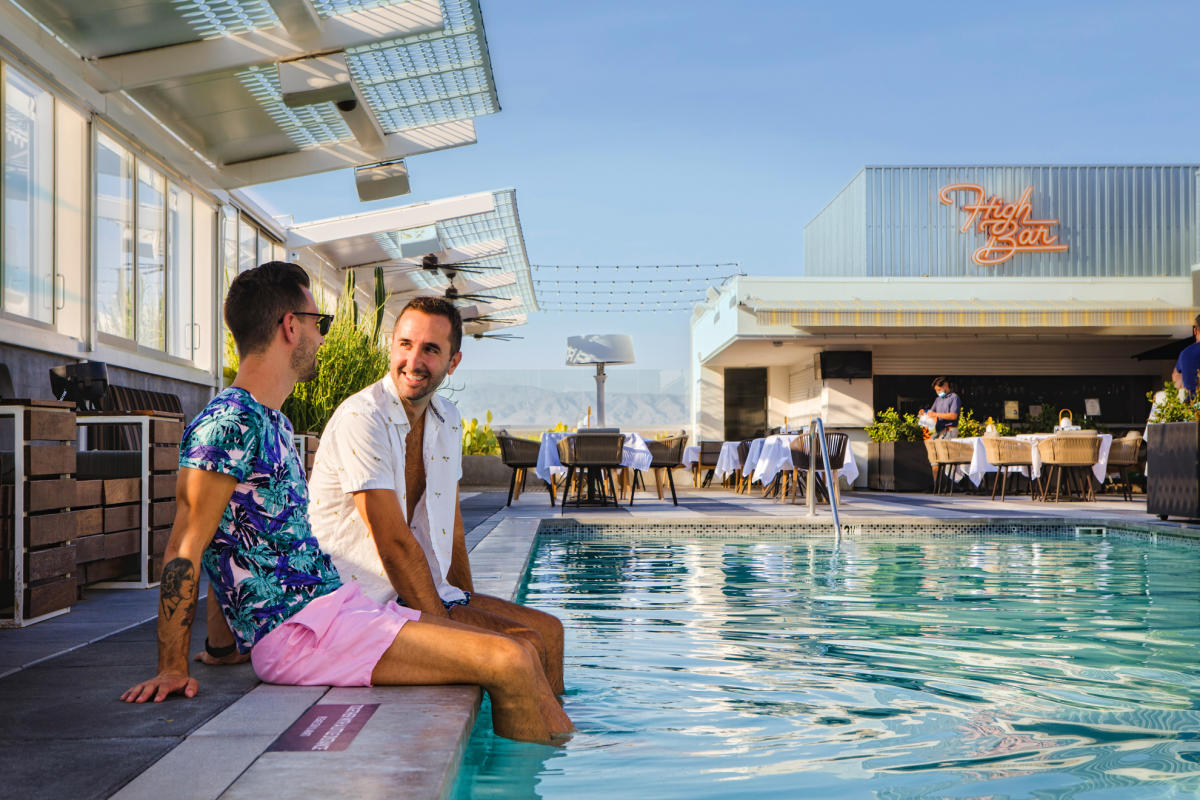 If you're visiting during spring break and looking for a see-and-be-seen vibe, you'll find it here. High Bar unfurls adjacent to the rooftop pool atop the seven-story Kimpton Rowan Palm Springs, meaning you've got views for days alongside those chilled drinks and cool, classy furnishings. Salads, sandwiches and seasonal finger foods are available in the daytime, while the evening menu of bar bites whets the appetite.
La Perlita, Palm Springs
You'll find La Perlita, an unassuming Mexican spot that's all about the food, tucked away in a shopping center. Look for Mexican mainstays like stuffed burrito supremes, smothered enchiladas and Baja-style soft corn tacos served with traditional beans and rice. More exotic offerings like the lengua dinner platter are also on the menu.
The Village, Palm Springs 
Enjoy the beautiful scene of Palm Springs while you dine on the patio at The Village Palm Springs. They serve a wide variety of food all day, offering brunch, dinner, even late night bites. This restaurant, sports bar and nightclub, yes it lights up at night, is a place for everyone to have a good time. 
Shabu Shabu Zen, Rancho Mirage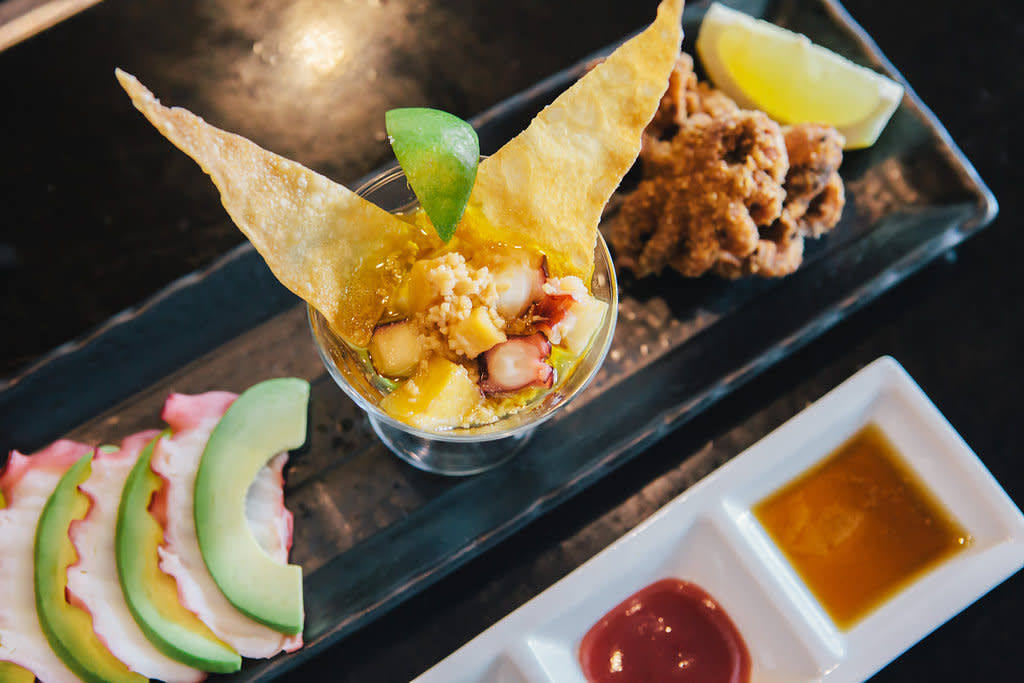 You'll immediately feel welcome at this family-owned restaurant serving traditional Japanese cuisine. Shabu Shabu is a healthy, flavorful broth-based Japanese dish that is cooked and eaten at the same table—perfect for families or couples looking for an immersive dining experience during spring break.
Dringk Eatery + Bar, Rancho Mirage
A colorful riot on the inside, this newer restaurant on the north side of The River at Rancho Mirage complex is also boisterous on the outside. Dringk Eatery + Bar is a great spot if you're looking for a lively spring break vibe. Its shady patio has plenty of room for intimate tables for two or larger groups. The Nashville Hot Chicken or Chicken and Waffles are standout dishes, but their cocktails are also fresh and fun.

Whether you're looking for a casual bite with the kids or something a little more special this spring break, you'll discover this culinary oasis filled with inspiration and flavor in Greater Palm Springs. Plan your spring getaway with these great savings here.