The Coachella Valley Music and Arts Festival is back and music (and foodie) fans are ecstatic. 
While music may be the main attraction, the line-up of food and drink options adds a tasty layer to the overall experience. 
The vendors are carefully selected to appeal to the hundreds of thousands of fans - from those who just seek sustenance to those with the most discriminating of palettes. 
Some staples are returning like Indio Central Market, a food-court set up under one huge tent, and Outstanding in the Field, a family style sit-down dinner curated by renowned and celebrity chefs. 
There are new experiences too, like the Sushi Speakeasy - an intimate 17-course Omakase and Sake pairing by Chef Phillip Frankland Lee.
No matter which way your taste buds lean or if you are looking for gluten free options, there is something for everyone heading out to the polo fields - even when it comes to liquid refreshments. 
Here is a round-up of food and beverage options at the Coachella Valley Music and Arts Festival: 
FOOD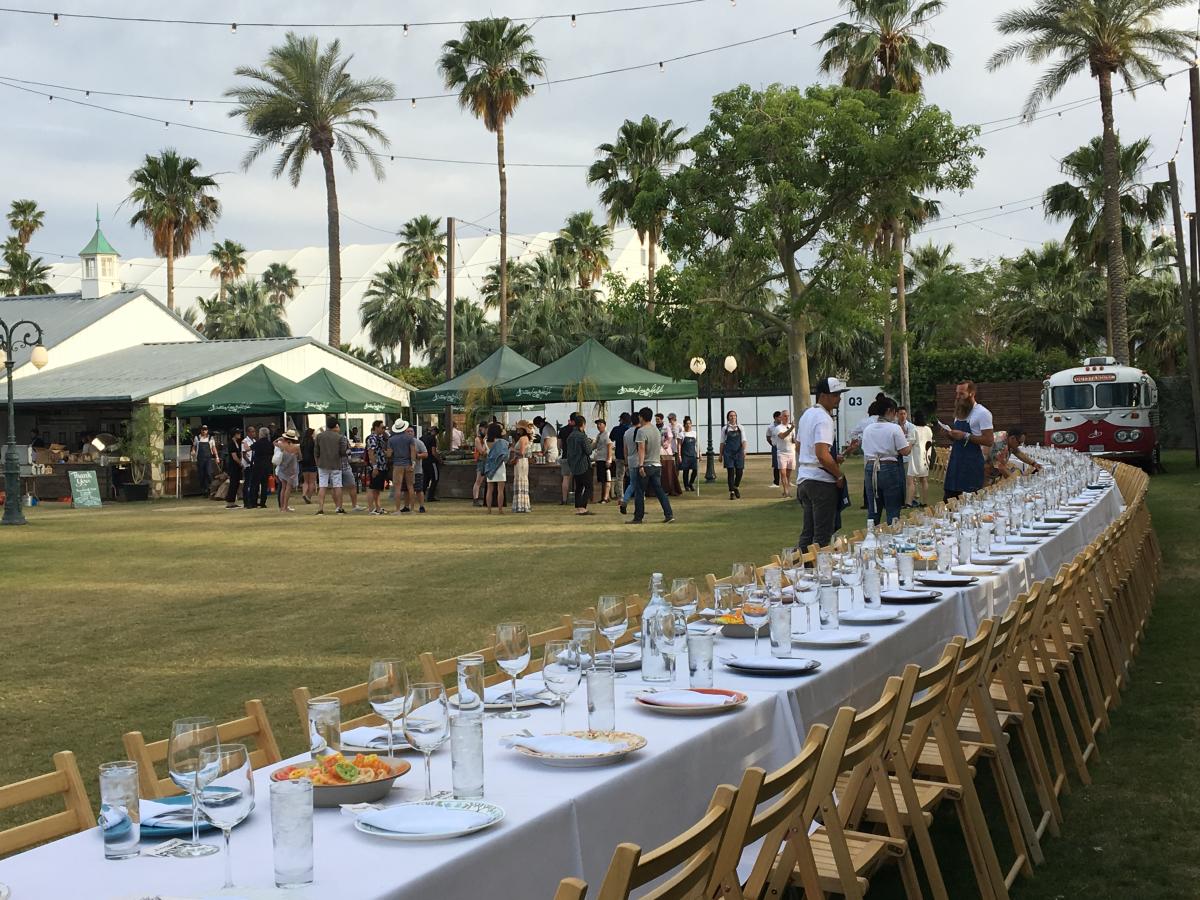 Outstanding in the Field: This luxe family-style dinner is served up by celebrity and renowned chefs at one long table.  You start the four-course meal as strangers, but by the end - and several glasses of wine later - your table-mates feel like old friends. Located in the Rose Garden VIP. 
All Dat Dim Sum: Known for its spicy wontons and bulldog dumpling. Located at Indio Central Market. 
Broad Street Oyster Co.: This is a pop-up restaurant serving up lobster rolls and much more. Located in the 12 Peaks VIP.
Cena Vegan: Mexican food made with plant-based ingredients. Located in Indio Central Market. 
Ggiata: An Italian-style deli serving up chicken sandwiches with fresh mozzarella and basil pesto on charred and crusty baguettes.  Located in the 12 Peaks VIP. 
Hattie B's: Known for serving up "hot chicken" at varying levels of heat - from mild to Shut the Cluck Up. Located in the Terrace.
Kogi: This is the spot where fans go to get Korean short-rib tacos.  This year, they are serving up Chef Roy Choi's latest creation - loaded Korean BBQ fries. Located at Indio Central Market. 
Love Hour:  Smashed and sloppy burgers that are big on taste with seasoned fries. Located in the Rose Garden VIP. 
Prince St. Pizza: Serving up New York and Sicilian style pizza in square slices. They are known for their pepperoni covered "Spicy Spring" pizza. Located at the Craft Beer Barn. 
Ramen Hood: Vegan Ramen served hot or cold and Togarashi tater tots with chili oil and vegan Sriracha mayo. Located at Indio Central Market
Salt & Straw: Known for an ever-changing menu of flavors. It is sure to be delicious, refreshing and served inside an air-conditioned ice cream shop. Located at the Terrace. 
Sushi By Scratch: This isn't Coachella's first Speakeasy - but it is the first one that serves Sushi in 17 courses. That's right - 17. Chef Philip Frankland Lee delivers an Omakase and Sake pairing for intimate groups from behind a "hidden in plain sight" door. 
DRINKS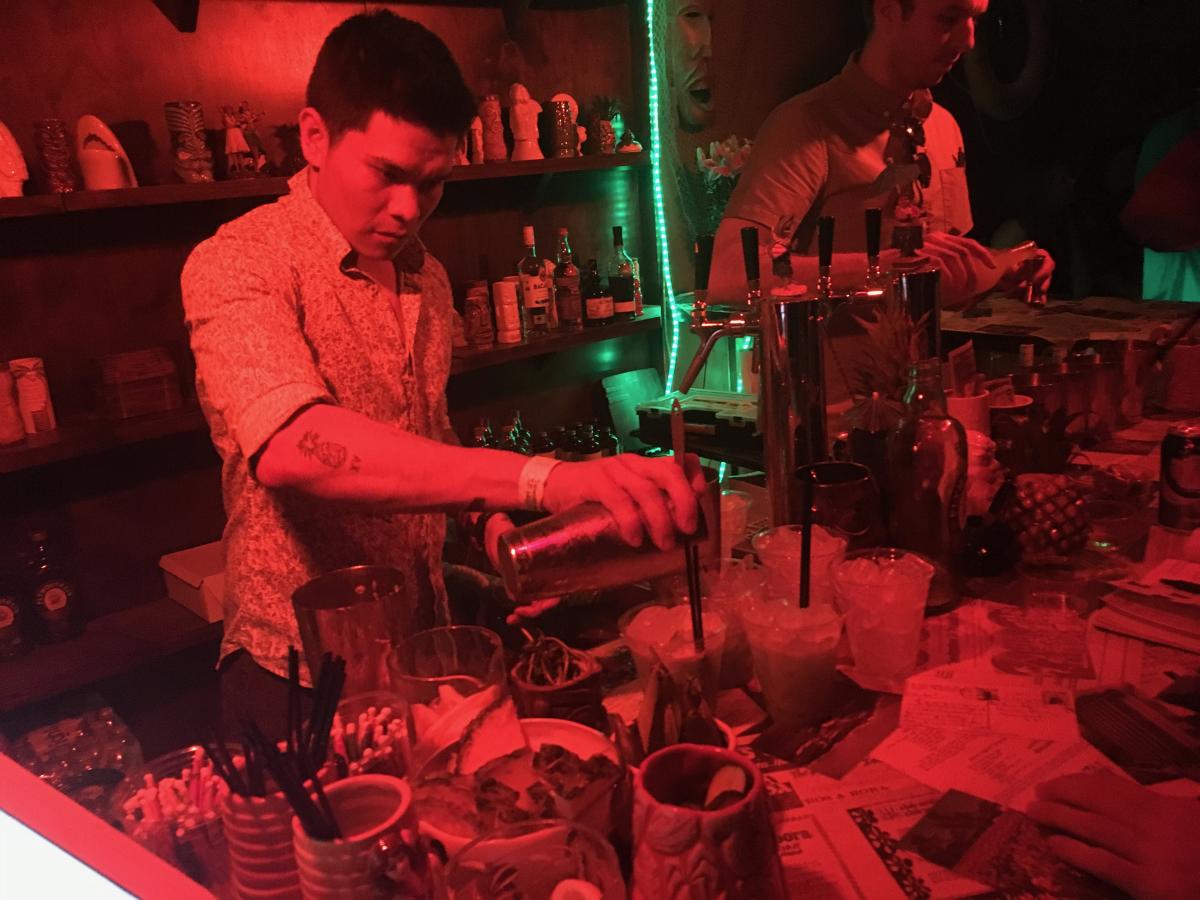 PDT Tropicale: This speakeasy is returning to Coachella to serve up cocktails in a fun and whimsical place. See for yourself, if you can find it. 
Dead or Alive (DOA) Wine Bar: The eclectic Palm Springs bar and bottle shop is known for its distinctive selection of small-batch wines. It will serve up a specially menu of wine, beer and cider. Located in the VIP Rose Garden. 
Junbi: For some mental clarity and energy, try some green Matcha green tea.  Located at the Craft Beer Barn.
Kim Crawford:  Located at the Camp Kim Wine Lounge and serving up crisp glasses of Sauvy B (Sauvignan Blanc) and frosty Frosé cocktail. 
Menotti's: A coffee shop serving up  standards, cold brew, nitro and espresso. Located at 12 Peaks VIP.
Milk Box Bar: Creamy and delicious boba milk tea returns to Coachella inside Indio Central Market. 
Sonny's Curated by Attaboy: Serving slushy cocktails like the Blue Hawaiian from a "Miami Vice" inspired outdoor bar near the Craft Beer Barn  
The Cabin: Top-shelf craft cocktails and spiked snow cones served from a mini-mountain cabin transported to the desert by nightlife hotspot gurus Mark and Jonnie Houston. 
Unshackled Wines: Yes, Coachella has an official wine and Unshackled Wines is it. Enjoy their California sourced wines at their lounge located in VIP which promises an "elevated experience." 
Across Greater Palm Springs find plenty of fun epicurean delights that are made for sampling.
Read More
Dine under palm trees and on perfect patios in Greater Palm Springs.
Read More