Art is all around us—public art is at the forefront in Greater Palm Springs with events such as Desert X. Although the widely known art installation is over, this Southern California oasis has no shortage of wonderful locations for casual visitors and art-connoisseurs alike to enjoy. Visit these visionary murals and astounding sculptures, perfect for snapping a quick Instagram photo or learning more about local history and culture. 
Palm Springs
"Forever Marilyn"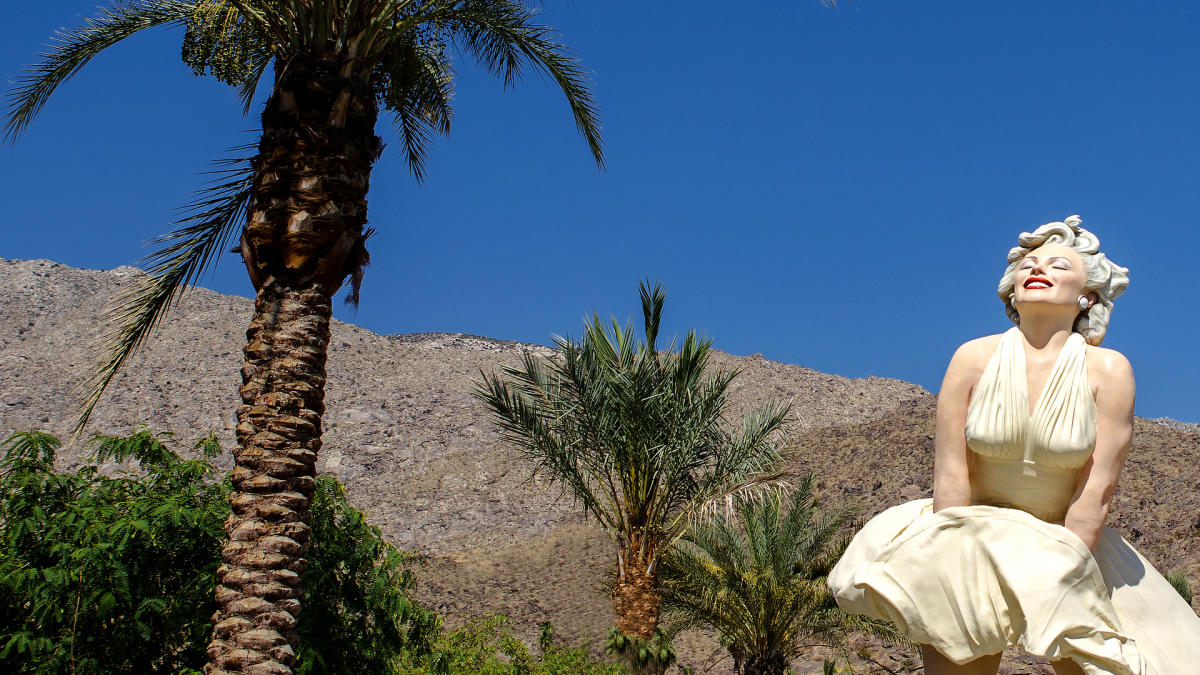 'Forever Marilyn' has returned to Greater Palm Springs. The public unveiling was held on June 20 and made possible by P.S. Resorts, along with other private contributors and sponsors. For more information visit www.PalmSpringsForeverMarilyn.com. Head to Downtown Palm Springs, shop, grab a bite to eat and finish your day in this Southern California oasis by paying Marilyn a visit. 
Location: Corner of Museum Way and Belardo Road, Palm Springs, CA 92262
Isabelle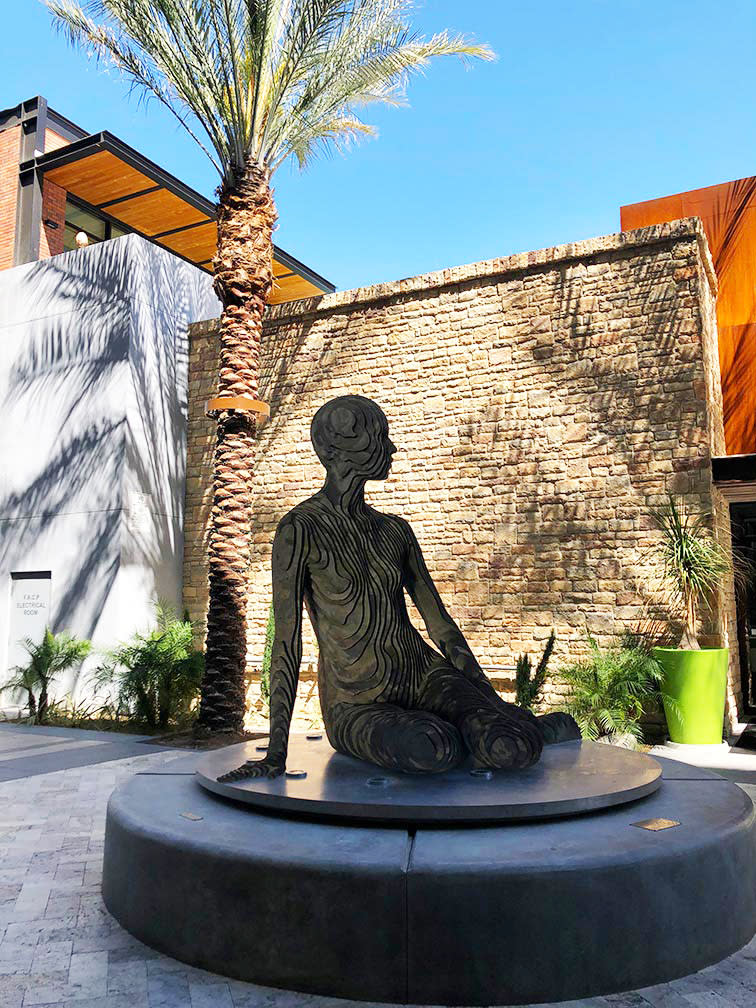 'Isabelle' is astonishing from every angle. This awe-inspiring sculpture by quantum physicist turned artist Julian Voss-Andreae is made of polished stainless steel which glimmers in the sun. Every small detail from the shifting silver hues to the see-through elements make viewing this sculpture an extraordinary experience that can't be missed. 
Location: 100 W Tahquitz Canyon Way, Palm Springs, CA 92262 (Kimpton Rowan Palm Springs)
Rainmaker Fountain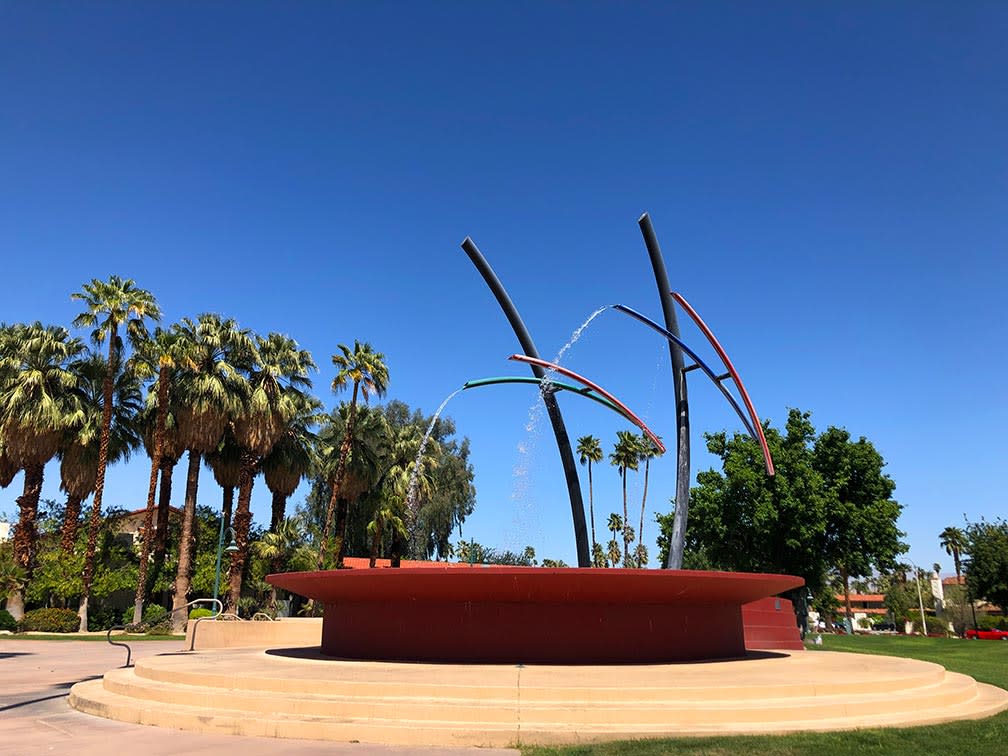 This fascinating fountain has become one of the most recognizable pieces of public art in Palm Springs. The innovative 'Rainmaker Fountain' was created in 2000 by artist David Morris as part of a decree for public art issued by Mayor Sonny Bono in 1988. The two tubes bounce up and down in perfect rhythm, pouring water when full. You'll be sure to find yourself mesmerized by this entertaining motion.
Location: 500 N Palm Canyon Dr, Palm Springs, CA 92262 (Frances Stevens Park)
Woman in Glasses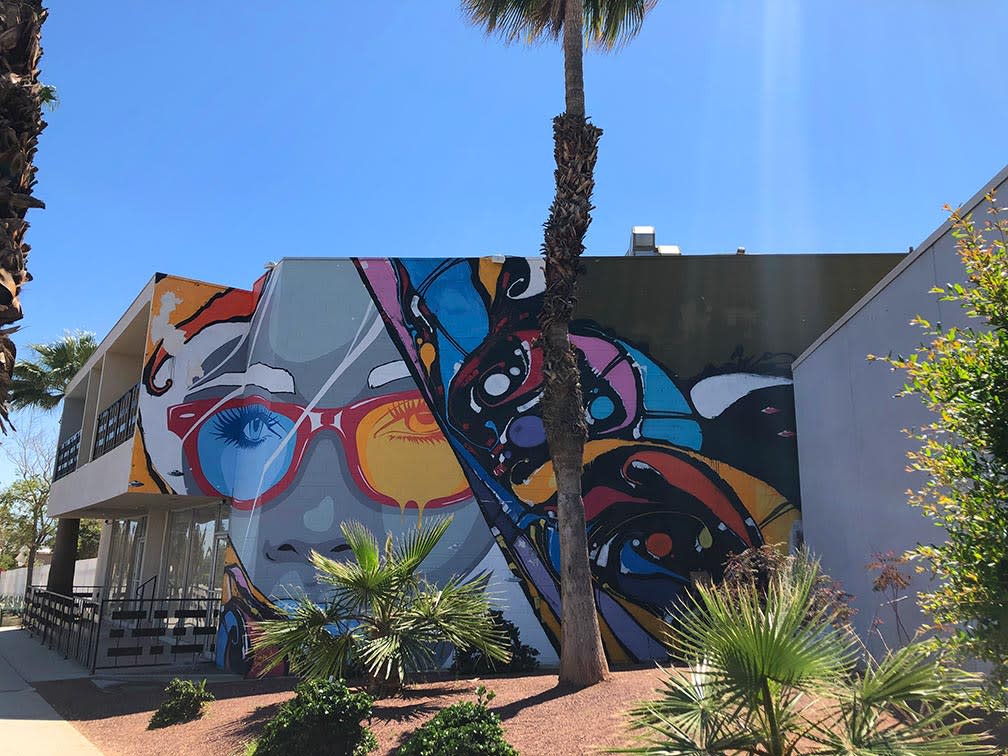 Painted by artists James Haunt & Zes MSK, the Woman in Glasses is a colorful and fun mural in Palm Springs. Haunt & Zes MSK, famously known for street art in Los Angeles, created a modern piece of public art that perfectly fits in with the vibrant culture found in Greater Palm Springs. 
Location: 2481-2483 N. Palm Canyon Dr, Palm Springs, CA 92262.
Cathedral City
"X Marks the Place"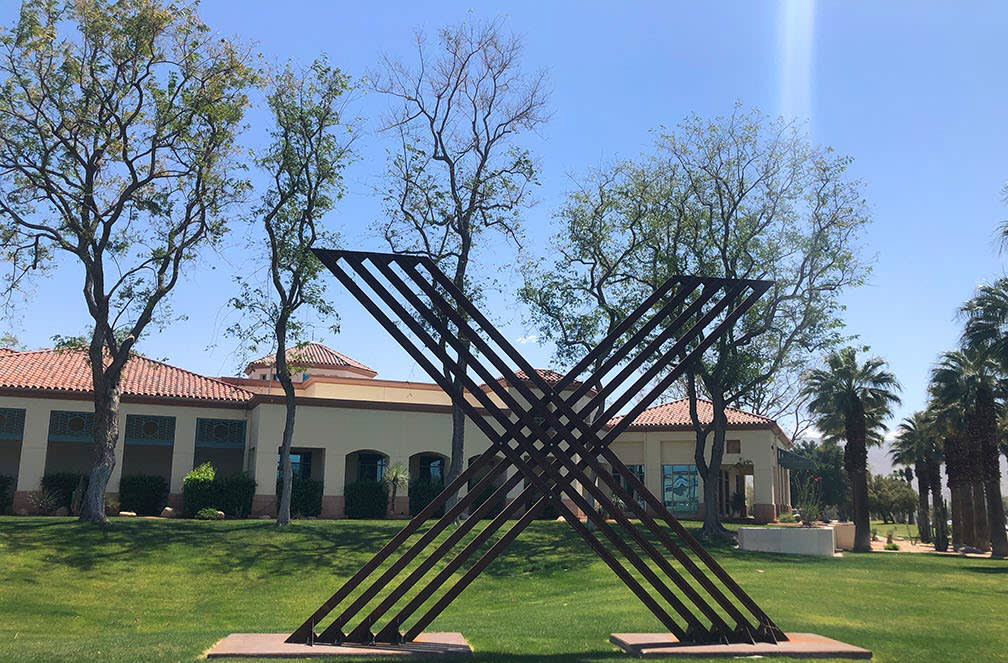 You are here—"X Marks the Place" was created by artist Simi Dabah, who has been welding sculptures with steel scraps for more than forty years. In order to stay true to Dabah's style, the sculpture is left in its natural state and has rusted to a warm patina color. The "X" is located outside of the Cathedral City Public Library and perfectly symbolizes the library's mission to showcase all things arts and culture.
Location: 33520 Date Palm Dr, Cathedral City, CA 92234
Local Legacy Mural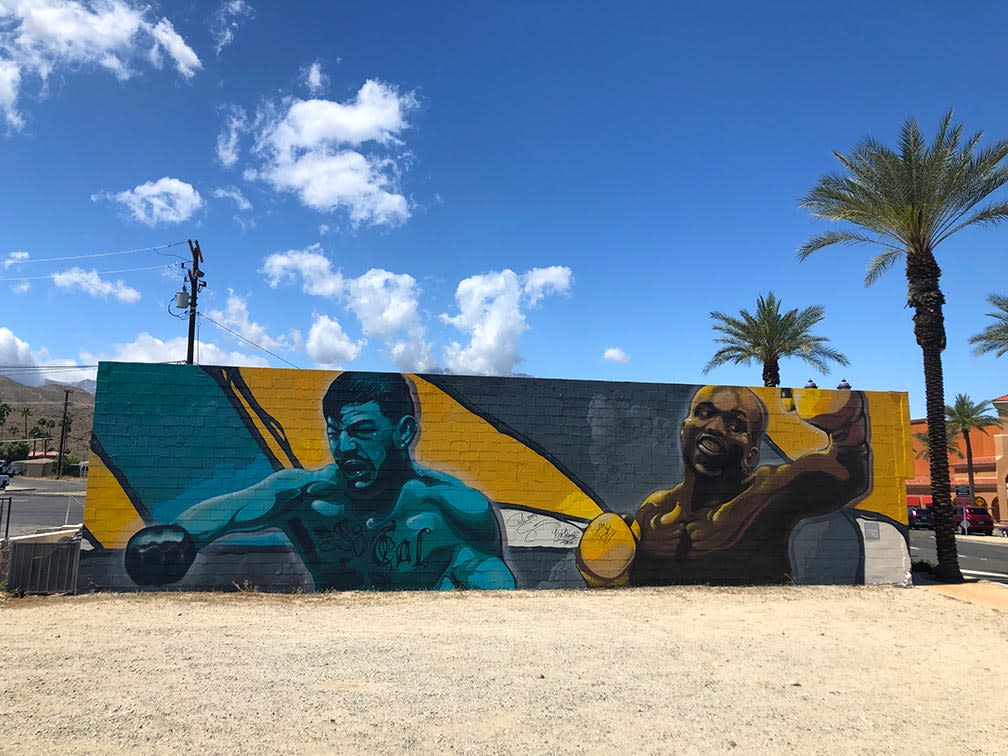 This bright and bold mural by local artist Rick Rodriguez features World Boxing Champion, Timothy Bradley and Ultimate Fighting Championship martial artist, Kevin Luke "Cub" Swanson, two athletes who are famously known to be Cathedral City natives. This public art piece is located on the side of One Eleven Conditioning Club. Owner Jaime Jimenez in partnership with the Cathedral City Public Arts Commission decided to pay tribute to these two local superstars with this unique mural.
Location: 68571 E. Palm Canyon Dr., Cathedral City CA 92234
Fountain of Life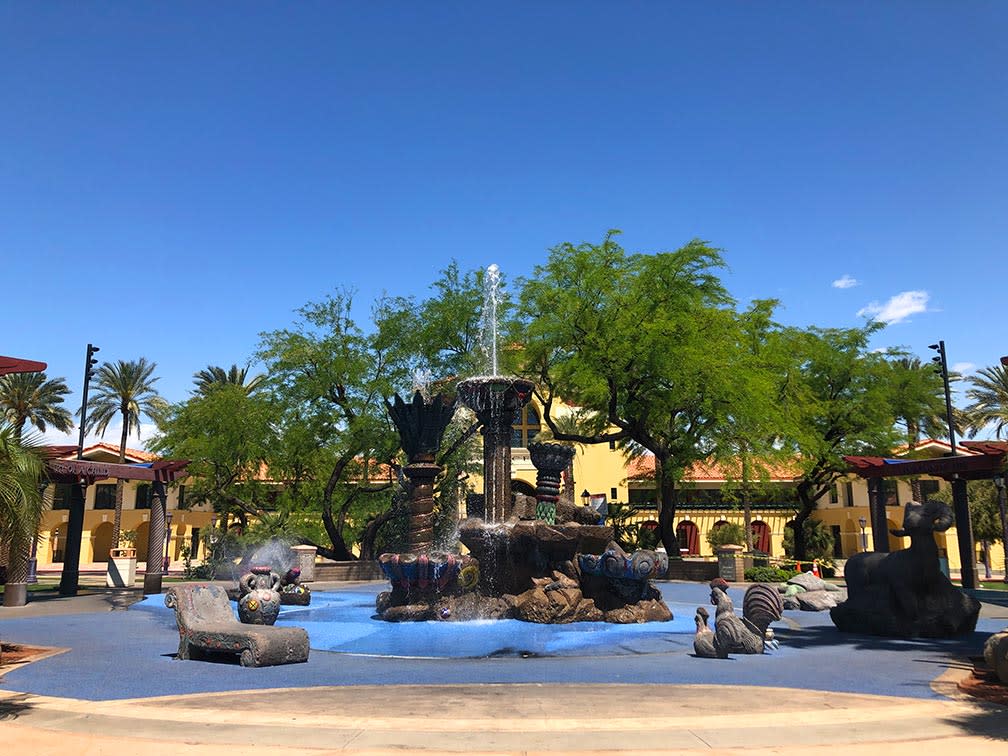 Feel magical at this whimsical fountain, created by artist Jennifer Johnson and architect Reuel Young, A.I.A. Its three main stone columns feature sculptures of bighorn sheep, tortoises, lizards and other natural elements native to Greater Palm Springs. The sculptures were made of adoquin stone and are adorned with colorful mosaic tiles and glass. Not only is this an outstanding piece of art, but it also doubles as a water attraction for the little ones to climb, splash around and enjoy a refreshing afternoon.
Location: 68701 Avenida Lalo Guerrero, Cathedral City, CA 92234
What Lifts You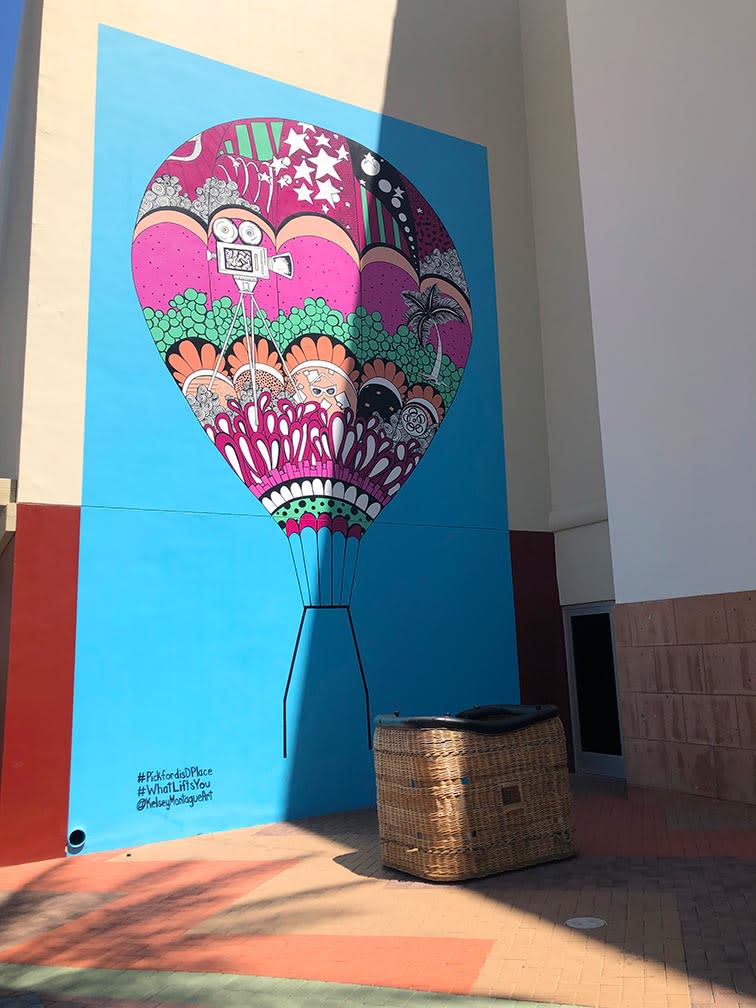 Soar to new heights at this vibrant mural! Commissioned by the city and created by Kelsey Montague Art as part of the "#WhatLiftsYou" mural series, the intricate design was inspired by old Hollywood, and the annual Cathedral City Hot Air Balloon Festival. Montague is known for creating interactive art internationally, which explores the connection between public art and social media. Visitors are encouraged to jump in, take photos and share on social media using the project's hashtag.
Location: 68701 Avenida Lalo Guerrero, Cathedral City, CA 92234 (Mary Pickford Theater)
Coachella
Anonymous Farm Worker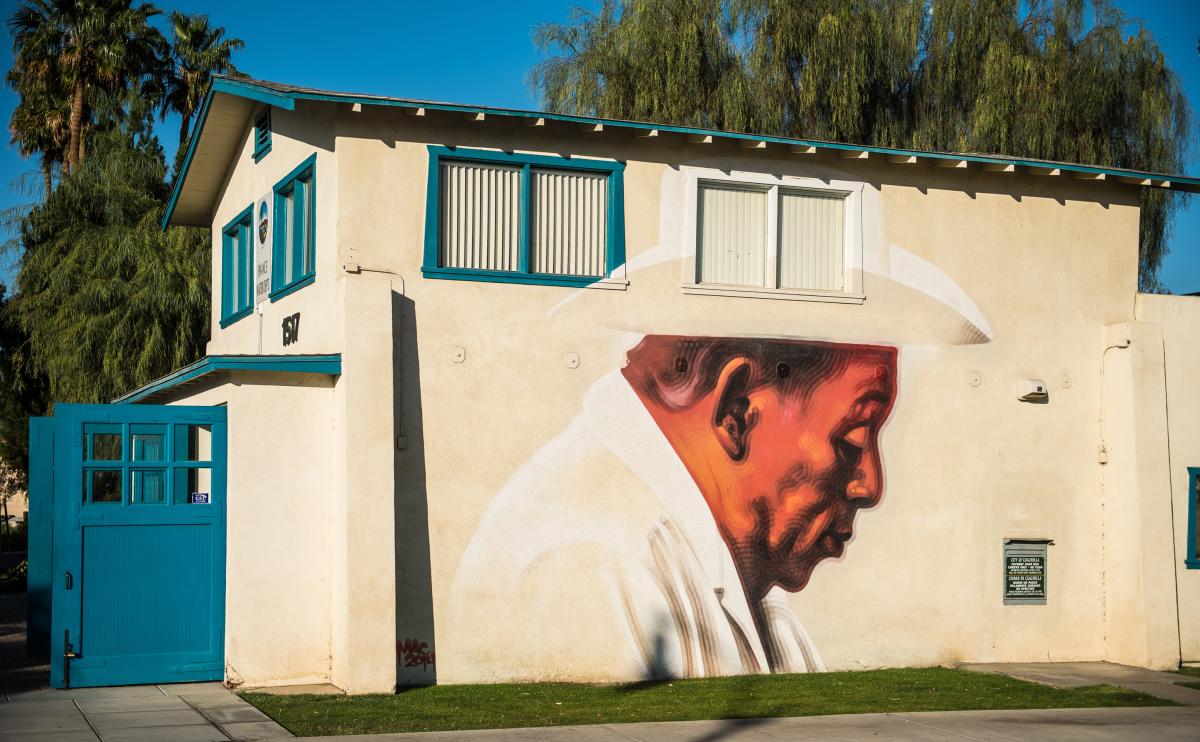 Coachella is known for its array of farmland and this captivating mural is the perfect representation of the rich culture. Created by artist El Mac and this mural is located in the scenic Pueblo Viejo neighborhood. El Mac was commissioned by the City of Coachella as part of the Coachella Walls project. This initiative strives to celebrate the local population and honor the farming community.
Location: 6th Street and Vine Avenue, Coachella, CA 92236
La Cosecha Del Futuro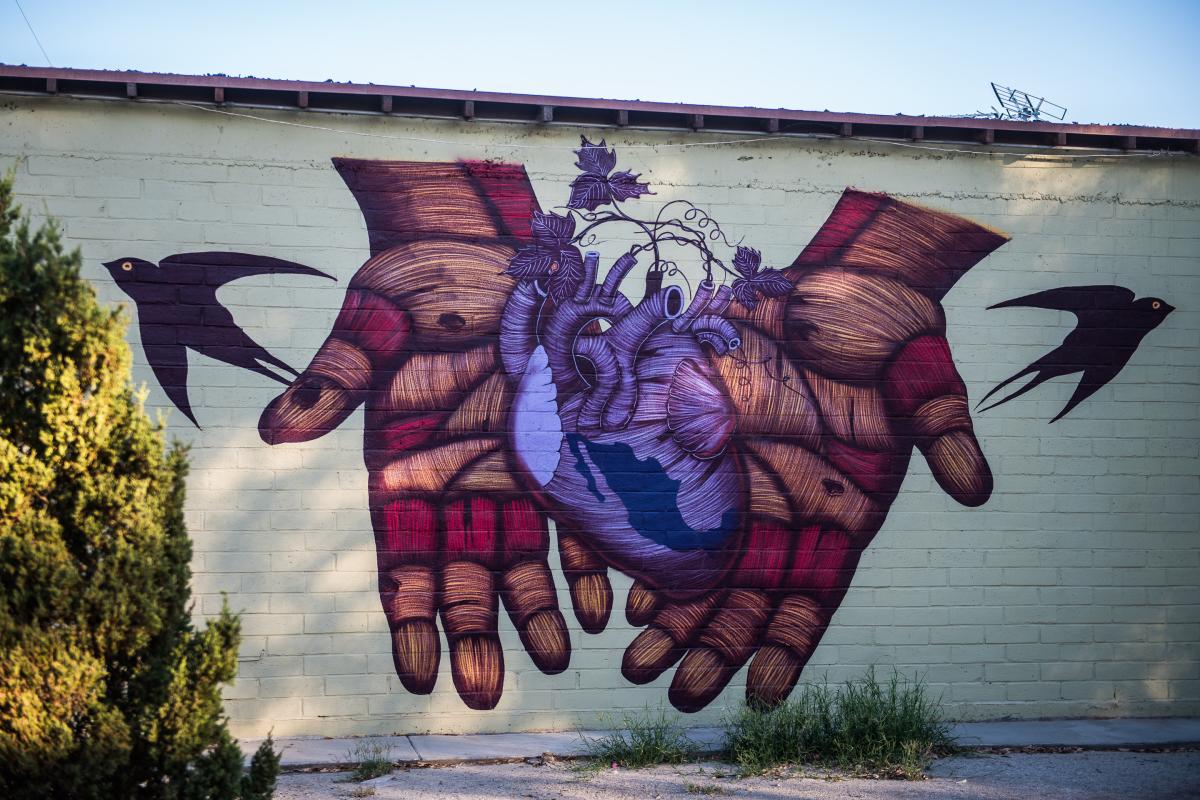 Larger than life and painted by Mexican artist Sego y Obval. The two hands depicted at the center once again honor farmers, while the grape leaves commemorate Latino American civil rights activist, Cesar Chavez. The two birds symbolize Mexican migrants and the focal outline of Mexico at the center of the heart celebrates their home country. Not only is this a photo-worthy mural, but it is also a great display of the rich history and culture in the city of Coachella.
Location: 722 Vine Ave, Coachella, CA 92236
Hungry Dog of the Desert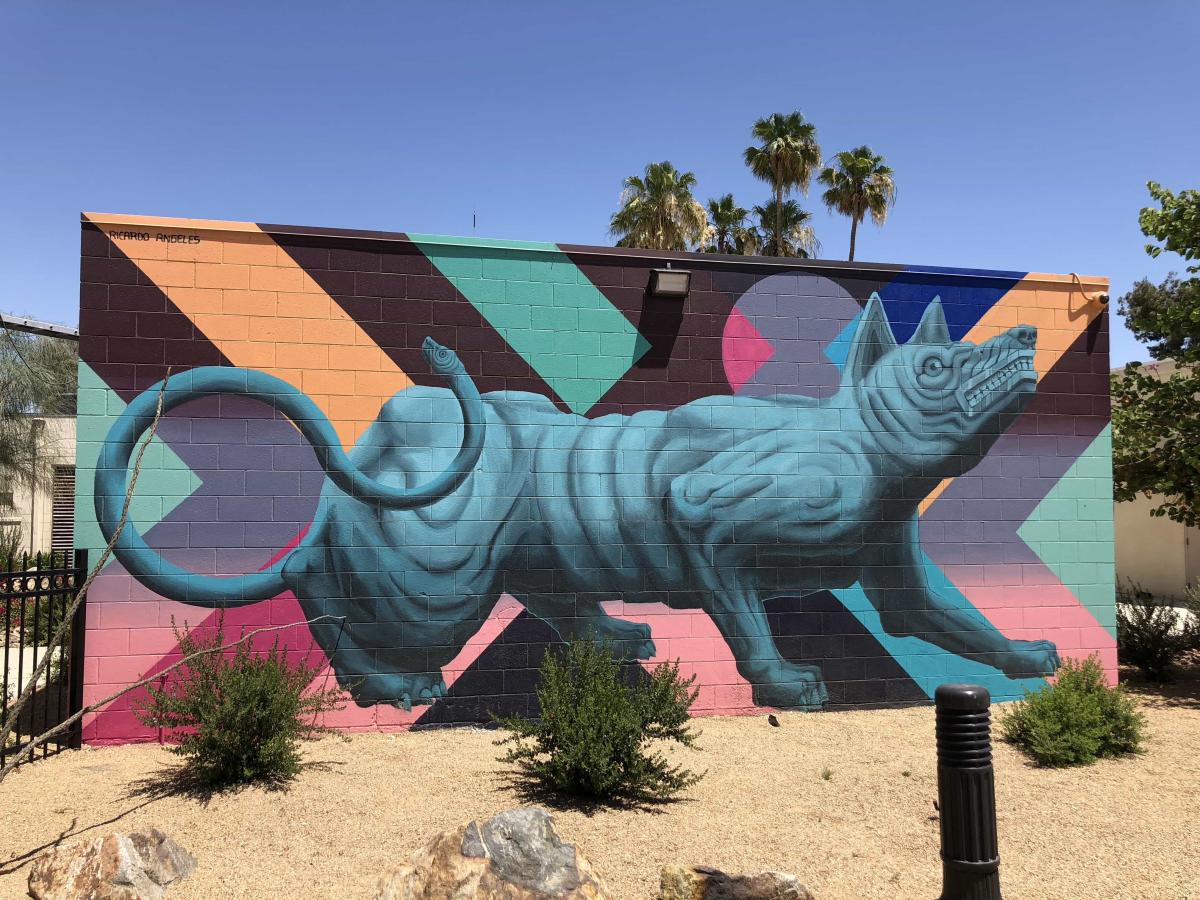 Stay still, he might see you! This kaleidoscopic pooch was painted by Oaxacan artist Ricardo Angeles Mendoza in 2017. Growing up in Mexico, his family made and sold 'alebrijes', wooden folk-art sculptures painted with bright colors and intricate patterns, which inspired this magnificent piece of public art.
Location: 1500-1598 4th St, Coachella, CA 92236 (Veterans Memorial Park)
Etherea
What a sight! This breathtaking sculpture by Italian sculptor Edoardo Tresoldi was created in 2018. It consists of three transparent sculptures, which were inspired by Neoclassical and Baroque architecture. The sculpture is made of wire mesh, one of Tresoldi's signature materials. It creates a unique optical effect, making the sky seem closer or further away, depending on the viewer's angle. Although 'Etherea' was originally made for the 2018 Coachella Valley Music & Arts Festival, it now currently resides in downtown Coachella.
Location: Cesar Chavez St & Sixth St, Coachella, CA 92236
Desert Hot Springs
Orca Family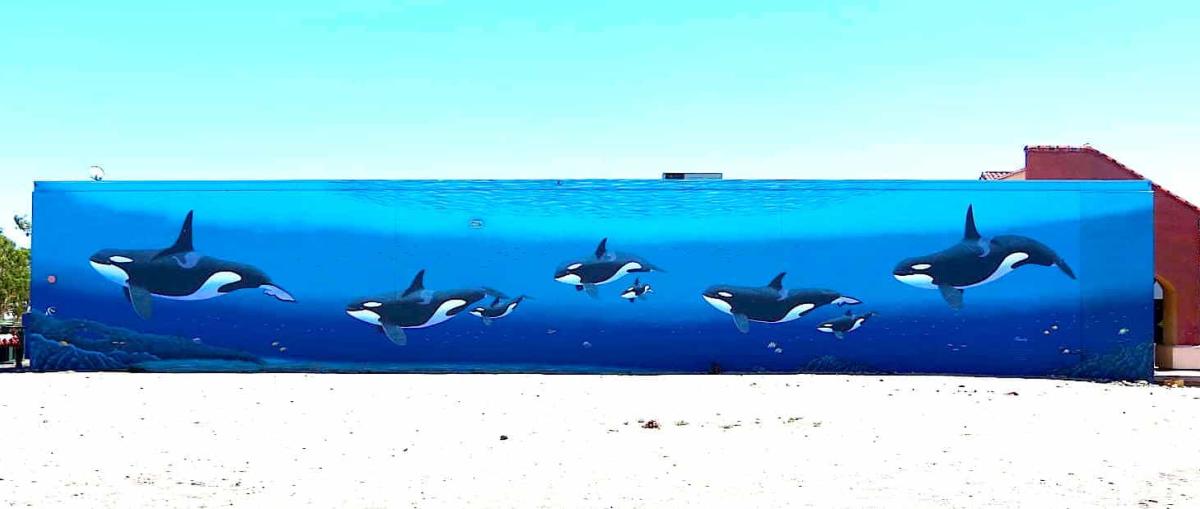 Astonishing and so photo-realistic, you can practically feel the ocean breeze. The mural was painted by artists John Coleman and Landon Johnson. It showcases a life-size family of orcas swimming through a serene ocean. Upon getting approval from the Desert Hot Springs City Council in 2014, the two artists began fundraising via Kickstarter and were able to collect enough funds to create this piece. Their ultimate goal was to educate visitors about the importance of marine life.
Location: 14200 Palm Drive, Desert Hot Springs, CA 92240
Indio
Moving Towards the Future

Take a journey through Indio's history with this picturesque mural by artist David Ocelotl Garcia. This piece depicts the past, present and future of Indio by incorporating a date palm and farmer, a golfer, and even a musician, alluding to the successful annual Coachella Valley Music and Arts Festival which famously takes place in Indio. All of the different elements create a timeline that gives visitors an insight into the city's rich history.
Location: 45125 Smurr Street, Indio, CA 92201
Old Indio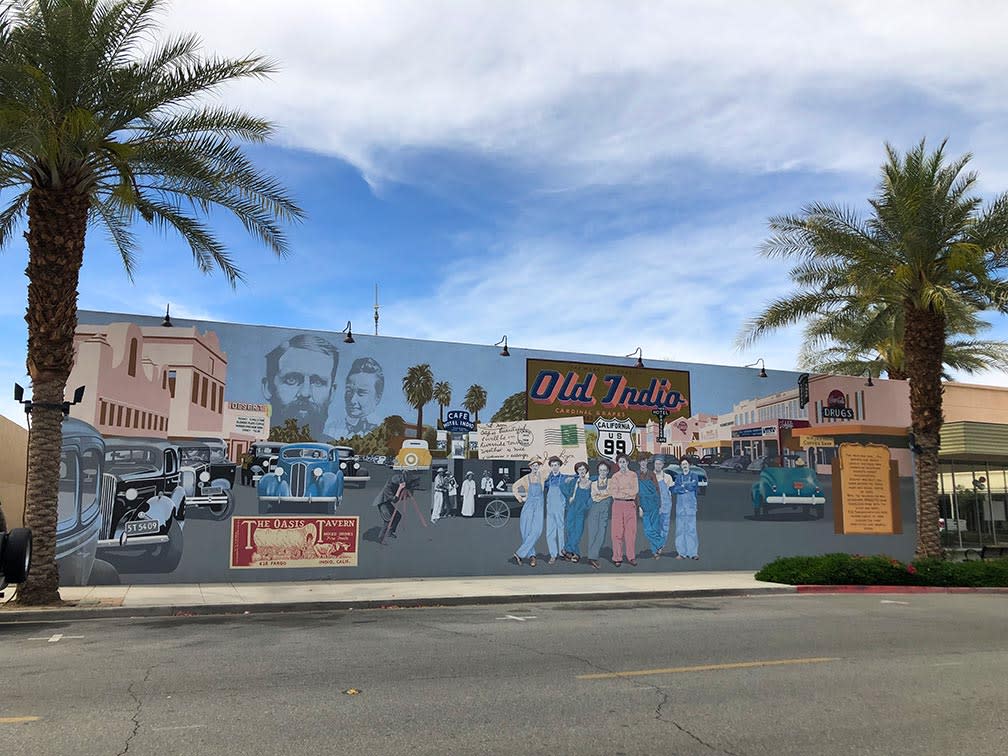 No need for time travel, this mural by artist Bijan Masoumpanah takes you back to the idyllic town of Indio in the 1800s. This piece was painted in 2014 and features workers of the South Pacific Railroad, which opened in 1876. Complete with vintage cars, classic shops, and iconic palm trees this piece is a perfect look back into a time that shaped the city of Indio.
Location: Miles Avenue & Towne Street, Indio, CA 92201
Rebirth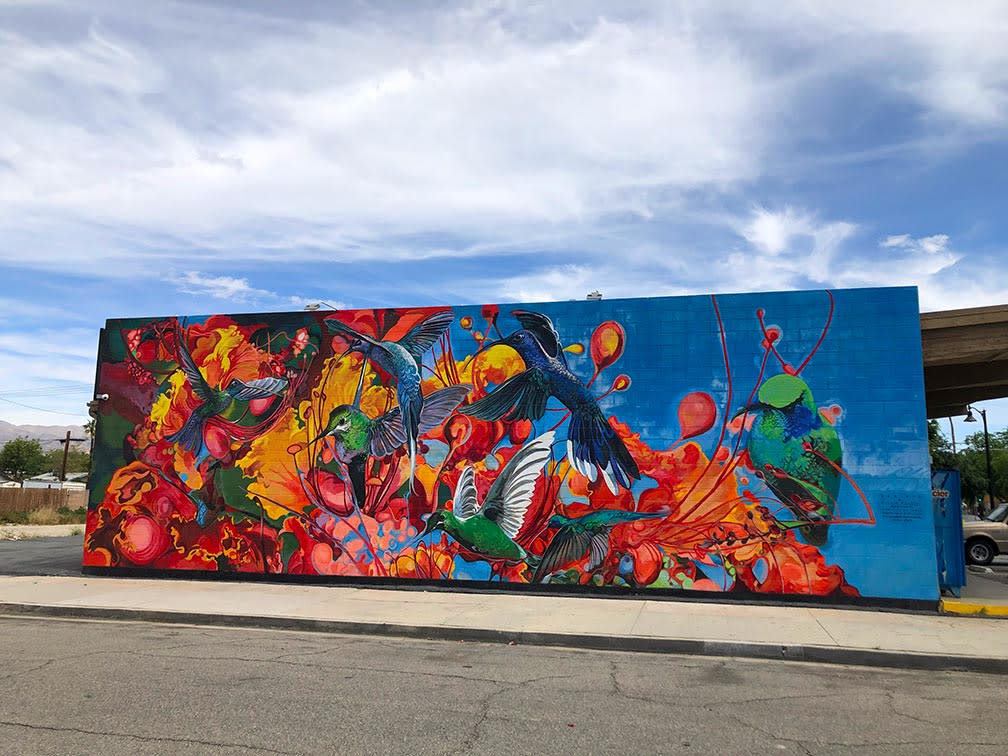 Brightly colored and hard to miss. the masterpiece was painted by artist Nicole Ponsler in 2013 as part of the city's ongoing "Mural Project". The project was launched by the Indio Chamber of Commerce in 1996 in efforts to highlight the downtown district. This piece depicts natural elements that can be observed in the landscape of the area and adds a pop of color that is hard to miss. 
Location: 82-660 Miles Ave, Indio CA, 92201
Palm Desert
Messenger of the Puul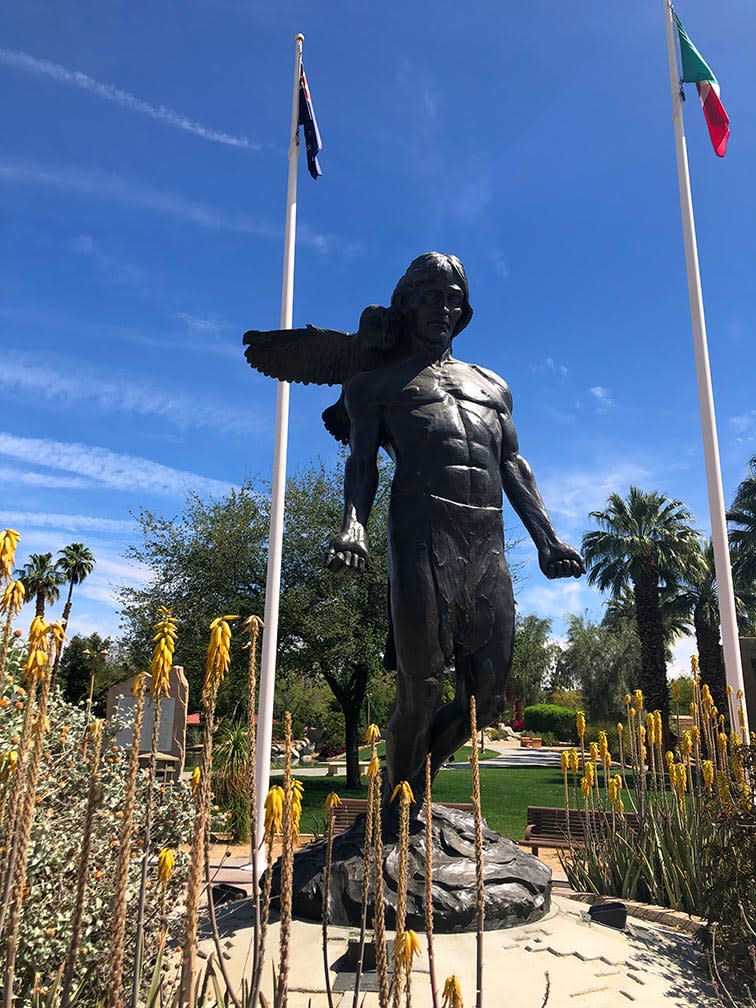 This bronze statue located at Palm Desert Civic Center Park honors the Cahuilla Indians, which are a very important part of history in Greater Palm Springs. The statue depicts a native shaman with an owl perched on his shoulder; artist Curt Mattson was inspired by a Cahuilla legend in which an owl can predict the future. The historical elements represented by this 9-foot statue make it an educational display of the rich culture in Greater Palm Springs.
Location: 43900 San Pablo Ave, Palm Desert, CA 92260
The Dreamer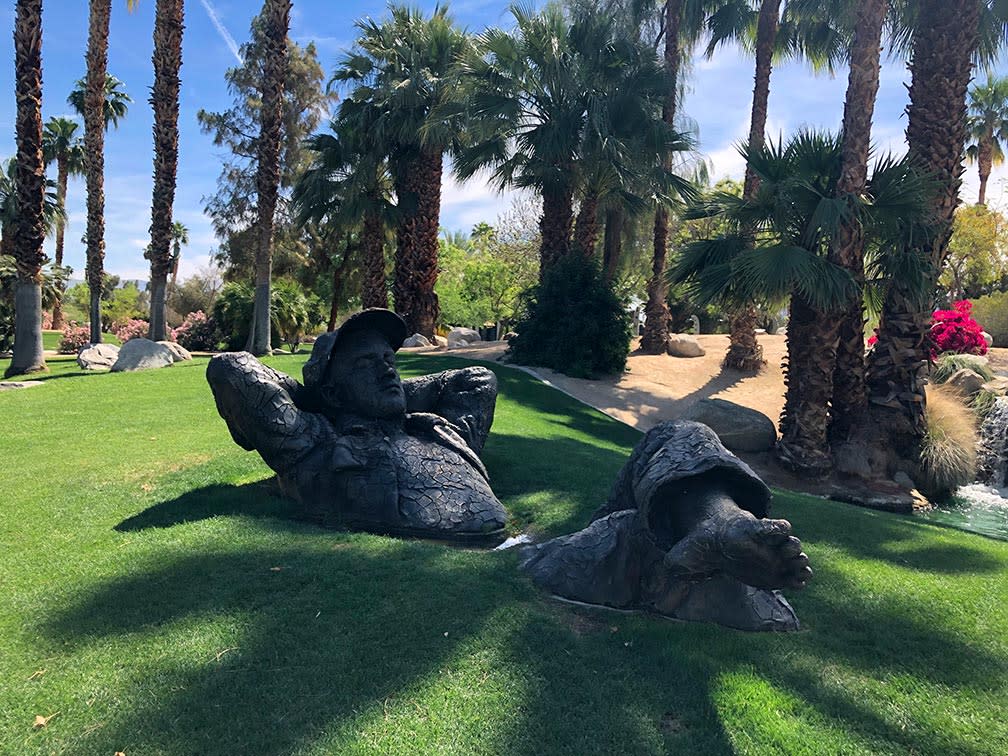 Who doesn't love a nap at the park? This fun statue by artist David Phelps is 14 feet of pure relaxation. 'The Dreamer' is made of lost wax metal casting and was placed at Palm Desert Civic Center Park in 1991. Stop by, snap a photo and maybe even join him for a quick snooze. 
Location: 43900 San Pablo Ave, Palm Desert, CA 92260
We Color in Hope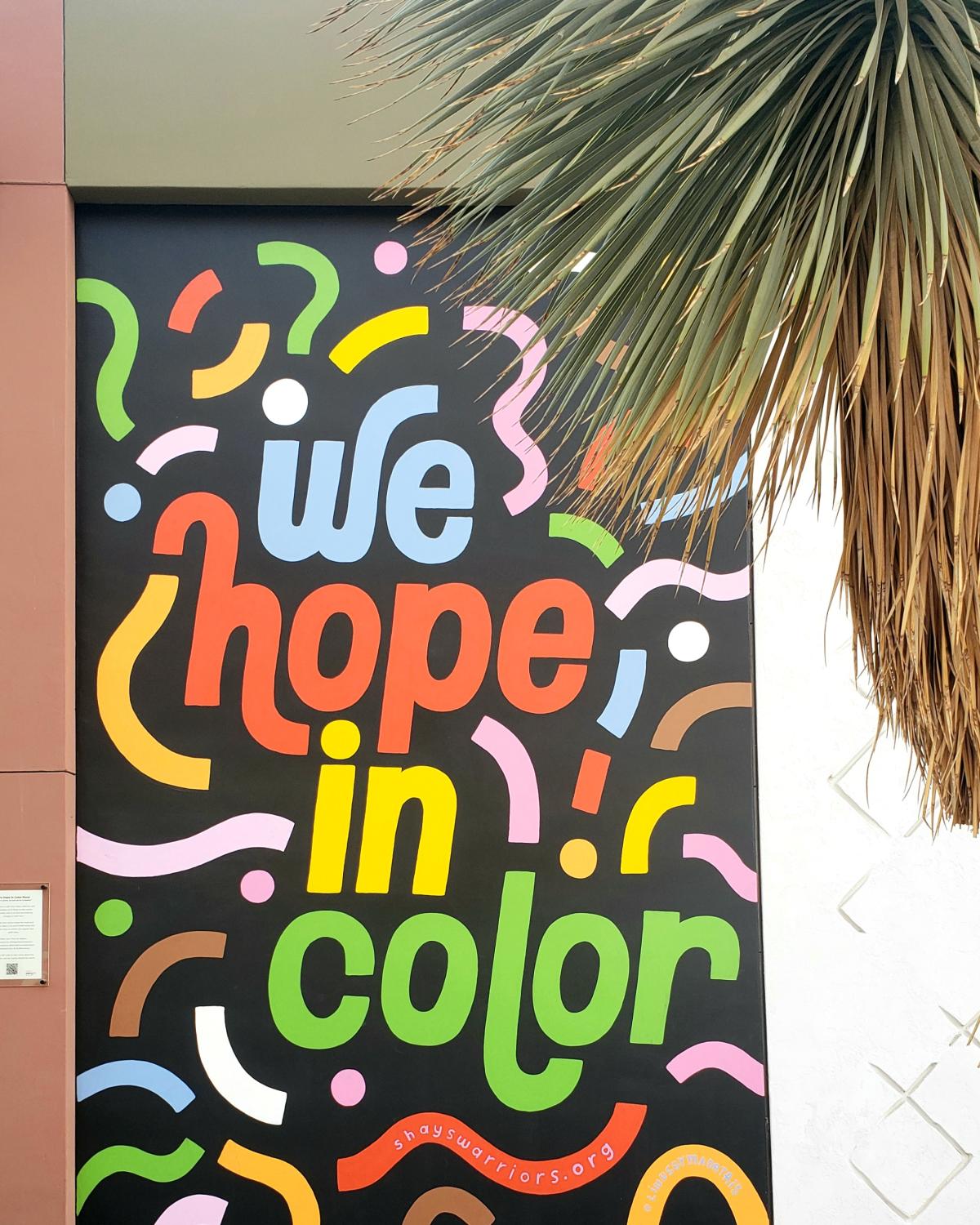 This powerful and lively mural is at The Gardens on El Paseo, painted by Lindsey Made This, for all shoppers to stop by and snap an Instagram picture. As with all art, there is much more to the story than just colors. 'We Hope in Color' is a piece that was created for a local non-profit, Shay's Warriors. The founder, Shay Moroga, is a survivor of a rare cancer and this mural helps share her story and tell her message to others. The confetti surrounding the words above represent cancer awareness ribbons, showing all the different cancers in the world. It is a reminder that after the storm is a rainbow of hope, something Shay's Warriors promise to never give up on.  Shay's Warriors' mission is to inspire, inform, empower and help heal women and their families through health, fitness and the mind-body connection.
Location: 73545 El Paseo, Palm Desert, CA 92260
Looking to continue your art journey on the road? Our artsGPS app makes public art, exhibitions and art-related events in Greater Palm Springs easy to find. Learn more about the artsGPS app here.