Greater Palm Springs is full of Instagram-worthy spots, and we've compiled a list of some of our favorite places to visit for the perfect photo op!
Above: Airstream guest room at Hotel Paseo, 45400 Larkspur Lane, Palm Desert, CA 92260
Hotel Paseo in Palm Desert features a unique guest room experience inside of a 1950s Airstream trailer that is located poolside and will make for a perfect spot to snap some fun pics.
'Forever Marilyn'

Find Marilyn standing tall at the corner of Museum Way and Belardo Road, Palm Springs, CA 92262
Marilyn Monroe had a lasting love for Greater Palm Springs, leaving behind many pieces of memorabilia. Remember her in another way by stopping by this 26-foot tall sculpture that overlooks downtown Palm Springs. If you are stopping by for a picture, why not make a day out of it? Check out the Forever Marilyn Itinerary to find nearby eateries and shops! 
Moorten Botanical Garden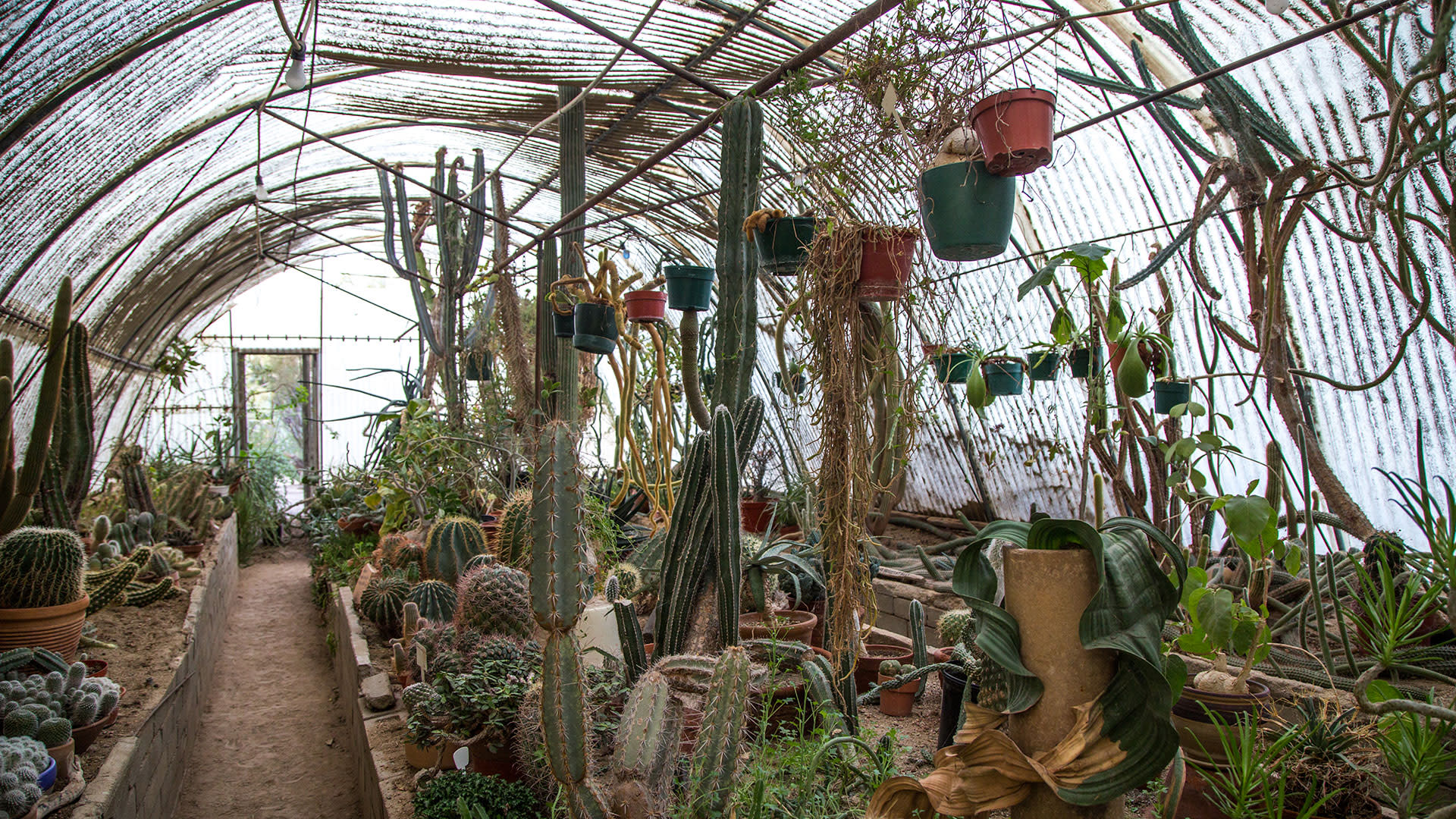 The Cactarium at Moorten Botanical Garden, 1701 S. Palm Canyon Drive, Palm Springs, CA 92262
Moorten Botanical Garden, originally established in 1939, is home to over 3,000 specimens of cacti and other desert plants, as well as a "cactarium" (a greenhouse filled with rare cactus specimens).
Sunnylands Center & Gardens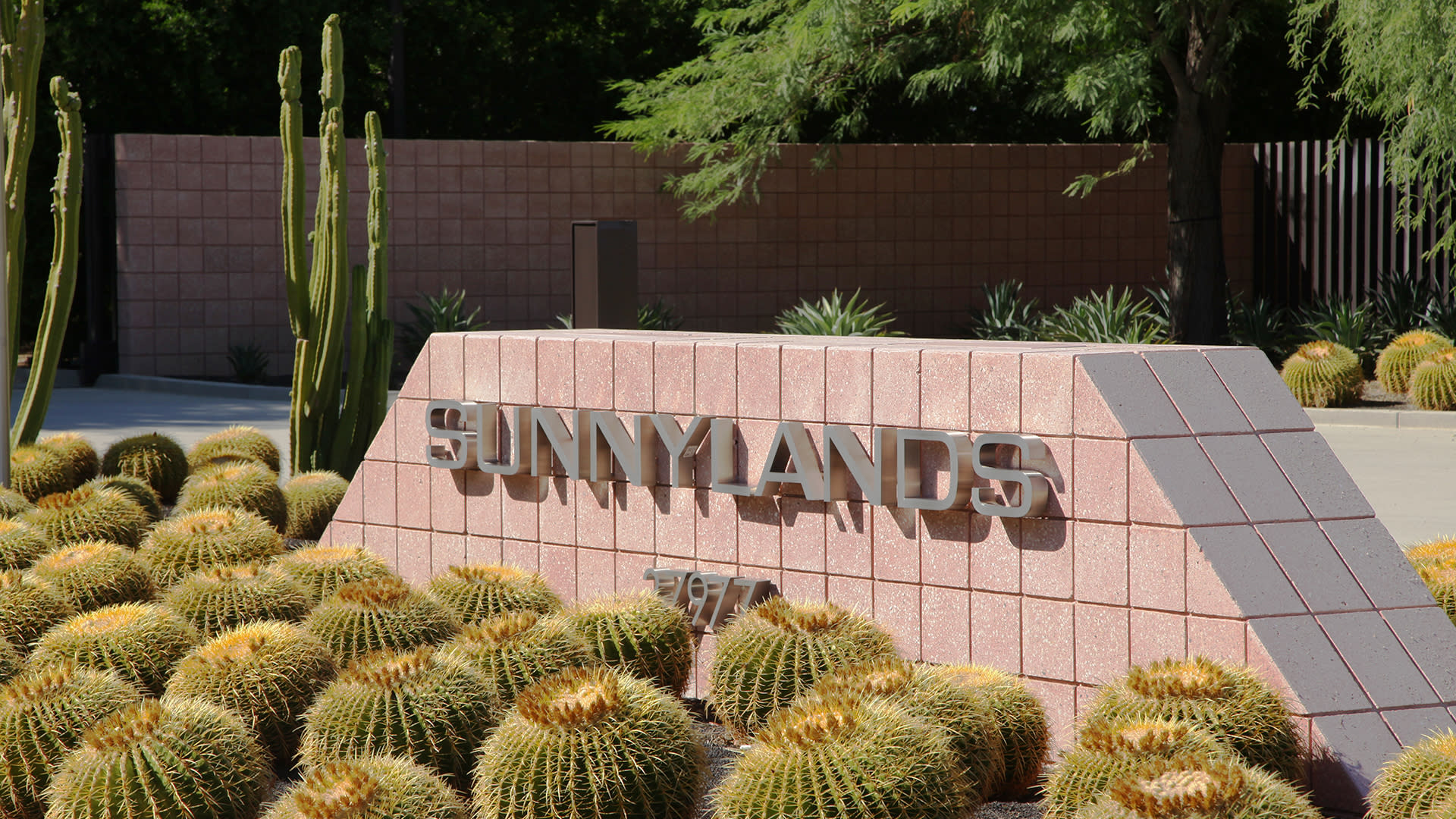 Sunnylands, 37977 Bob Hope Drive, Rancho Mirage, CA 92270
Sunnylands, the former desert home of Walter and Leonore Annenberg, includes a plethora of pink walls (dating back to the 1960s), plus perfectly landscaped grounds (including a labyrinth, rose garden, cacti, olive groves), and both a visitor's center and the original estate. Tours of the historic estate must be booked in advance and no interior photography is allowed, but you can photograph the exterior and the grounds.
Parker Palm Springs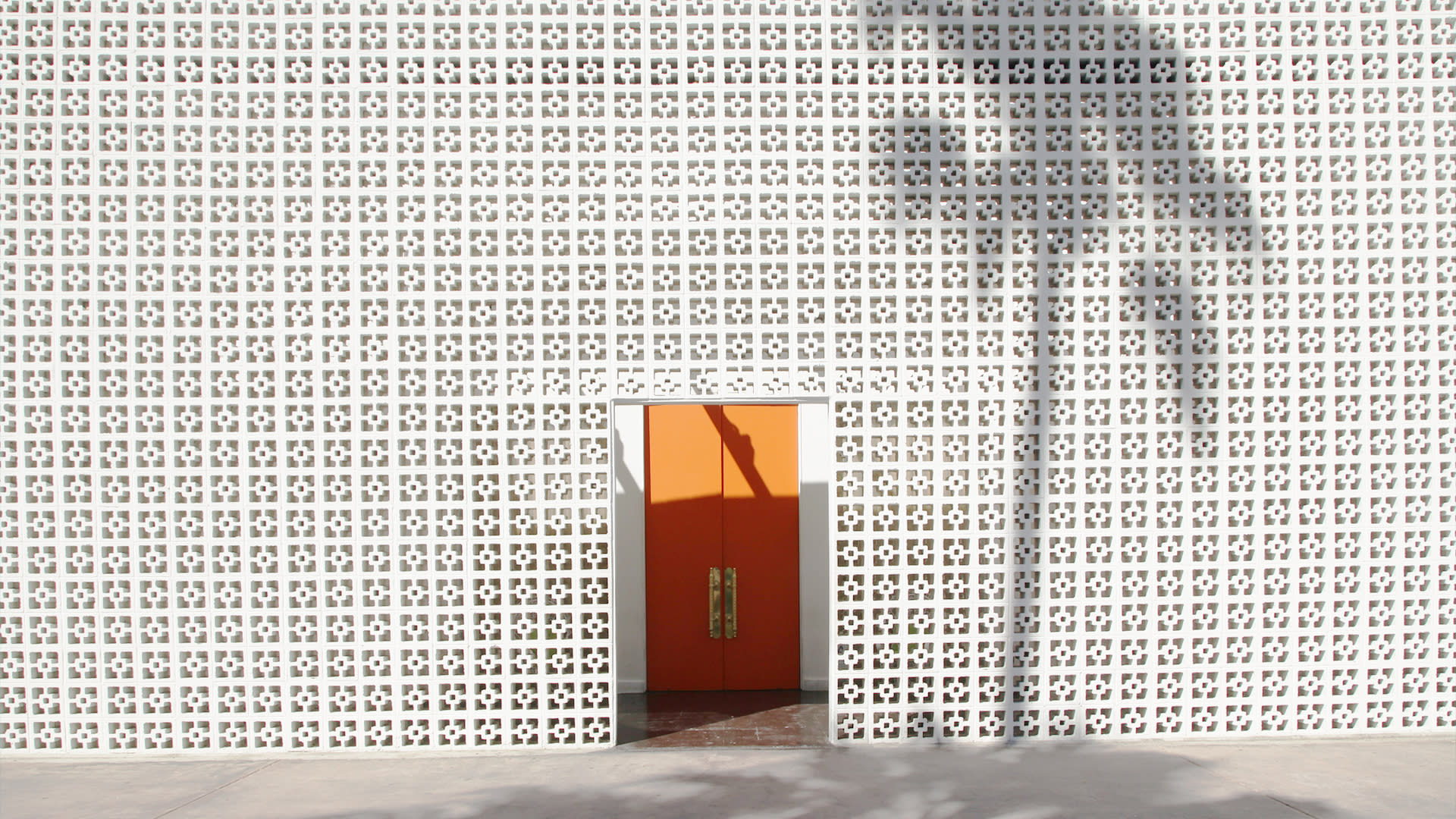 The Parker Palm Springs, 4200 E. Palm Canyon Drive, Palm Springs, CA 92262
The breezeblock wall and orange doors at the Jonathan Adler-designed Parker Palm Springs hotel are another extremely popular Palm Springs photo destination – so much so that you often have to wait your turn in a queue of photo-takers.
Palm Greens Cafe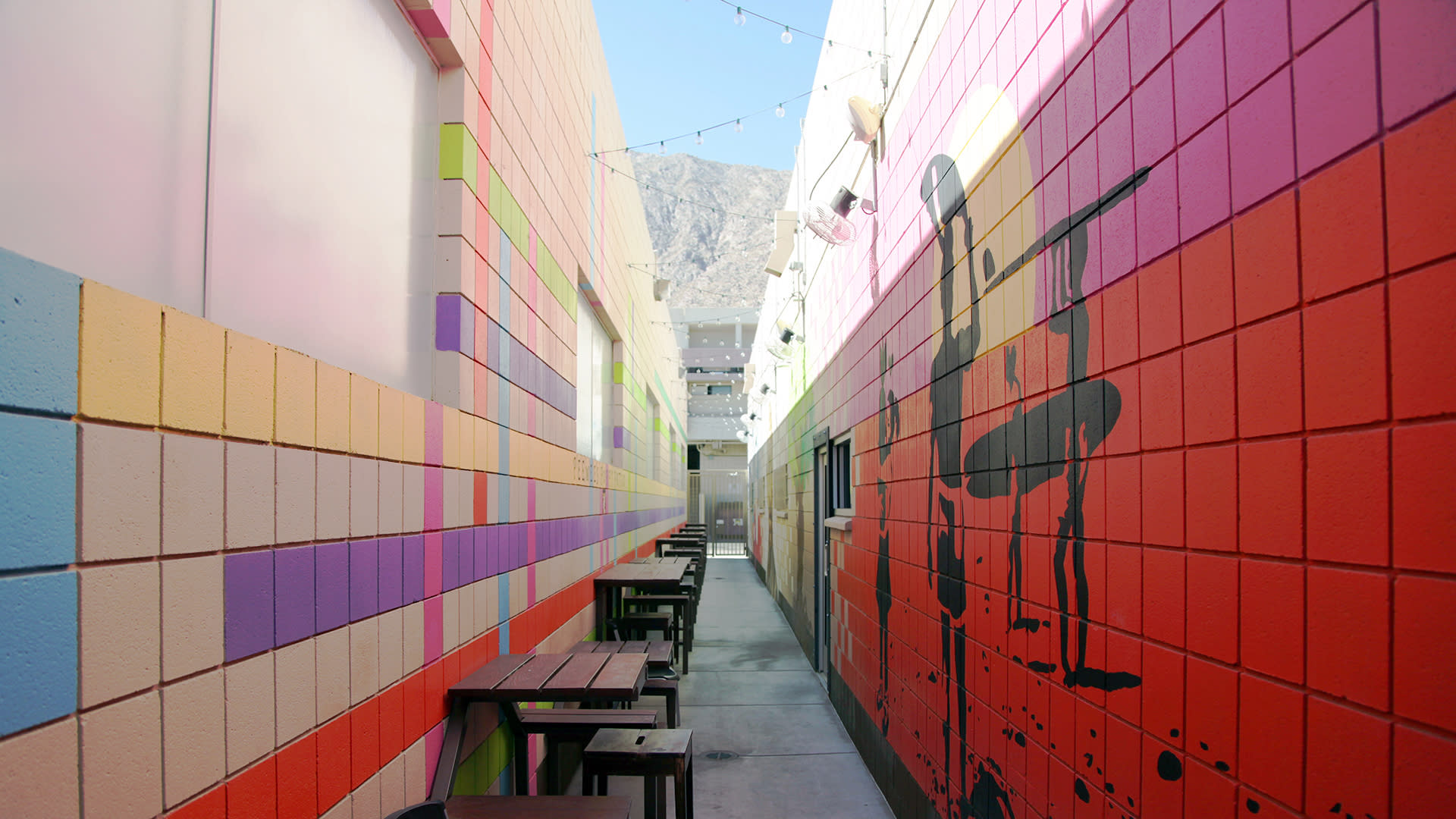 Mural adjacent to Palm Greens Café, 611 S. Palm Canyon Drive, Palm Springs, CA 92262
A narrow space next to Palm Greens Café in Palm Springs is home to colorful murals and mountain views.
JW Marriott Desert Springs Resort & Spa
Flamingos at JW Marriott Desert Springs Resort & Spa, 74855 Country Club Drive, Palm Desert, CA 92211
The JW Marriott Desert Springs Resort & Spa in Palm Desert is home to these pink-feathered Chilean beauties! You can find them at "Flamingo Island," located by the front entrance to the resort.
The Shops at Thirteen Forty Five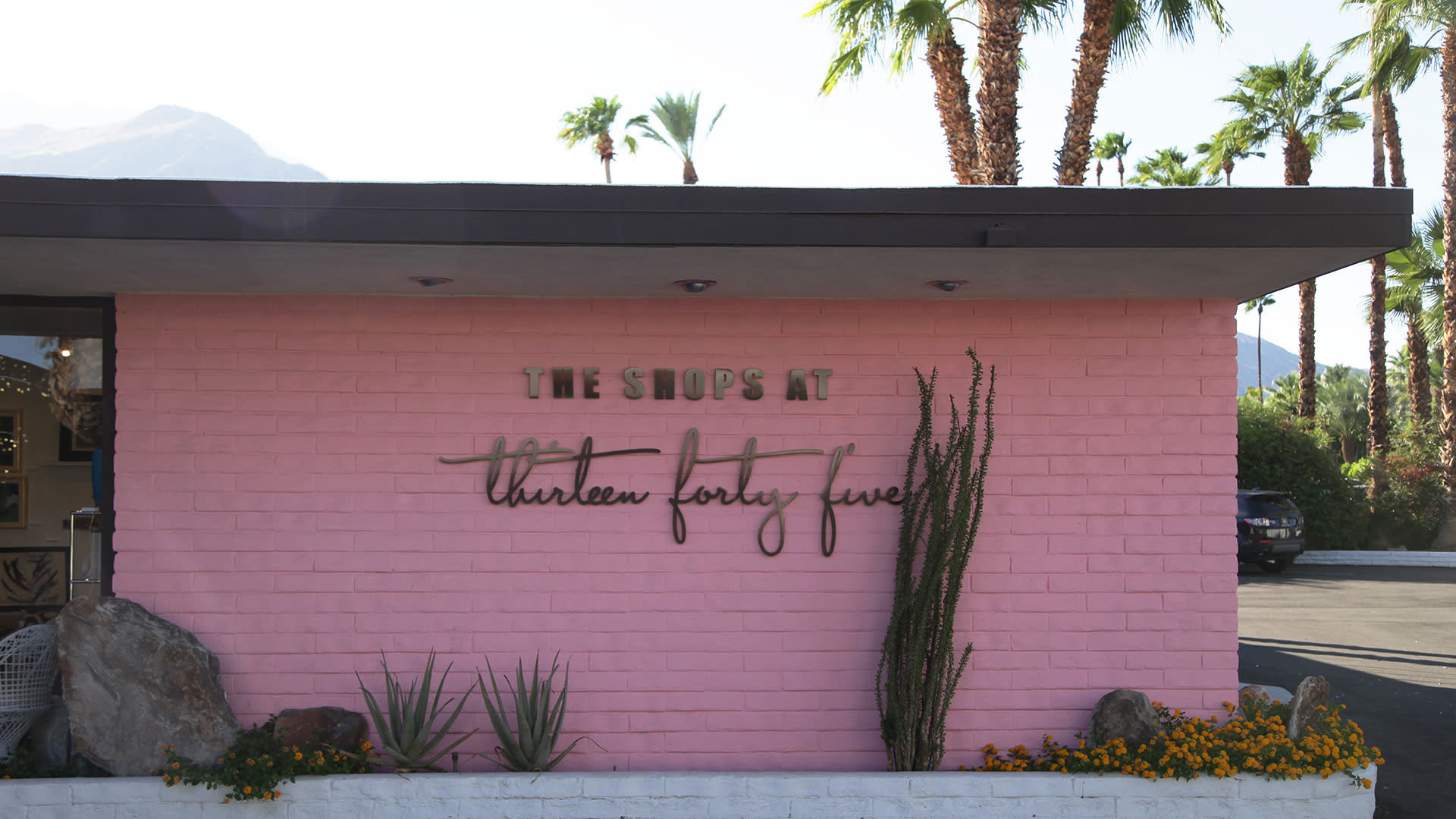 The #pspinkwall at The Shops at Thirteen Forty Five, 1345 N. Palm Canyon Drive, Palm Springs, CA 92262
The Shops at Thirteen Forty Five houses multiple retail stores and art galleries under one midcentury modern roof, with the front exterior of the E. Stewart Williams-designed building now painted pink.
Saguaro Palm Springs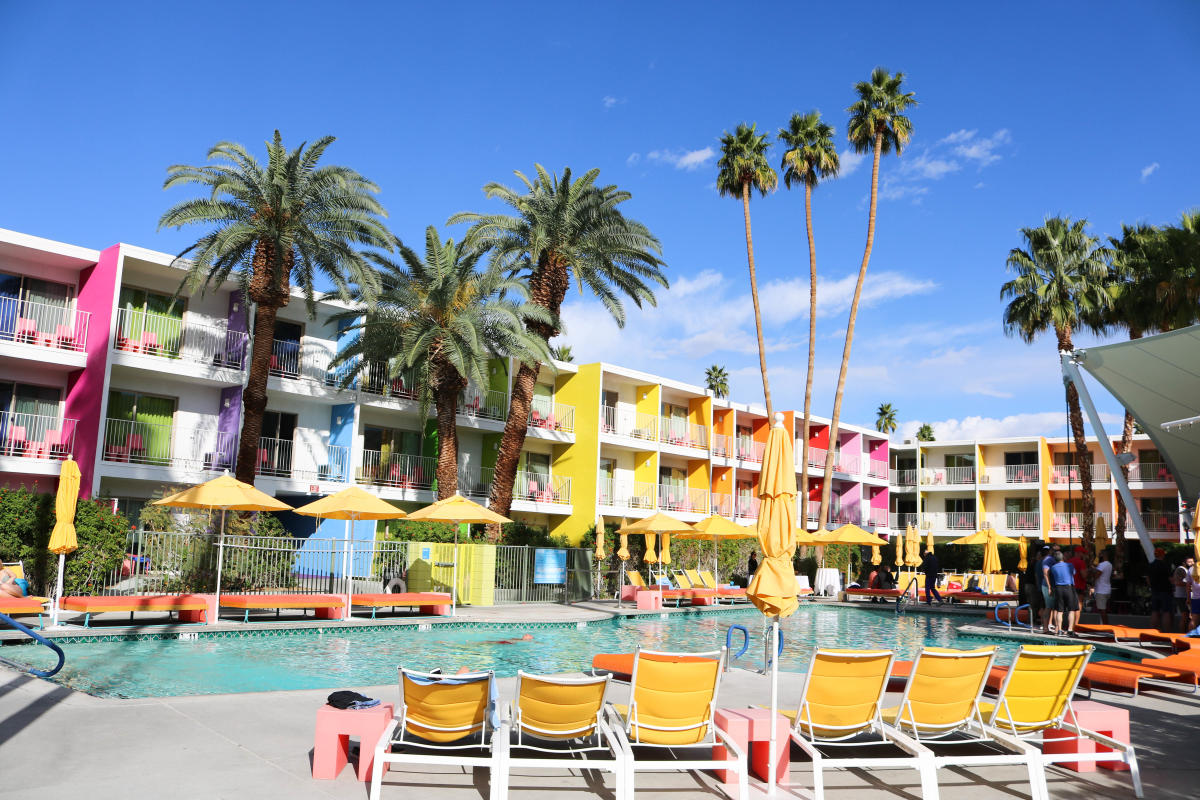 The Saguaro Palm Springs, 1800 E. Palm Canyon Drive, Palm Springs
The Saguaro Hotel in Palm Springs just begs to be photographed, with tons of bright, multi-colored spots around the property.
Orange Twist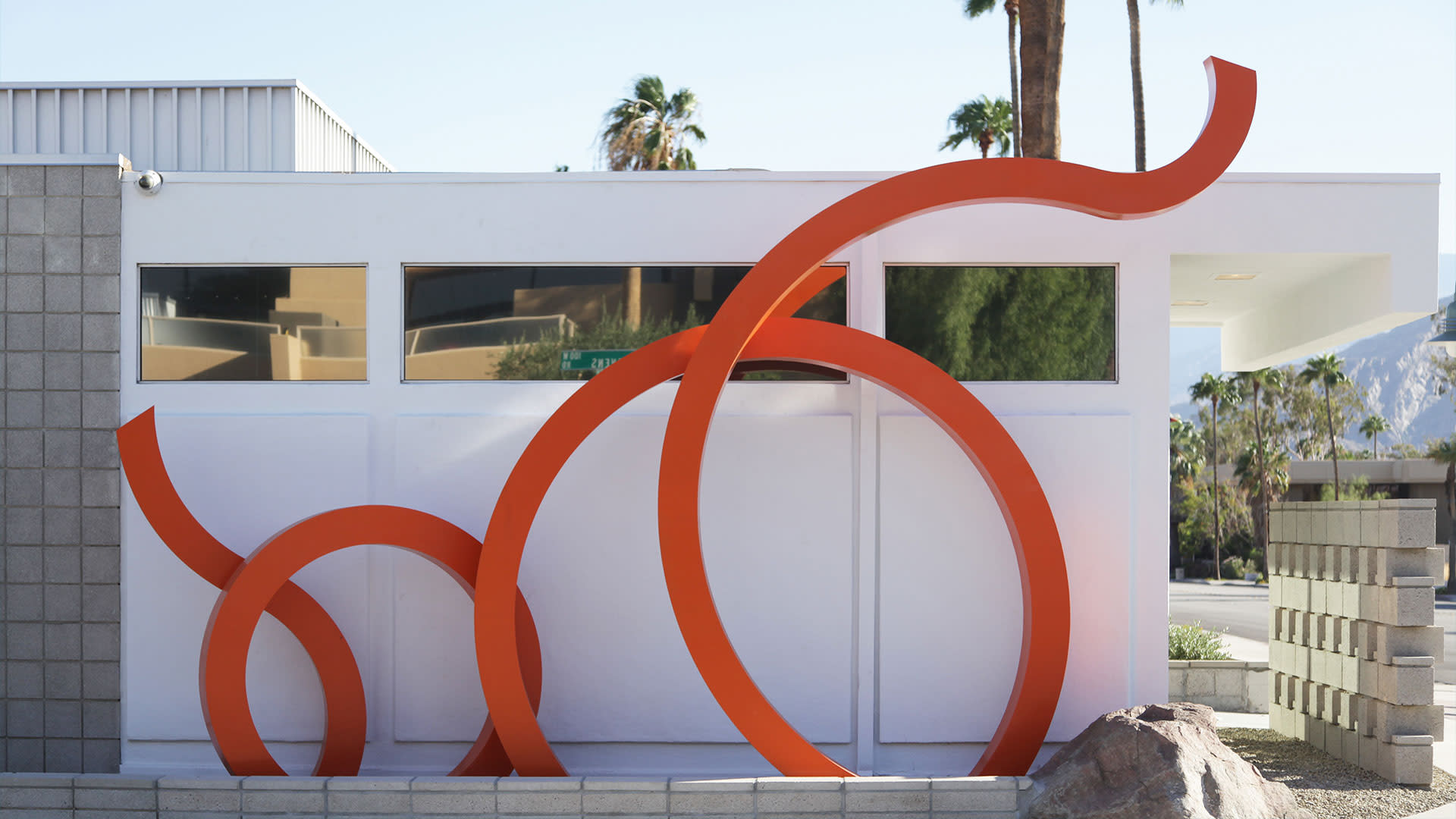 Orange Twist by Delos Van Earl, 1492 N. Palm Canyon Drive, Palm Springs, CA 92262
A small midcentury commercial building designed by William Krisel is adorned by artist Delos Van Earl's "Orange Twist" sculpture.
Hungry Dog of the Desert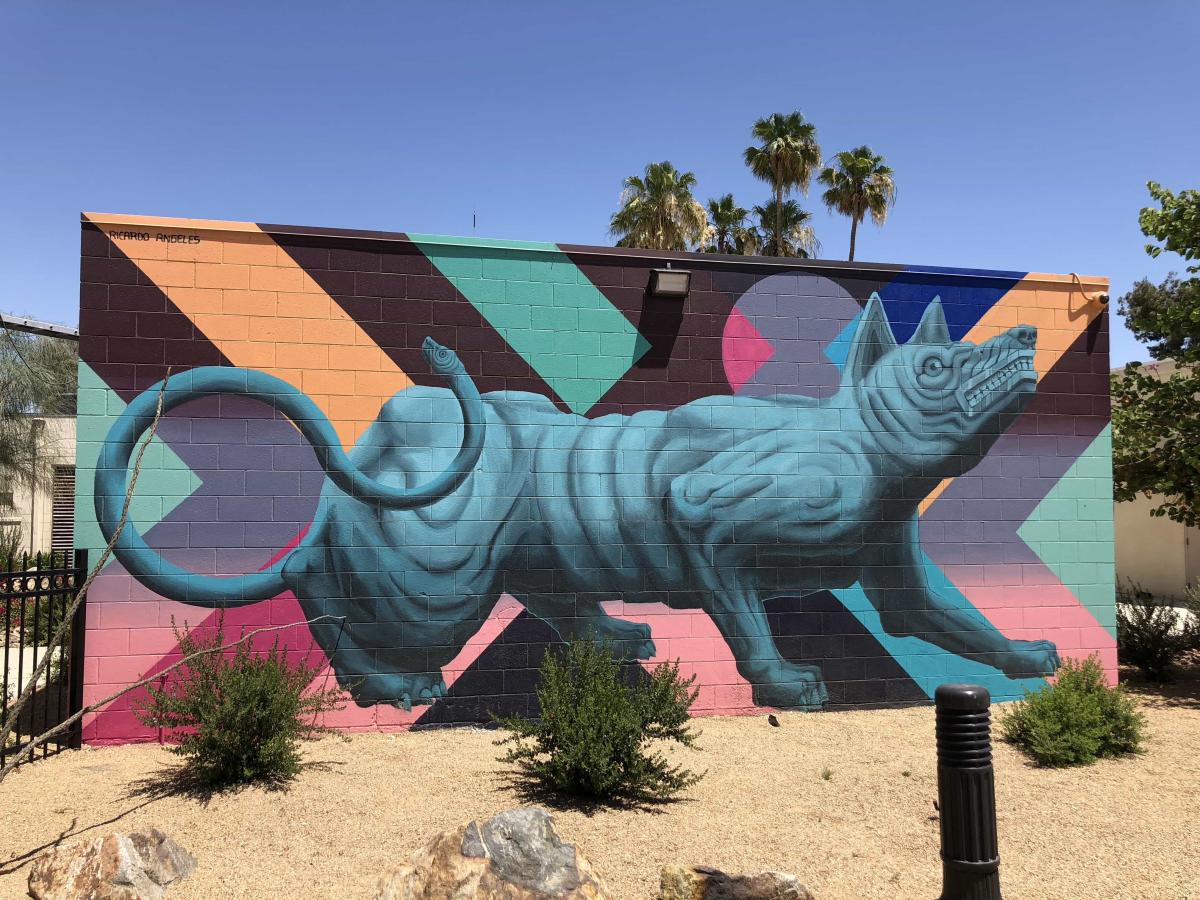 Hungry Dog of the Desert Mural located at 1500-1598 4th St, Coachella, CA 92236 (Veterans Memorial Park)
This kaleidoscopic pooch was painted by Oaxacan artist Ricardo Angeles Mendoza in 2017 as part of the Coachella Walls project. Growing up in Mexico, his family made and sold 'alebrijes', wooden folk-art sculptures painted with bright colors and intricate patterns. Come snap your photo in front of this vibrant masterpiece.
Rebirth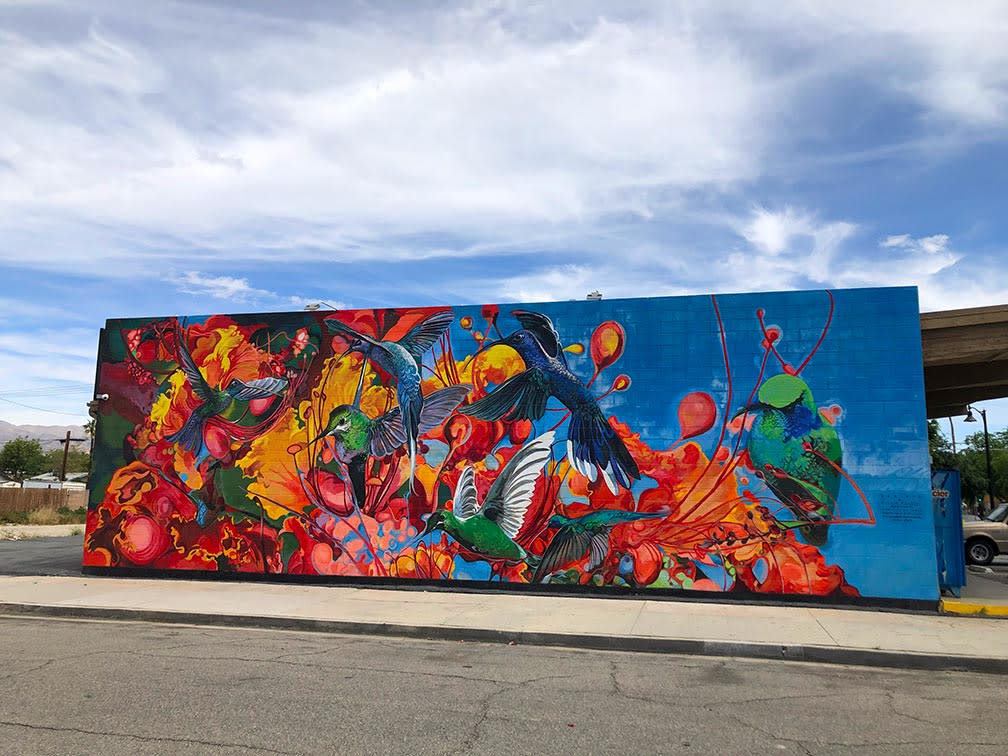 Rebirth mural located at 82-660 Miles Ave, Indio CA, 92201
Brightly colored and hard to miss. this Instagram-worthy mural was painted by artist Nicole Ponsler in 2013. This piece depicts the beautiful natural elements that can be observed in the Greater Palm Springs landscape and makes for a terrific backdrop.
Salvation Mountain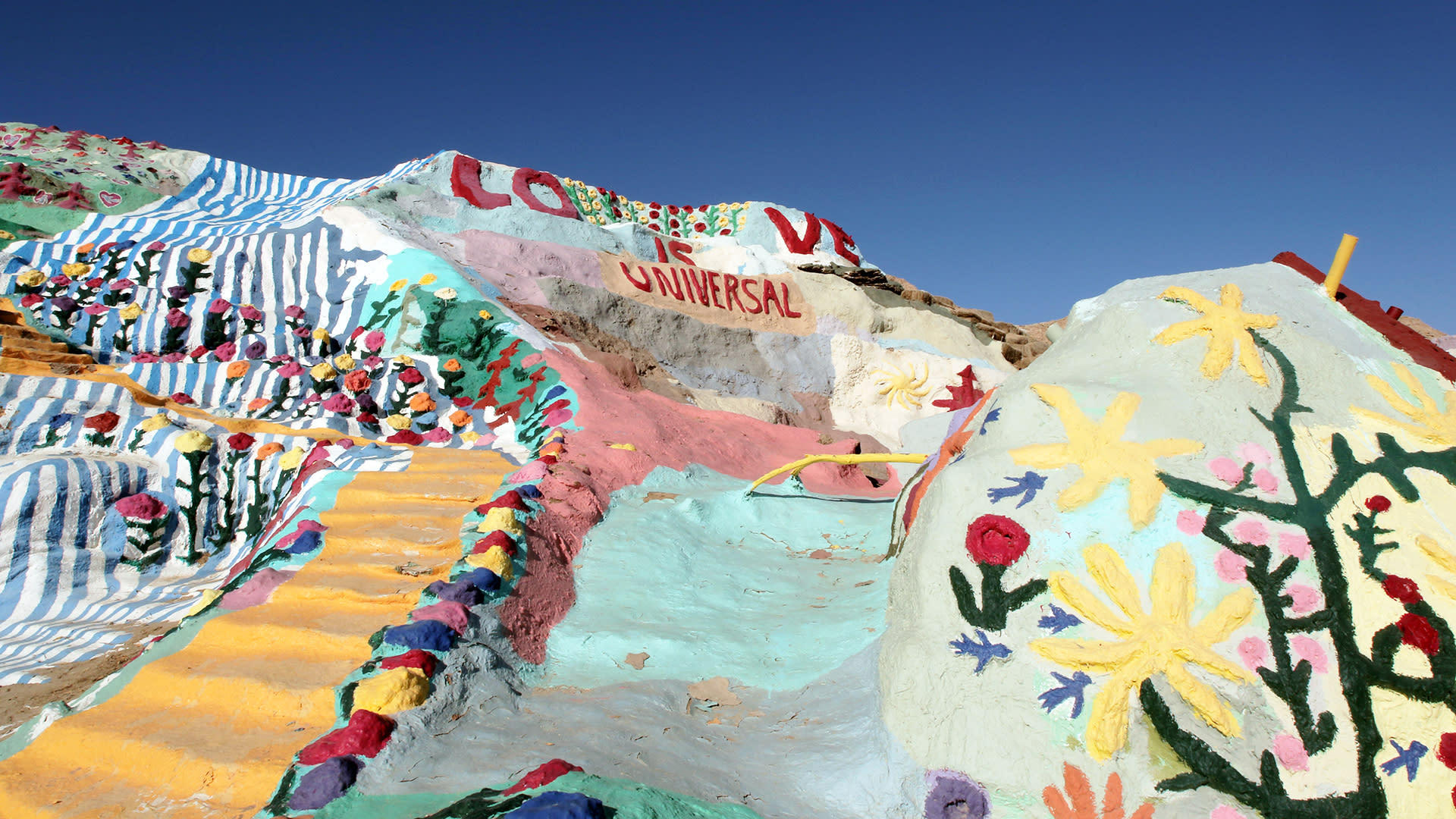 Salvation Mountain, Beal Road in Niland
If you're up for an excursion deeper into the desert, Salvation Mountain is a photographer's dream, with tons of photo ops on and around artist Leonard Knight's manmade "mountain."
Mural at The End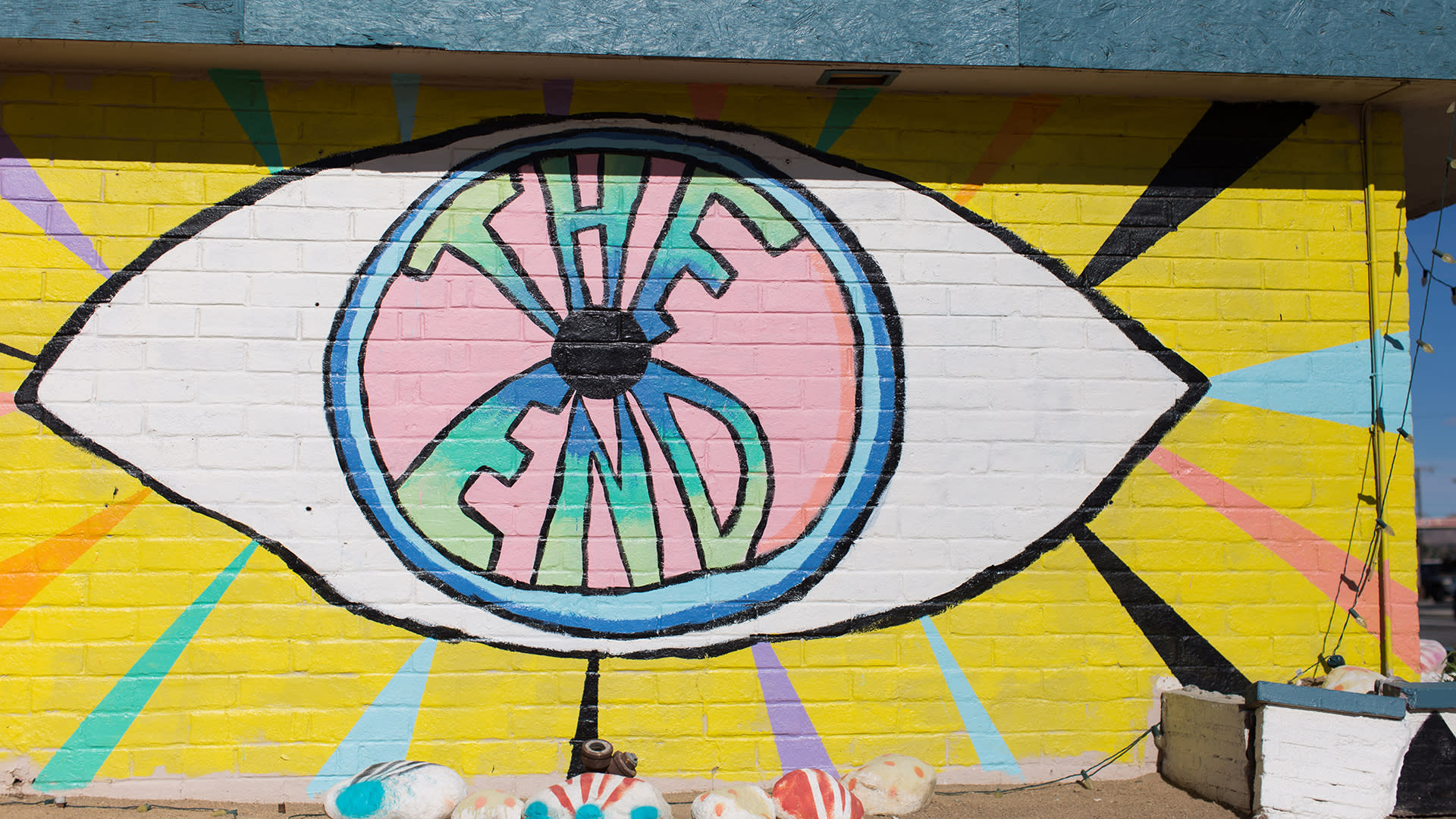 Mural at The End vintage store, 55872 Twentynine Palms Highway, Yucca Valley, CA 92284
The high desert communities of Yucca Valley, Joshua Tree, Landers and other neighboring cities are full of tons of photo ops, ranging from murals, to natural landscapes, to the old western movie sets in Pioneertown, as well as quirky experiences like the Integratron.
Palm Springs Windmills 

Windmills are located adjacent to Highway 111 and the I-10 Freeway just northwest of Palm Springs
Greater Palm Springs is home to more than 1,200 wind turbines -– that's a lot! Head out to the miles and miles of land that they cover and find the best spot for your photo, whether you are catching the sunrise, sunset or just want to let your followers know what you're up to. 
Ready to style your next Instagram shoot? Check out our ultimate guide to vintage shopping in Greater Palm Springs!