TBID Frequently Asked Questions (FAQs)
What is a TBID?
A Tourism Business Improvement District (TBID) is a collection of lodging properties that pay an assessment on individual room night stays. The assessment—a nominal fee passed onto the customer—provides funding for destination marketing and development to bring more visitors to the destination.
How many TBIDs exist in the U.S.?
According to Civitas Advisors, each year, more than 160 tourism improvement districts throughout the United States raise nearly $350 million for destination marketing.
Why does Greater Palm Springs need a TBID?
The TBID provides a stable, long-term funding source for tourism promotion that helps the destination remain competitive in a crowded global marketplace. It gives Visit GPS and TBID payors control over the local tourism industry's long-term viability by ensuring adequate marketing funds are available to drive visitation and grow room night sales. Unlike Transient Occupancy Tax collections, TBID funds are protected for exclusive use by the destination marketing organization. The TBID represents 83.7% of Visit GPS' total annual funding.
Does Visit GPS receive any other funding?
City funding contributes 9.6% of the Visit GPS' total annual budget. The County of Riverside contributes to this funding for those areas outside of city jurisdiction. Private funds represent the other 6.7% of overall funding and include revenue received through partnership, event hosting, advertising co-ops, joint share participation and local businesses, cities and interest.
Who pays into the TBID?
All hotels with 50 rooms or more as well as short-term Vacation Rental properties located within the boundaries of the cities of Desert Hot Springs, Palm Springs, Cathedral City, Rancho Mirage, Palm Desert, Indian Wells, La Quinta and Indio, as well as portions of the unincorporated areas of Riverside County in the Coachella Valley.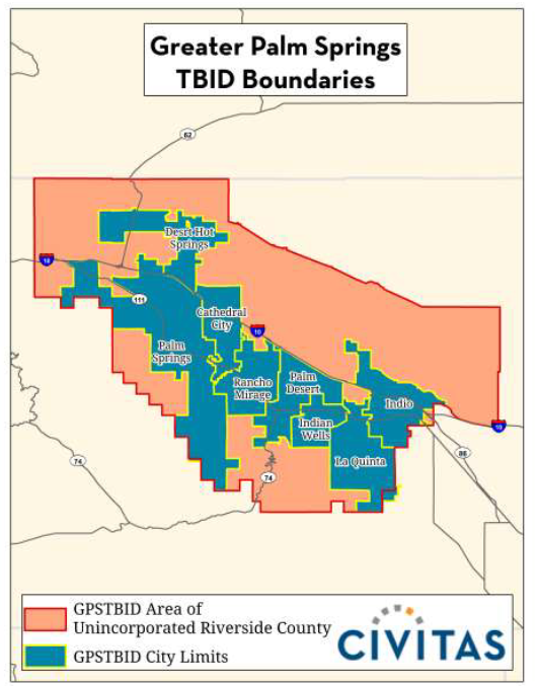 How much is the assessment?
The annual assessment rate is 3% (for hotels) and 1% (for vacation rental properties) of gross short-term rental revenue. Assessments will not be collected on long-term stays of 28 days or more.
Who pays for it?
The assessment is typically passed on to the customer via their nightly bill. The hotel, management company or property owner remits the total amount collected on a monthly basis.
How does my property pay?
Visit GPS collects the assessment on a monthly basis from lodging businesses located within the boundaries of the TBID. Hotel properties remit the assessment directly to Visit GPS using a form provided to them each month. Vacation rental properties will see the TBID assessment added to the forms they remit to their respective cities or the county each month. The cities or county will collect the funds and remit them to Visit GPS.
What does my property get out of it?
The TBID is designed to provide specific benefits directly to payors by increasing room night stays. Marketing and sales promotions encourage overnight tourism by promoting payors as tourist, meeting and event destinations and raising awareness of the Greater Palm Springs brand.
How much money is generated from the TBID collections?
In 2021-2022, the TBID is estimated to generate $18.5 million in annual marketing funding. The budget will fluctuate as overnight stays do, but it is not expected to significantly change over the TBID's term.
How is the money spent?
Of the total annual TBID collections, 94% is allocated to sales and marketing and 4% supports finance and administration. The sales and marketing activities target leisure travelers, meeting planners, travel professionals and event producers through a variety of integrated disciplines including advertising, social media, content marketing, PR and group and travel industry sales. Additionally, select destination development initiatives are funded by the TBID, such as airlift and workforce development. Funds will also be earmarked specifically to educate elected officials, homeowners and visitors on vacation rental best practices, compliance and permit requirements.
Who decides how the TBID funds are invested?
TBIDs are designed, created and governed by those who pay the assessment. A cross-section of representatives from the assessed hotels and vacation rentals serve on Visit GPS' Board of Directors, who weigh in on the marketing strategy and tactics deployed in the Annual Service Plan.
Who manages the funds?
Visit GPS is responsible for managing funds and implementing programs in accordance with the Management District Plan.
How do I vote?
Owners and operators responsible for paying TOT can log in to their online account to download and submit the voting form between April 1 and May 15, 2020. Please contact us if you need help accessing your account.
What is the duration of the TBID Renewal?
The renewed TBID will have a 10-year life, beginning January 1, 2021.
Who to a do I contact to learn more about the Greater Palm Springs TBID Renewal?
Director of Partnership Davis Meyer would be happy to answer your questions or set up a briefing meeting with a member of Visit GPS' senior leadership team.