Looking for 2019 Desert X info? Click here for 2019 Desert X locations, artists and map!
You want to see Desert X 2017 but have only about a half a day to get around to the sites? Here's a four-hour loop that will take you to around to most of the sites and have you back on schedule.
Before you head out, pick up a program and map at the Desert X Hub at the Ace Hotel & Swim Club in Palm Springs, or visit desertx.org for locations and information about the installations and the artists who created them.
This tour allows for about 15 minutes at each site:
Start your tour outside the Palm Springs Art Museum. You can't miss the 53-foot painted windmill blade towering above the roofline from the south sculpture garden. Jeff Gibson's sculpture, Alive, reflects the color and geometric patterns of his Native American heritage. The text encourages unity among all communities, particularly the large Native American, Mexican, and LGBT populations.
Take Indian Canyon Drive north to I-10 West and exit at Whitewater. Follow the winding road into Whitewater Preserve to see Sherin Guirguis' One I Call, which references the pigeon towers she recalls from her native Egypt.
Take I-10 East to Golf Club Center Parkway at Avenue 42 in Indio to see Glenn Kaino's Hollow Earth, an optical illusion that refers to tunnels running from Egypt to Gaza and Mexico to the United States, as well as the childhood idea of digging a hole to China.
Continue into Coachella to see Armando Lerma's Festival in the Desert mural on the side of an ice cream store. This work is also part of the Coachella Walls mural project depicting the lives of Mexican farmworkers in the community.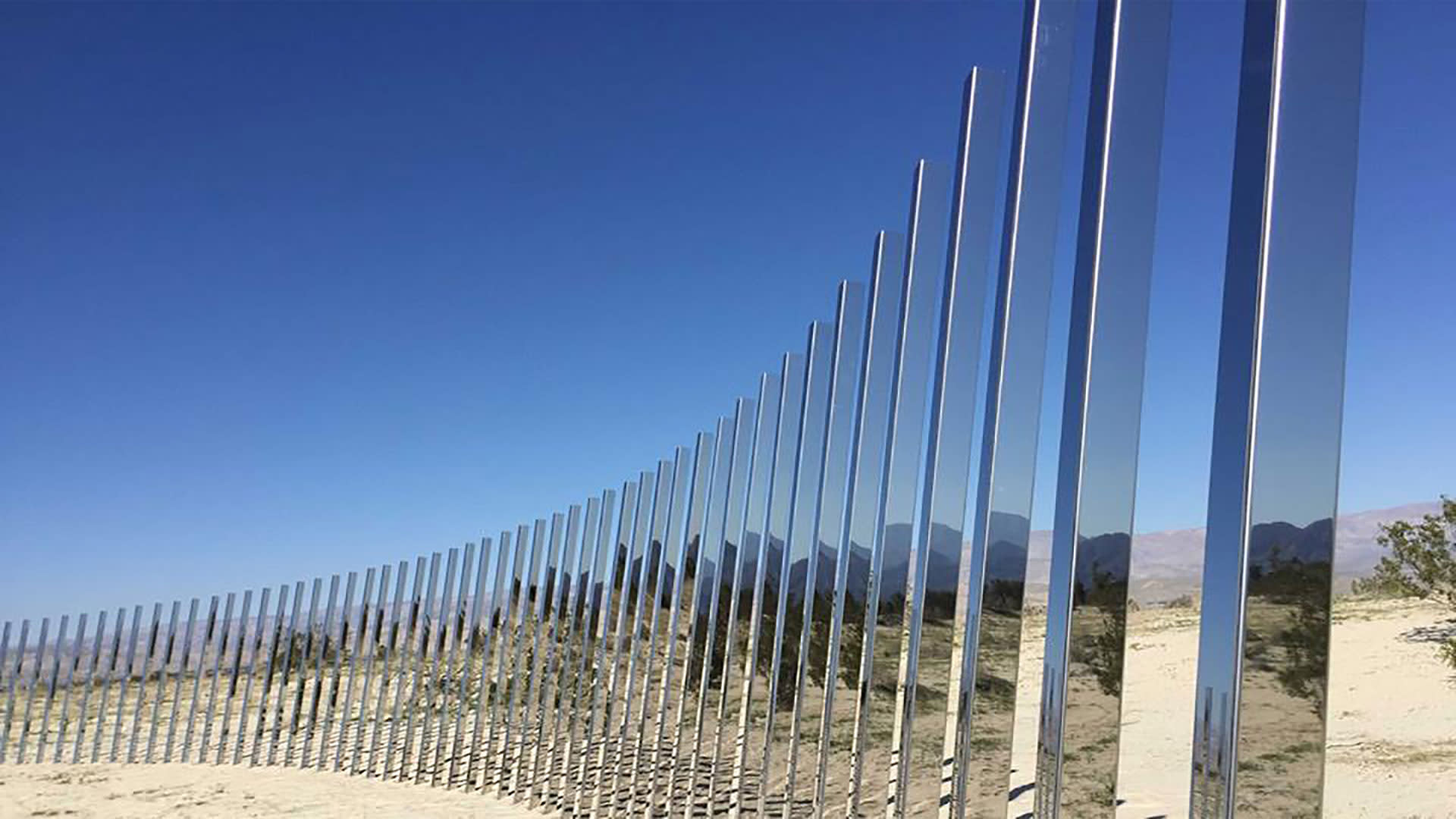 Take the freeway to Cook Street and go south to Frank Sinatra and then west to Portola Drive. On the right side you'll encounter Phillip K. Smith III's Circle of Land and Sky. The artist has installed 300 mirrored beams at a 10-degree angle. From outside the circle, the work reflects the land; from inside, it reflects the sky. The piece changes continually with the natural light. It's best to see at sunrise and sunset.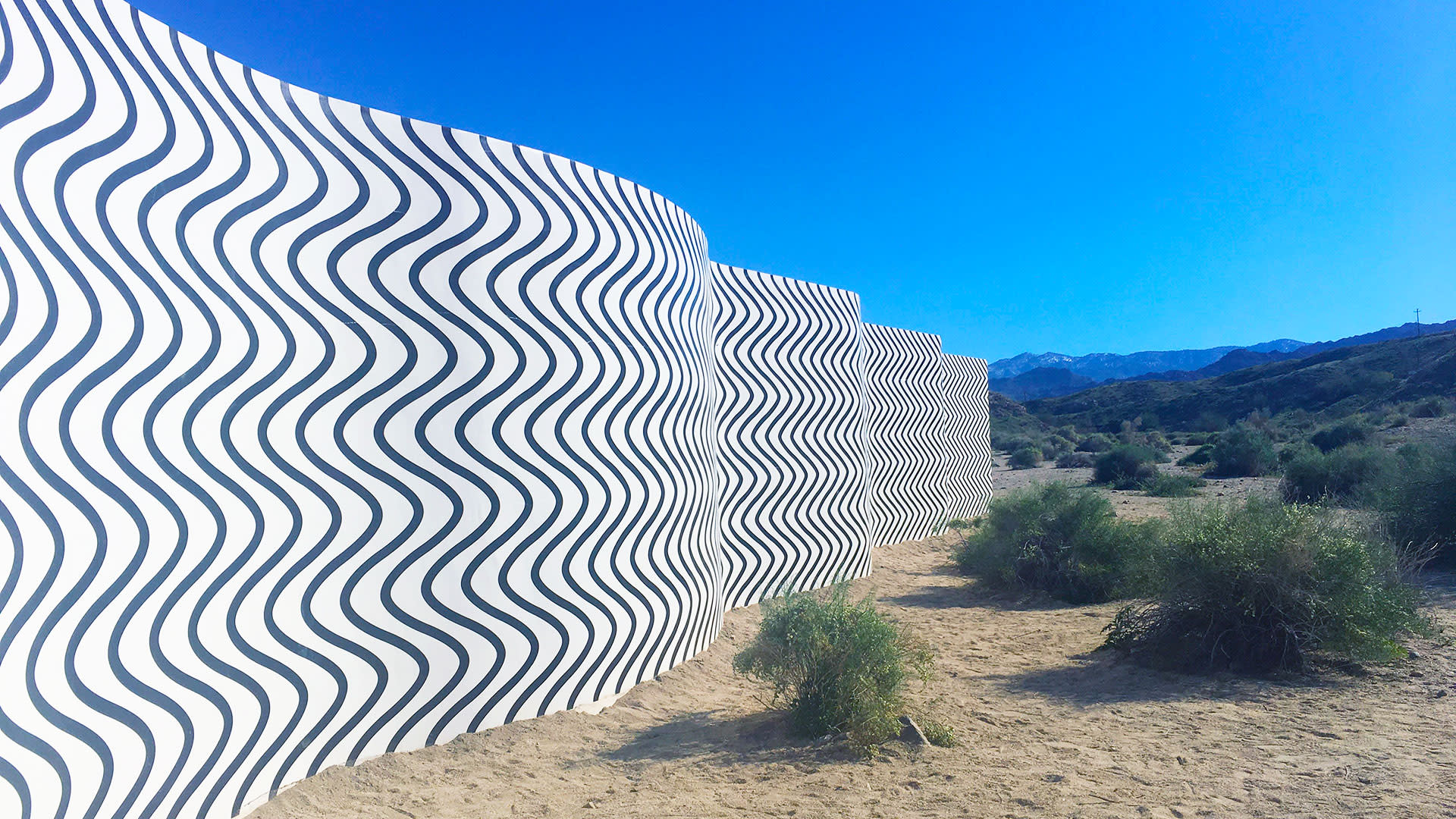 Continue south on Portola to Highway 111 and turn west to Highway 74. Go south Thrush Road and into Homme Adams Park to find Claudia Comte's Curves and Zigzags. The work reflects the artist's practice of creating op-art paintings on surfaces and objects of her own construction.
Drive south on Highway 111 and then north on Bob Hope Drive. Turn left at Ramon Road and Will Boone's Monument will be on the right. Step down into this bomb shelter to find a statue of John F. Kennedy, who makes you question how safe we are in this volatile time in history.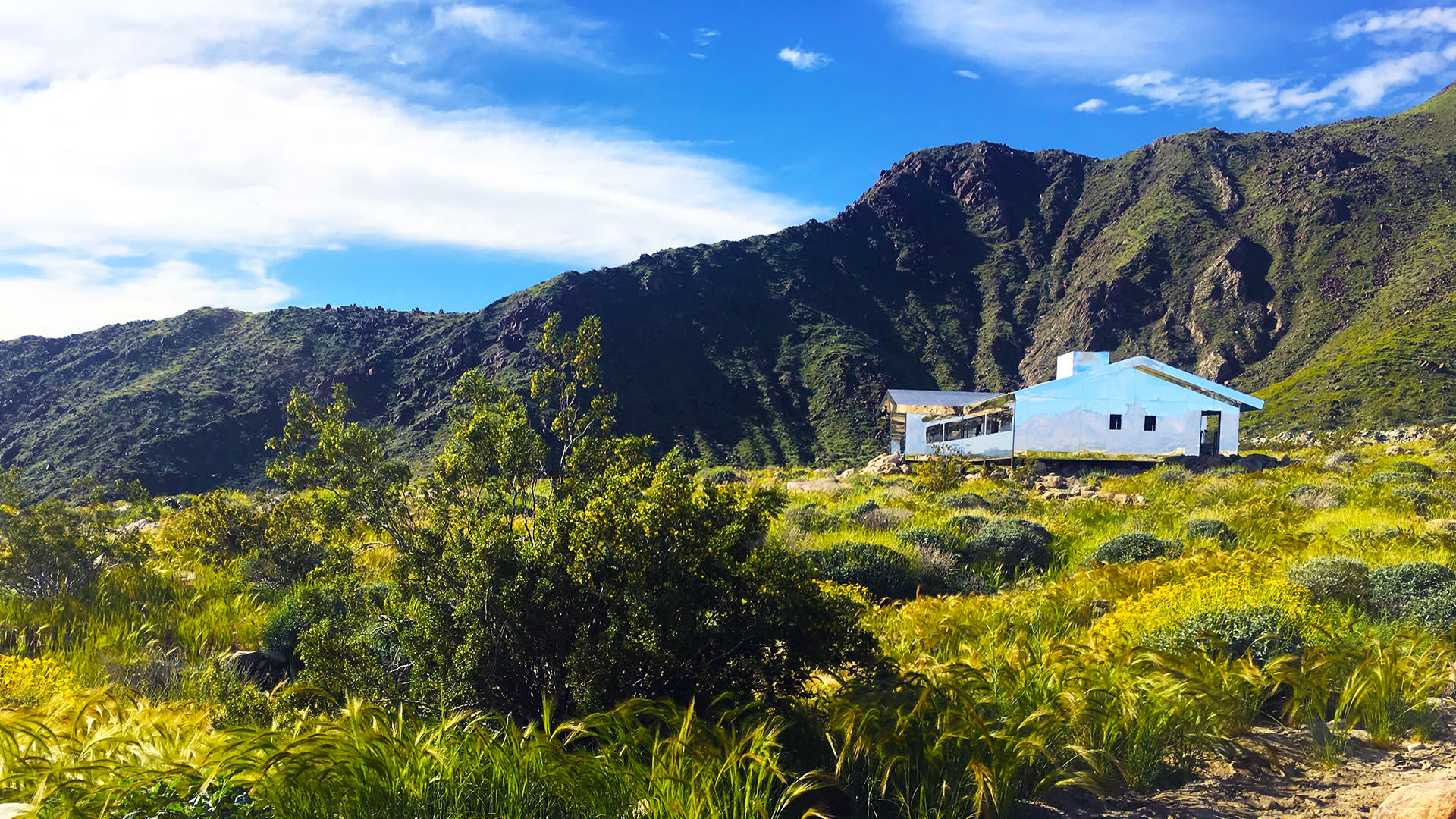 Continue west on Ramon Road to Gene Autry Trail north. Take a left on Vista Chino and a right on Farrell Drive. Farrell bends west and becomes Racquet Club Drive. Follow it to the mountain, the end of the road, where you'll come to the security gate of Desert Palisades and be directed to Doug Aitken's Mirage, a house completely surfaced in mirrors that appears to disappear into the landscape.
Other works include a series of billboards on Gene Autry Trail by Jennifer Bolande and an installation called Donation Box by Gabriel Kuri, both in Palm Springs. And Tavares Strachan's installation, I am, which consumes the space of two football fields is visible at night; it's open from 7 to 10 p.m. daily.
(Note that Desert X has closed for 2017).