Whether you are looking for midcentury modern décor, retro digs or antique finds, shopping in Greater Palm Springs this season is where you need to be–especially with the much-anticipated return of the monthly Palm Springs Vintage Market!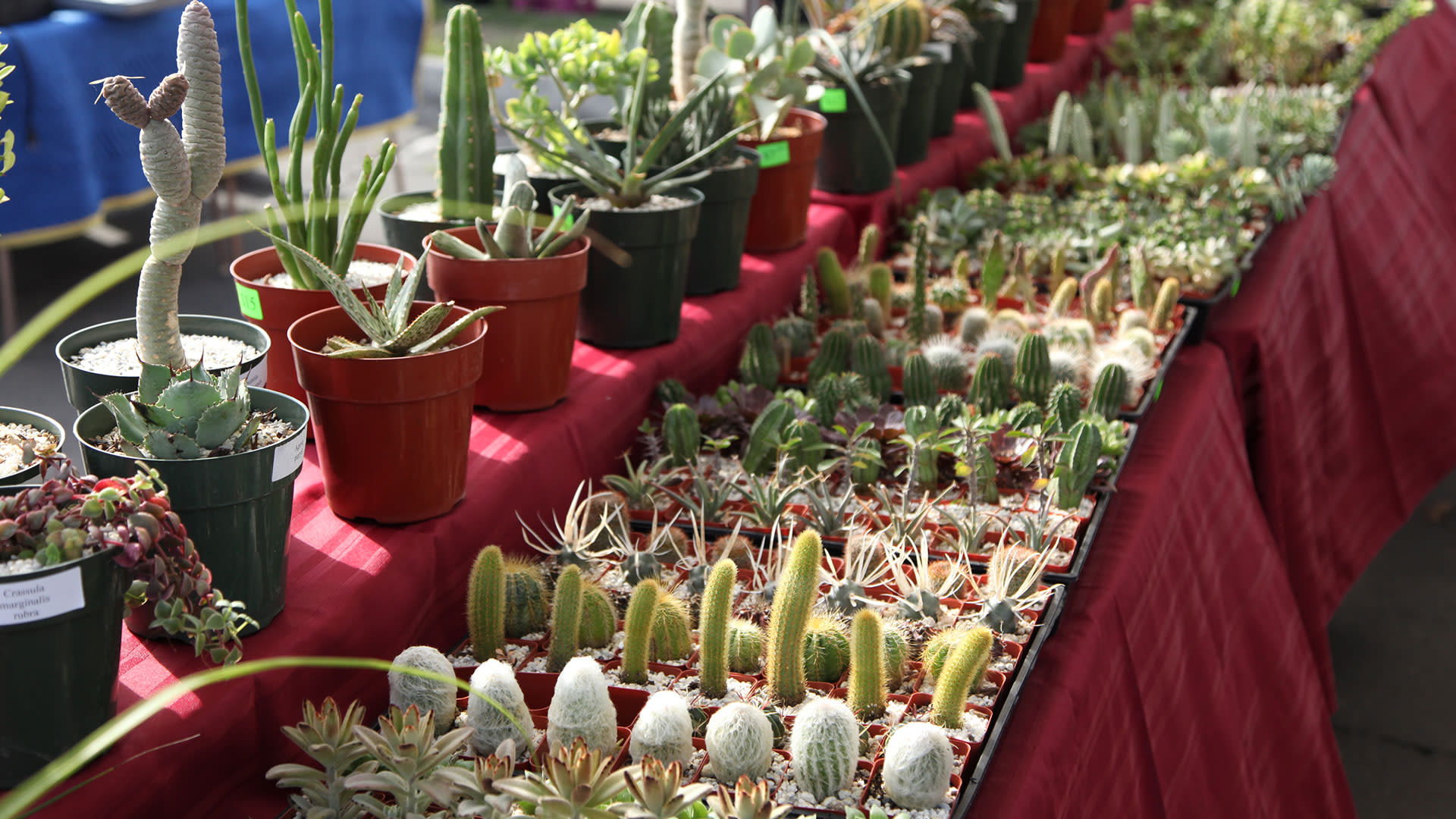 Meet the Palm Springs Vintage Market
The Palm Springs Vintage Market is a boutique flea market that operates on the first Sunday of every month, October through May, from 8 a.m. to 2 p.m. The seasonal event is open to the public and is set to make its return on Sunday, October 3, 2021, at the Camelot Theaters parking lot in downtown Palm Springs. Well-behaved and friendly pets are also welcome to attend.
Items found at the market include vintage fashions, jewelry, décor pieces, furniture, housewares and records, as well as art and collectables from a variety of vendors. Food and drinks are also available for purchase through the theater's International Café & Bar.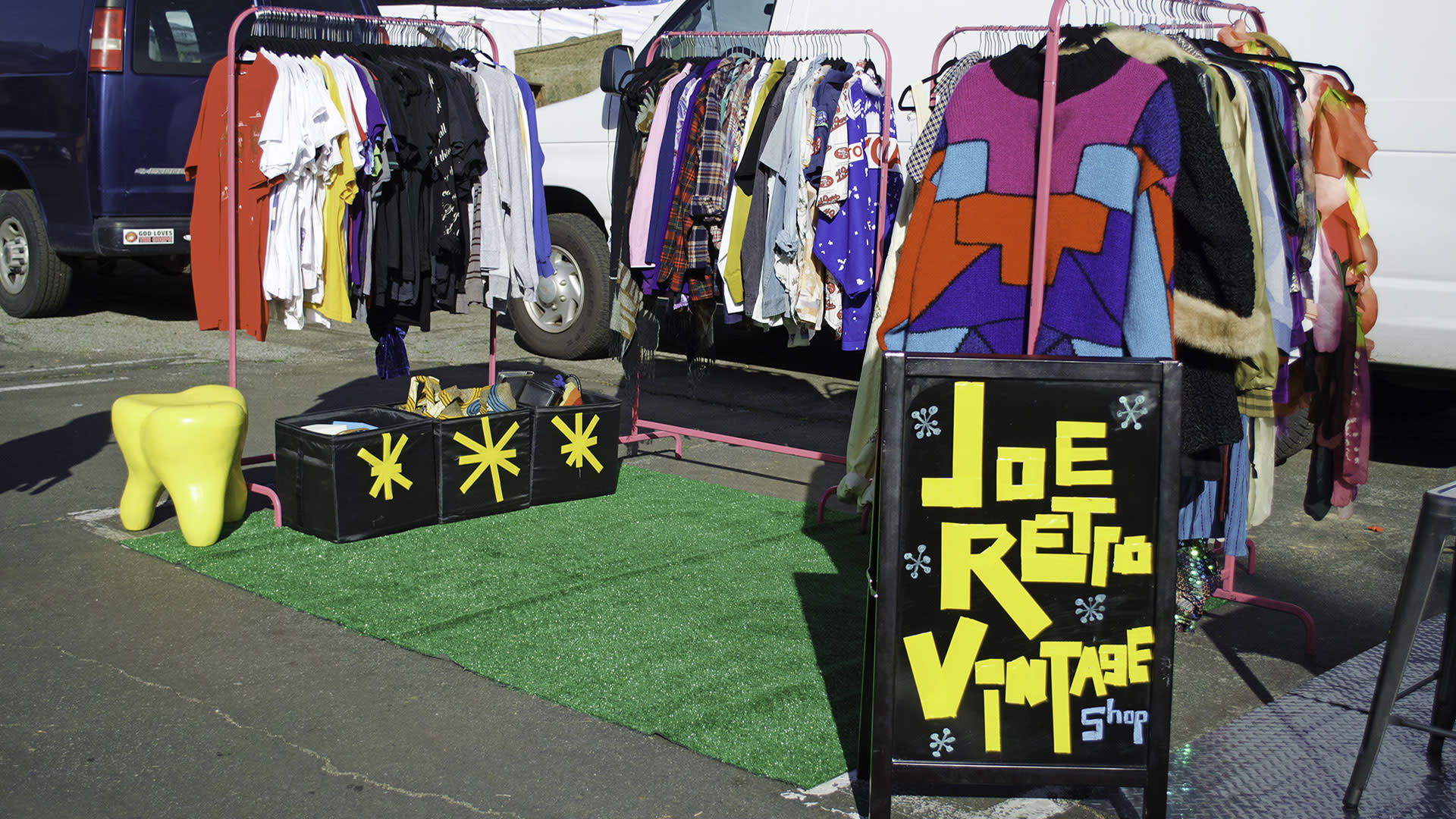 "Attending the market is a fun thing to do on a Sunday morning," shares market co-owner and organizer Mindy King. "People meet their friends there, walk their dogs there and can have a mimosa and breakfast at the café."
She also adds that for only a few bucks, you can come out and have some fun and nostalgia.
Admission to the market is $5 per person at the entrance, but attendees can sign up online to join the market's email list and receive a discounted admission. To sign up for the mailer, shoppers may visit the market's website. 
Cool Finds from Every Era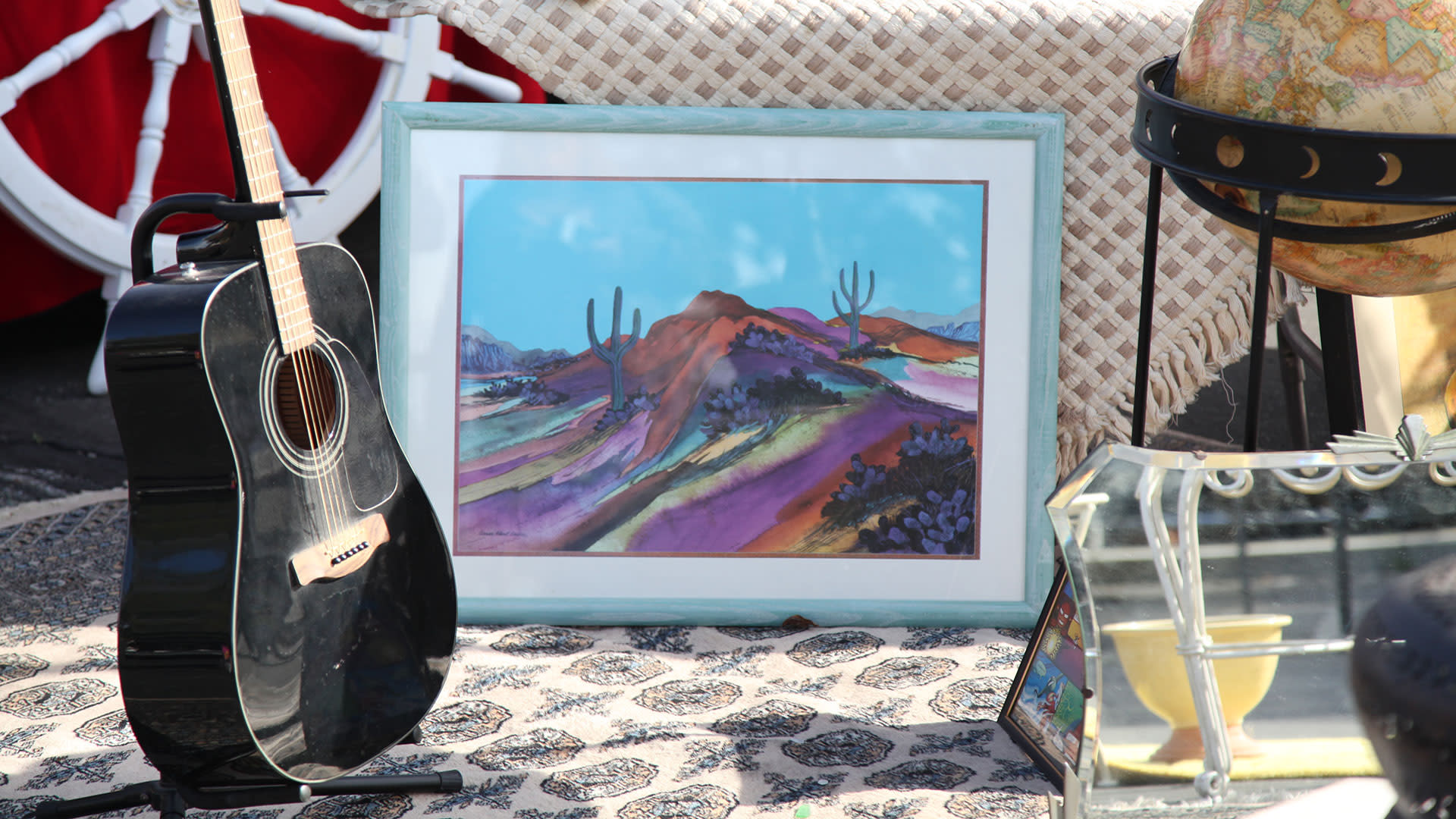 A unique feature of the market is its focus on midcentury modern design; however, shoppers can find antiques from practically every era.
"We have everything from early 1800s antiques there, up to 1980s hipster stuff," says King. "It's like taking a walk down memory lane."
Currently, there is space for about 100 vendors to set up shop at the event, but shoppers can typically find anywhere between 75-80 vendors there, selling a variety of items and novelties. All vendors are vetted before appearing at the market, and event organizers make sure all wears are vintage.
The definition of vintage, according to King, is 20 years or older—however, some artist and maker types who sell products composed of repurposed materials can be found at the market as well.
Why Should You Visit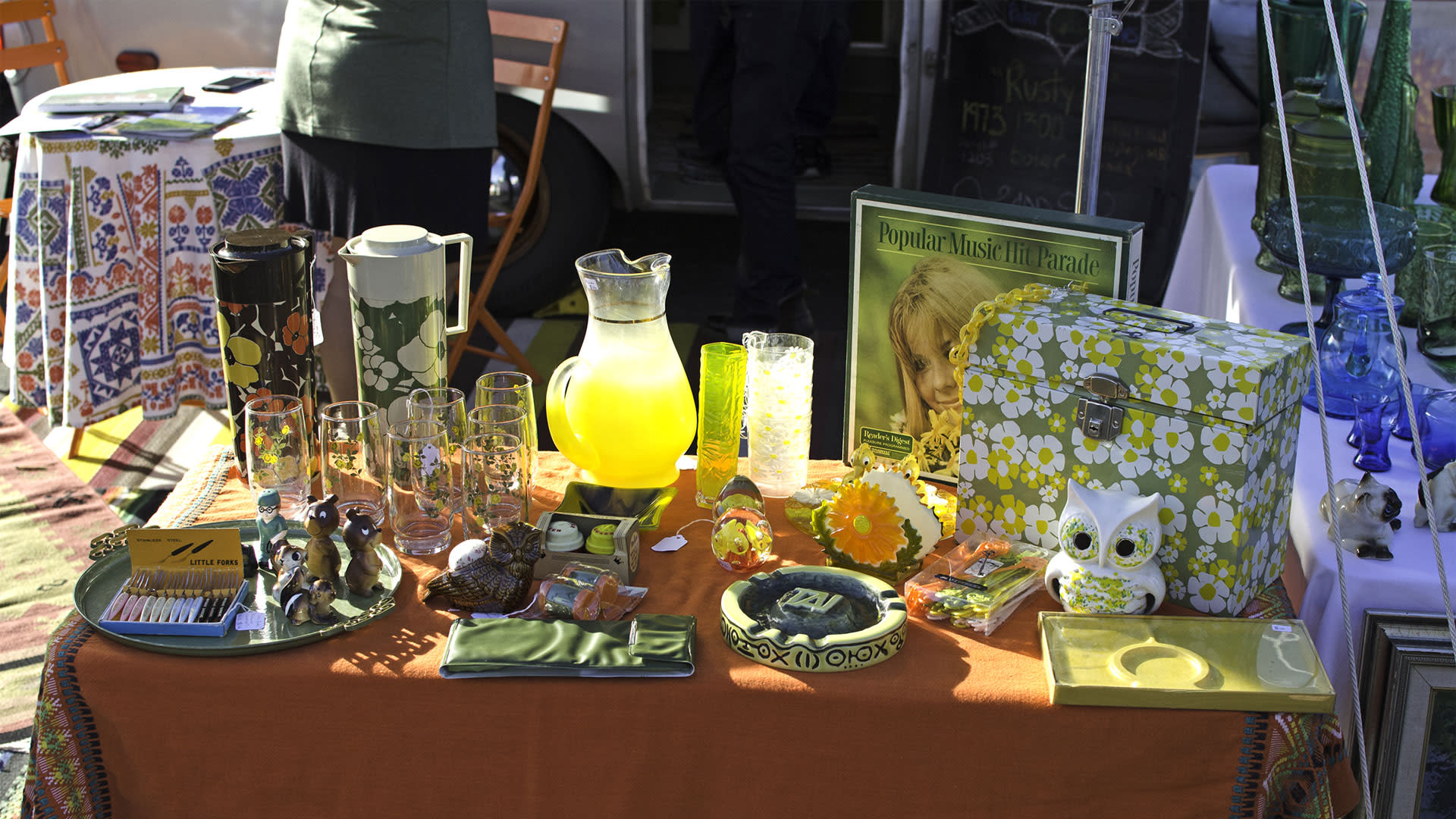 The relaxed, retro vibe of Palm Springs, paired with the city's history of Desert Modernism, makes it the perfect setting for vintage shopping. Attendees come from all over to view and purchase the items on display at the market, including designers who come out to look for authentic merchandise to style homes.
"Midcentury modern stuff really sells. We have people who come looking just for that," shares King. "You never know what treasures you'll find."
King also adds that it's great to see attendees having a great time at the market, and enjoys watching them leave with some incredible things each time.
"It's fun when you get something unique because it's something that other people don't have," says King.
Tips for Visiting the Palm Springs Vintage Market
If you plan to attend the market this upcoming season, here are few tips on what to take with you and what to plan for:
A hat and some sunscreen as the event is located outdoors.
Comfortable walking shoes that will give you good support as you walk around, as it takes about an hour or two to walk through the entire market.
Cash for purchases. Although the market does have ATM machines available to use and merchants do use Square to accept purchases, cash is best and is recommended.
A large vehicle if you plan to make a large purchase.
Check here for latest safety guidelines.
2021-2022 Schedule for Palm Springs Vintage Market
October 3, 2021
November 7, 2021
December 5, 2021
January 2, 2022
February 6, 2022
February 20, 2022 (Modernism Week)
March 6, 2022
April 3, 2022
May 1, 2022
The Palm Springs Vintage Market is located at the Camelot Theatres–2300 E. Baristo Road in Palm Springs. Parking can be found throughout the surrounding area and is free for attendees.
For more information, visit Palm Springs Vintage Market, and if interested in making a weekend getaway out of it, head on over to Greater Palm Springs attractions to check out deals on more exciting things to do in the oasis.
Photography courtesy of Camron Carrier and Nichole Gawalis.