Nothing cools you down faster than a refreshing, crisp beverage. From spicy takes on the classic margarita to a decadent twist on the martini, Greater Palm Springs has you covered when searching for that perfect cocktail. And when it comes to picking a place to enjoy that mixed drink, the options are endless. 
Sip poolside while relaxing on a lounge chair. Knock one back from a shaded patio with views of the majestic mountains. Or saddle up to a restaurant bar where the bartender creates the concoction right in front of you. Here is a roundup of bars and restaurants where you can find that perfect cocktail.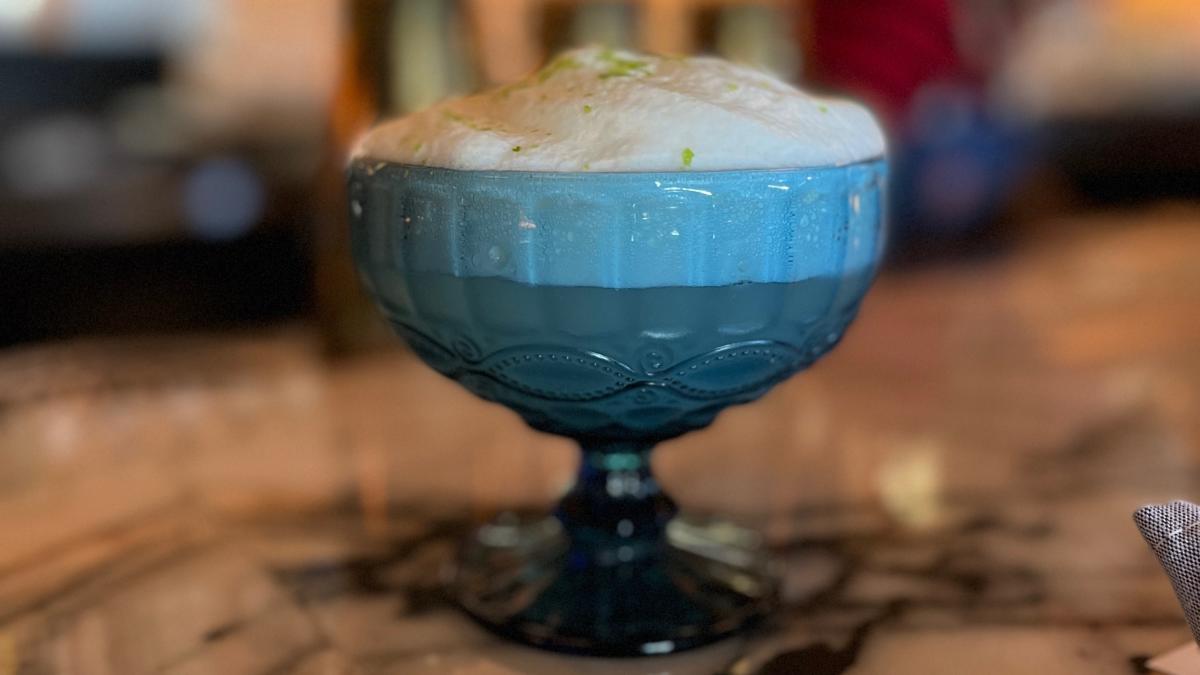 If you're searching for a refreshing cocktail with lots of swank and sophistication then head to Bar Cecil.
The drink menu is a combination of classics with a twist like the Cecil Old Fashioned and Pink Lady '47 and specialty cocktails like the Lost Horizon, Cactus Slim and The Brock.  
Sit outside on the patio or inside the coveted and chic bar that begs for social selfies. 
 
Sometimes there's nothing as fun and refreshing as a tiki drink complete with floating flowers and a tiny umbrella. 
Bootlegger Tiki is located in the same spot as the original Don the Beachcomber restaurant from 1953 and has all the bases covered with a menu full of original and classic tiki cocktails. 
If you're old school you'll definitely want to try the Mai Tai, Blue Hawaiian or Zombie. If you're a sucker for punny or creative names then order up a Rum & Dumber, Guavacolada or Sandy Bite. They're as tasty as they are fun to order.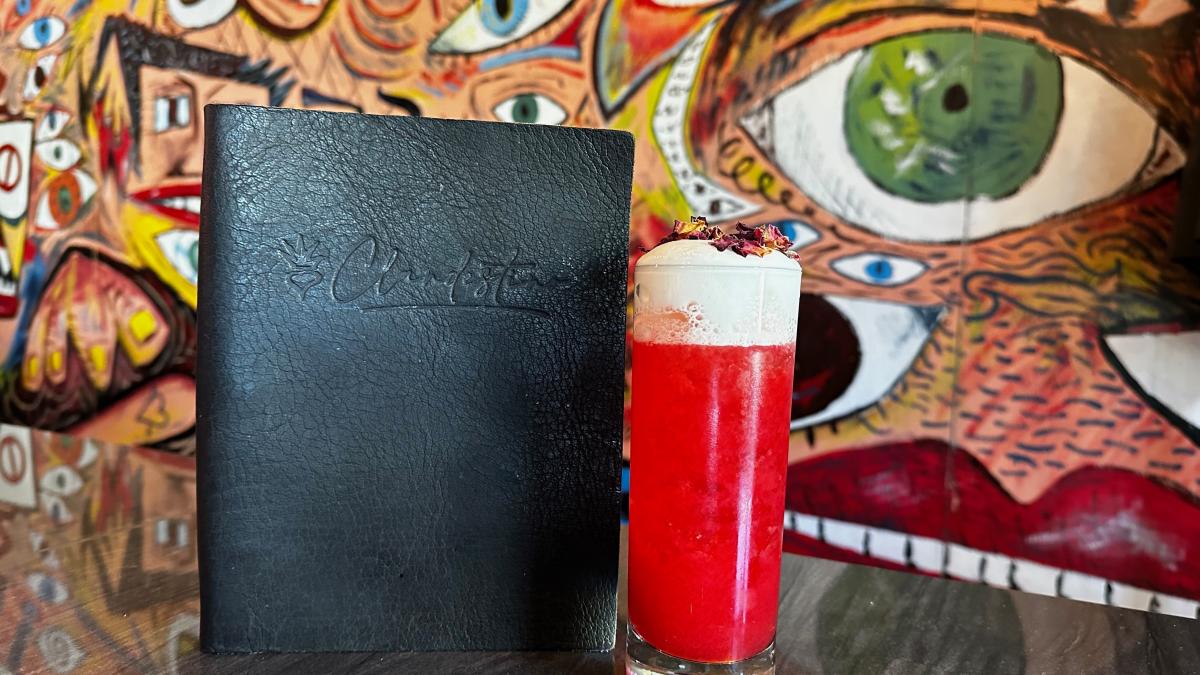 At Clandestino, a Latin American restaurant, the drink menu is a combination of hand-crafted creations, classic cocktails and fresh margaritas. You can quench your thirst outside on their umbrella-covered patio or inside their expansive cantina that oozes Old Hollywood vibes and features an expansive art collection. 
If you can't decide on a flavor of margarita then get a flight of four and try them all - the Pineapple Passion, Spicy Cucumber, Watermelon Tamarind and Jamaica. 
Or request La Dama, made with vodka, lychee cordial, raspberry puree, and lemon juice. It's topped with citrus foam and rose petals as a finishing touch and is as lovely as the name implies.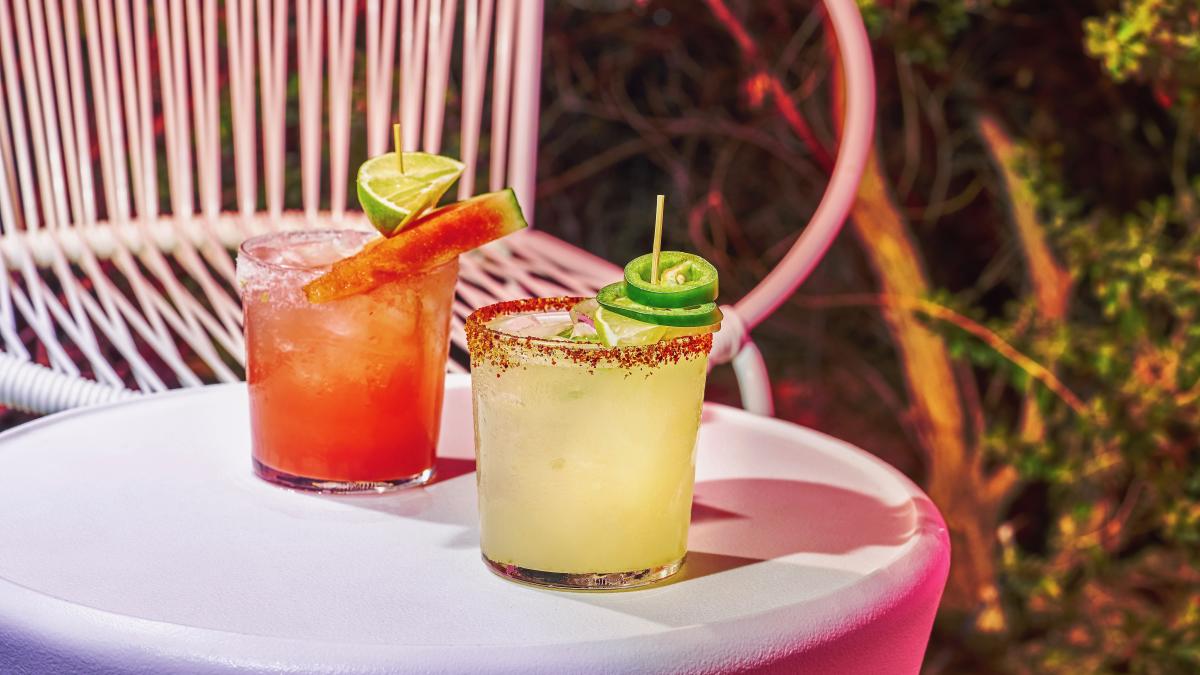 With its rainbow-colored facade and funky decor, the Saguaro lays out a very vibrant welcome mat for visitors. 
Step inside the El Jefe Desert Cantina speakeasy and the color scheme goes dark and moody — in a good way. The fun Lucha Libre decor provides the perfect backdrop for its drink menu full of margaritas and hand-crafted cocteles with equally creative names. 
Try a Tipsy Cactus, Jefe in the City, Yo Soy Groot, Un Poco Picante or a Mexican Firing Squad. There's also a patio if you prefer sitting outdoors while enjoying your tasty cocktails.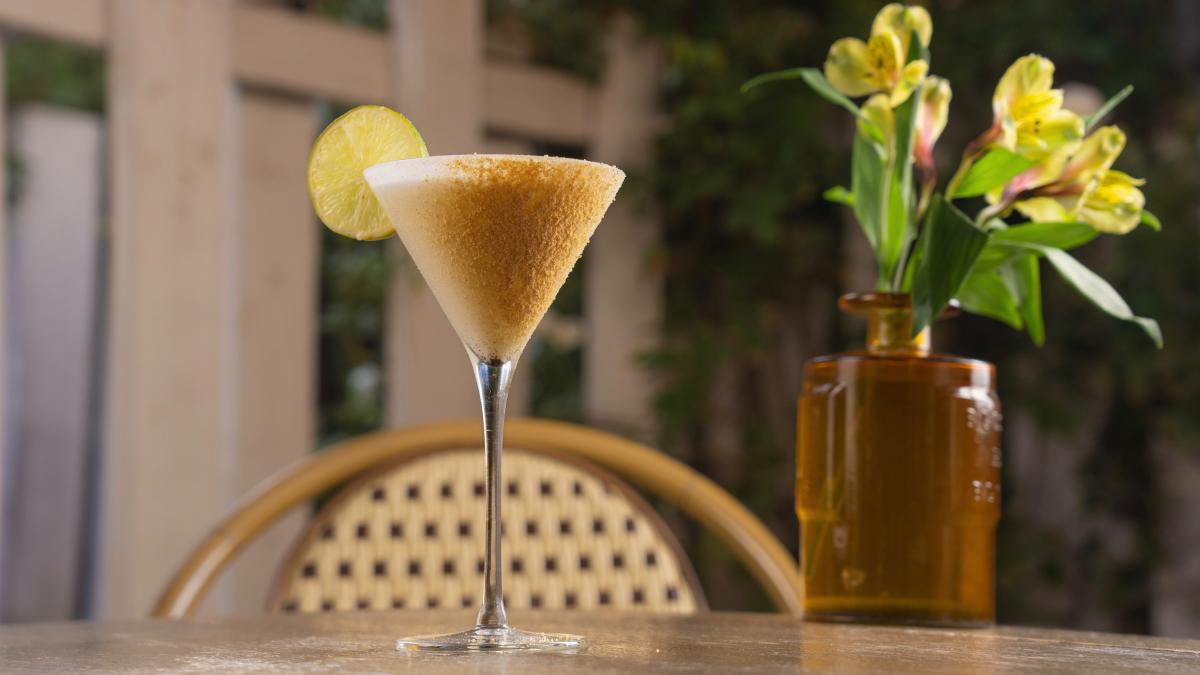 If you're looking for a quaint place to day drink reminiscent of a French cottage then head to FARM where they serve up a spectacular breakfast and lunch.
The cocktail menu includes signature concoctions like FARM's Hard Lemonade, Jalisco Mule and Botanical Berry as well as some solid favorites like the Bee's Knees, Sangria and Whiskey Sour. 
In the mood for something sweet and "dangerously drinkable" then try the Key Lime Pie made of house-infused vanilla bean vodka, lime, pineapple, house-made whipped cream and Graham cracker crumbs. It's a delicious dessert in a drink! 
 
If you're looking for the perfect place to take a selfie that oozes sophistication then grab a cocktail and pose! GiGi's prides itself on being "Instantly Instagrammable."  
The drinks menu is a creative combination of retro cocktails from the 40s, 50s and 60s. 
In the mood for something light and refreshing, try the Flamingo Spritz with Aperol, Peach Vodka, Blood Orange syrup, Champagne and Soda Water. It's served up in a Flamingo Glass that deserves its own selfie. It tastes like a tropical paradise in a glass.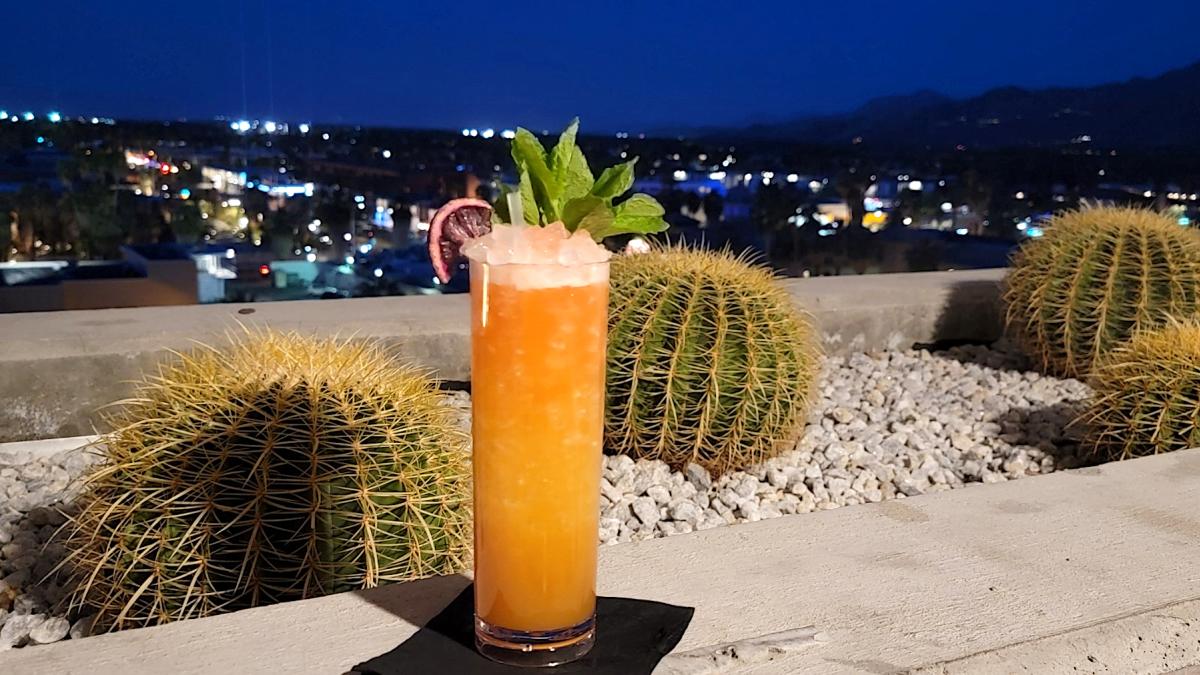 For a cocktail with a view, head to High Bar at the Kimpton Rowan Palm Springs — the rooftop swimming pool bar that sits on the seventh floor of the Kimpton Rowan Palm Springs Hotel and provides an unparalleled view of the desert. 
Grab one of their refreshing cocktails and consider the Desert Breeze off their new menu and relax around a fire pit or on a lounge chair as you take in the sights from that height. 
Made with vodka, pineapple, passionfruit, lime, peach liqueur, grenadine and two dashes of bitters, the Desert Breeze is the perfect balance of refreshing, tart and sweet. It's the quintessential beverage for poolside sipping.
 
Discover a sensational cocktail experience at Kitchen 86 on El Paseo. Be captivated by the artistry of our mixologists, who skillfully craft cocktails that embody the essence of Greater Palm Springs. Feel the cool, crisp bite of the 86 Lemon Drop as it revitalizes your senses, combining the refreshing essence of agave nectar with a hint of spice. For a touch of elegance, indulge in the sophisticated Blood Orange Sparkler, where blood orange stoli and aromatic rosemary unite to create a truly enchanting libation.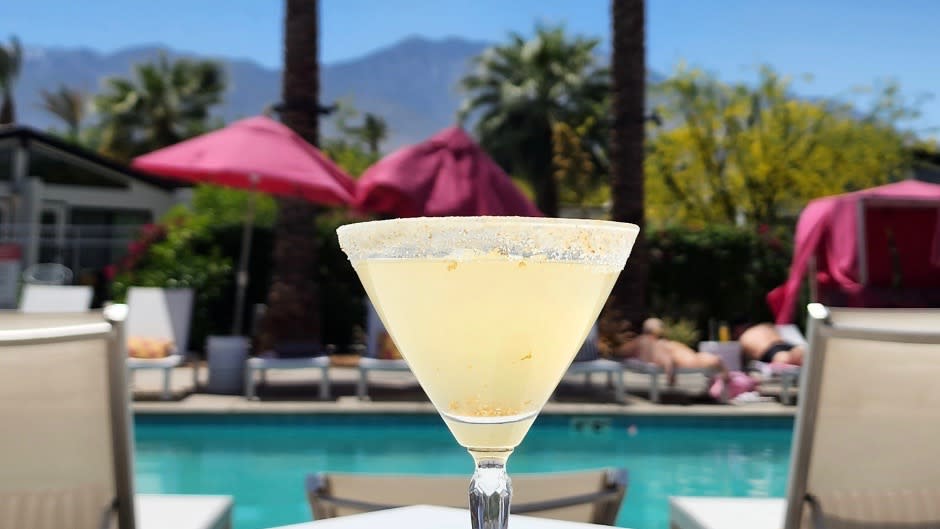 Sol Y Sombra is located at The Paloma Resort, a colorful boutique hotel in Cathedral City with hints of Spanish architecture and lots of mid-century modern flair with a great view of the mountains. 
You can't visit The Paloma without ordering a Paloma. You will kick yourself later if you don't. 
The Paloma Oro is made of grapefruit juice, house-made Orange Liqueur that's been aged for two months, and grapefruit 24k gold salt. The kicker for this cocktail is the hibiscus flower ice sphere that slowly melts into the drink as you sip infusing it with a delicate floral flavor. 
 
At The Pink Cabana, you'll be transported to a tropical paradise, where the Pink Lemonade tantalizes your taste buds with its sweet and tart notes, and the Farmer's Market Margarita entices you with its creamy, tropical twist on a beloved classic. Indulge in the Cabana Colada, a mix of EastLondon gin, coconut, lime and soda, or delight in the crisp and invigorating flavors of the Ruby Sipper.
Ready for sunshine? It's time to pack your bags because Greater Palm Springs is calling! Here are 7 reasons to Visit Greater Palm Springs this fall.