Summer doesn't have to end in September when in Greater Palm Springs. No matter the season, this beautiful destination continues to offer endless experiences. With sunny skies and exceptional weather, this month is the perfect time for a long weekend getaway of fun or relaxation. Discover an oasis of art, enjoy a night out with live music, or treat yourself to health and wellness activities inside and outdoors. Here are the things you do not want to miss during September in Greater Palm Springs. 
LABOR DAY WEEKEND
Greater Palm Springs has plenty of fun things to do to make your Labor Day weekend a success. Play an early morning round of golf on a championship course. Explore the Palm Springs Air Museum or the Palm Springs Art Museum. Search for vintage treasures at the numerous thrift stores, then browse high-end brands along El Paseo. Or float the day away poolside, with a chilled cocktail in hand. Find your long weekend inspiration in Greater Palm Springs, where there's an endless amount of fun to experience with friends, family, or to yourself.
OASIS OF ART
Art & Sol is a new series that uncovers the rich arts and culture scene in Greater Palm Springs through the eyes of the very people who help create it. You may be familiar with their art already and you didn't even know it! Connect with this collection of artists, designers, and performers and learn what drives them to create, innovate, and inspire others in this oasis of art. Meet the artists of Art & Sol.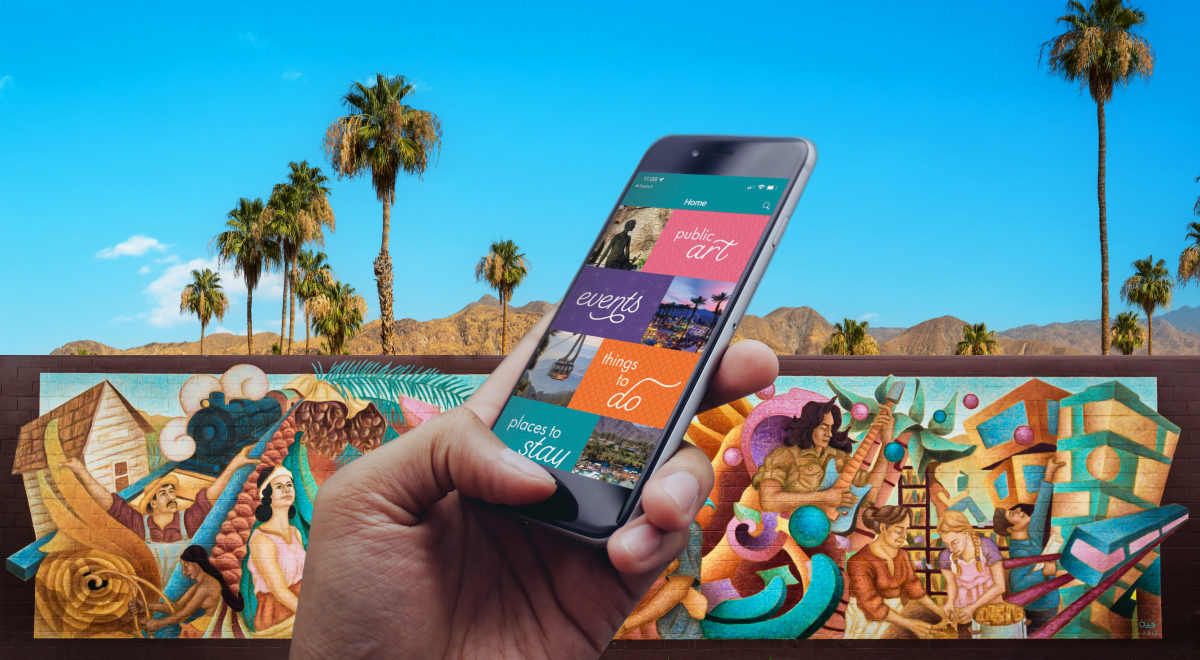 Download the artsGPS app and enjoy a self-guided tour of more than 100 outdoor public art installations throughout Greater Palm Springs. This app highlights the rich intersection of art and culture in the nine cities of Greater Palm Springs. Discover local art exhibits, events, and hidden gems. As a bonus, you can search for local restaurants, hotels, and attractions all in the palm of your hands!
BEYOND VAN GOGH - THE IMMERSIVE EXPERIENCE 
SEPTEMBER 30 - DECEMBER 27
Have you ever wondered what it would be like to immerse yourself in the distinctive paintings by Vincent Van Gogh? Beyond Van Gogh - The Immersive Experience truly captures the luminous landscapes, expressive portraits, and emotional canvases that convey far more than the mere appearance of the subject - but in the form of a large multimedia experience! This event will take the viewer on a journey through over 300 iconic artworks including instantly-recognizable classics. Reserve your tickets as soon as you can because you do not want to miss Van Gogh's art come to life!
EVERY THURSDAY | 5-7 p.m.
The Palm Springs Art Museum has 28 galleries, two sculpture gardens, a 433-seat theatre, and a popular local bistro. Every Thursday they offer free admission to the public.
SEPTEMBER 7 | 5-8 p.m.
The Backstreet Arts District is a unique community with studios, galleries, and businesses that provide artistic services. With a wide range of amazing art from regional and nationally known artists, this is a fun and eclectic event that happens all year round, every first Wednesday of the month.
These exhibits focus on everything from the history and art of the indigenous Cahuilla tribe to the midcentury modern designs found throughout Greater Palm Springs. Plus, you can flex your own creative muscles during special programs throughout the year at the La Quinta Museum.
THINGS TO DO
SEPTEMBER 14 | REOPENING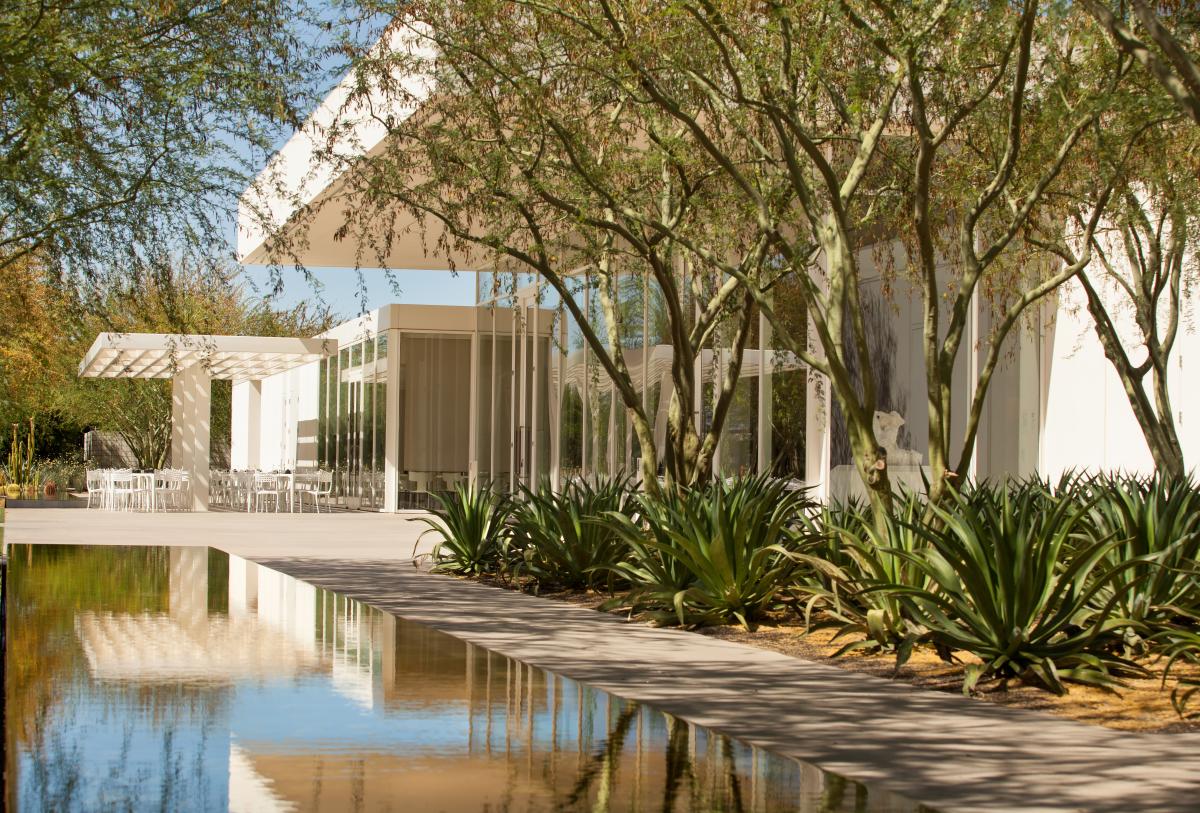 The historic Sunnylands Center & Gardens, which has been visited by several U.S. presidents and world leaders, is free to visit and is a 200-acre estate with a nine-acre beautiful garden with walking paths to stroll through. Visitors can tour the home and its rotating exhibits and learn of the attraction's meaningful history.
NATIONAL CHEESEBURGER DAY
SEPTEMBER 18

National Cheeburger Day is on the horizon, so there is no reason to feel guilty when planning for such a festive event. As simple as the ingredients may be, every cheeseburger is different in its own delicious way. Some may say it's all about the bun, others will say it's all about the cheese or fries that compliment the entirety of the cheeseburger. Let's not forget about the secret sauce! Well, on September 18 we will let you be the one to decide. If you're by the pool or taking a break in the shade - here are the Best Burgers in Greater Palm Springs for you to devour on National Cheeseburger Day.
TASTE OF PALM SPRINGS
SEPTEMBER 21 | 5-9 p.m.
The Palm Springs Chamber of Commerce presents the 2022 Business Expo & Taste of Palm Springs. More than 40 valley restaurants, wine and beer tasting, a cocktail bar, and live music from Britain's Finest - The Complete Beatles Experience. The event will be held at Indian Canyons Golf Resort. Tickets are $25 and are available at pschamber.org.
NATIONAL COFFEE DAY
SEPTEMBER 29

When you wake up and need that cup of bliss or an afternoon pick me up, in Greater Palm Springs you will come across many coffee shops that will offer you your fix. Enjoy your coffee on National Coffee Day with a picturesque view of palm trees and mountains, or with a delicious heart-crafted pastry from one of the many delectable cafes throughout the nine cities. Satisfy your coffee cravings with Your Guide to Coffee in Greater Palm Springs and celebrate with each sip like never before!
Discover the wonders of the world's deserts without ever leaving Greater Palm Springs. The Living Desert Zoo & Gardens, established in 1970, aims to provide desert conservation through preservation, education, and appreciation. This nonprofit zoo is home to a variety of fascinating creatures, from bearded dragons and bobcats to giraffes and jaguars. Enjoy immersive experiences such as animal encounters, discover native flora on a nature walk and get the chance to feed a giraffe!
Soar to new heights! The Palm Springs Air Museum has one of the world's largest collections of WWII aircraft plus Korea and Vietnam era aircraft. The exhibits are very interactive and have an extensive library of history. It's a perfect activity for all ages to immerse oneself in the history and engineering of these aircrafts. The crew of trained volunteers can also share their knowledge on what it's like to experience flying these aircrafts.
Bring your family or a special loved one to experience the Palm Springs Aerial Tram, which takes you on a ten-minute ride to cooler elevations within the San Jacinto Mountains! There are restaurants, plenty of viewpoints, and over 50 miles of hiking trails. Experience the largest rotating aerial tramway in the world! Find out more information about this unique experience.
EVERY THURSDAY
Villagefest takes place in downtown Palm Springs where the street is closed to create a relaxed, fun, and festive atmosphere full of food, artists, fashion, and other unique vendors.
LGBTQ+ EVENTS
CINEMA DIVERSE FILM FESTIVAL
SEPTEMBER 15-26
September brings in an exciting event that attracts filmmakers, producers, and attendees from around the world to Camelot Theatres in Palm Springs. Cinema Diverse is a film festival that showcases films produced, directed, and curated by the LGBTQ+ community. These films bring voice and visibility to the LGBTQ+ community by bringing diverse audiences together to create space and conversations to open minds while shifting cultural bias to create positive change. Tickets and passes are still currently available for this world-class film festival.
SEPTEMBER 21-25
The largest queer/lesbian/non-binary event in the world is coming to Greater Palm Springs. Featuring pool parties, live entertainment from popular performers and DJs, and parties at local clubs – this event brings the fun. The Dinah is an empowering and inclusive event that is all about celebrating life and enjoying a fun weekend under the sun. View the itinerary for more information on nightlife and pool parties during this festive weekend.
What's a better way to enjoy a Sunday morning than with a delicious brunch and bottomless mimosas while a sassy drag queen in sequins bats her eyelashes at you and performs to the likes of glamorous dance music icons? Greater Palm Springs is a place like no other when it comes to Drag events. Here is your Guide to Best Drag Brunches in Greater Palm Springs.
LIVE MUSIC
This outdoor music venue is kicking off this month with Aerosmith, Journey, AC/DC, and Lynyrd Skynyrd Tribute bands. Music tributes continue on Fridays and Saturdays, throughout the month of August. Check out their upcoming schedule.
Experience live entertainment at Agua Caliente Casinos. All three locations in Greater Palm Springs offer some of the best performances for an unforgettable night. Enjoy dancing, drinks, and nightlife at the downtown Palm Springs Cascade Lounge, Cathedral City Terraza, or The Show at Agua Caliente Rancho Mirage. View their full list of events.
Eager to get back to enjoying live music? Fantasy Springs has musical options to fit everyone's tastes. You can view their full schedule from free outdoor concerts to intimate showcases at Acoustic and Unplugged at the Twelve.
Enjoy some brews and fantastic food with live entertainment on Saturdays and Sundays at the Coachella Valley Brewing Company! Live music and comedy on Saturdays and Sundays offer a live acoustic afternoon performance. See what's happening at the taproom, they always have a jam-packed week of entertainment!
The Ace Hotel & Swim Club offers a live, open-air jazz and dinner series every Wednesday. Enjoy an evening under the desert sky for a night of auditory bliss, paired with a menu of delights from the King's Highway kitchen. Limited seating is also available close to the performance on a first-come-first-served basis. This event is free and open to all.
LA QUINTA: CONCERTS IN THE PARK! 
SEPTEMBER 24 | 5-8 p.m.
The City of La Quinta hosts a picnic-style event with live music at SilverRock Park. This is a family-friendly event and food trucks will be present. Dogs are welcomed too! The musical performance will be led by country-inspired artists Sean Oliu and the Coastline Cowboys.
HEALTH & WELLNESS
SUNSHINE YOGA AT THE RIVER
EVERY MONDAY MORNING | 11-12 p.m.
Align your mind and body on a sunny Monday morning. Hot Yoga Plus is hosting Sunshine Yoga at The River in Rancho Mirage. It is $10 per class, please bring your own mat and towel. View more information here.
SAN JACINTOS SUNSET YOGA  
Feel Good Spa and Power Yoga Palm Springs present a mellow flow in the shadows of the San Jacintos mountains at the Ace Hotel & Swim Club   All ages are welcome to this free outdoor event. Please see the sandwich board in the Ace Hotel lobby each week for a different location. 
YOGA AT MARGARITAVILLE RESORT 
EVERY SATURDAY MORNING | 9-10 a.m.
Join in every Saturday morning for a moderate-level yoga class at the Margaritaville Resort Palm Springs. This morning class will allow you to arrive and enjoy quiet stillness, warm up and energize the body, and leave class ready to enter the rest of your day with vitality and equanimity. This class is free for all registered resort guests and $20 per person for non-resort guests. For more information view here.
How are you spending your vacation in this SoCal oasis? Add more inspiration on your itinerary with these free Things to Do in Greater Palm Springs.