With 300 days of sunshine a year, a stunning natural backdrop, plenty of mid-century modern architecture and beautiful outdoor art installations, Greater Palm Springs is the perfect place to explore by bike.
Whether you're an advanced mountain biker thirsting for a day-long adventure or a visitor looking to ride beach cruisers around town, there are plenty of options when it comes to biking through Greater Palm Springs. Here's how to get started.
Before You Go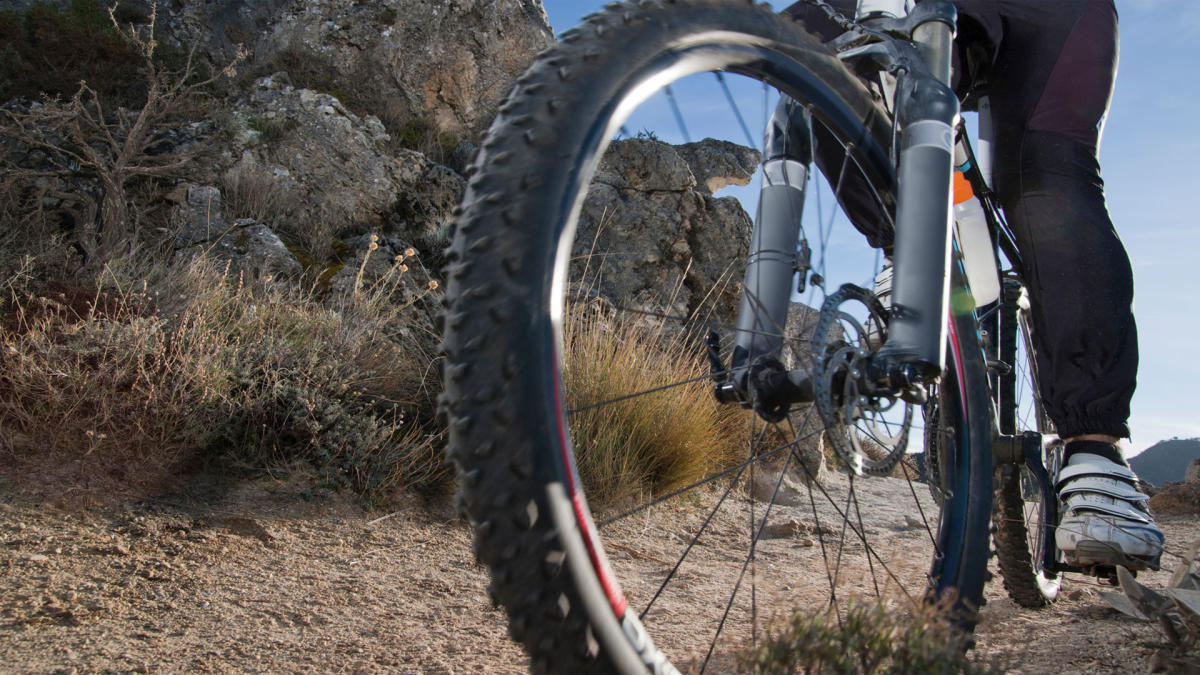 As with all outdoor activities in the desert, be sure to bring plenty of water and snacks to keep fueled during your ride. Use sun protection and plan your ride for earlier in the day, if possible. In the summer months, avoid riding in the afternoon when temperatures reach their peak.
Where to Rent Bikes in Greater Palm Springs
Need a bike rental? Whether you're looking for a beach cruiser or a mountain bike, you'll find one to rent in Greater Palm Springs. Keep in mind: many hotels also offer beach cruiser rentals for guests.
Pedego Electric Bikes Palm Springs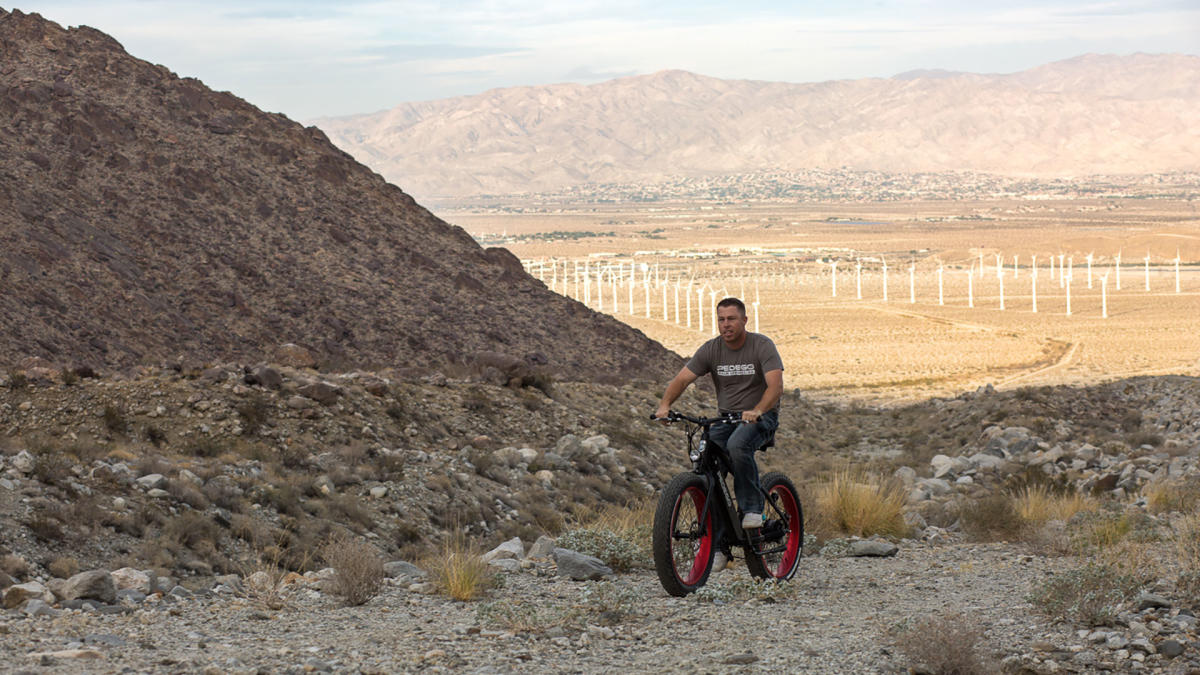 Image courtesy of Pedego.
To make the mountain trails a bit easier, consider renting a Pedego bike. The leading brand in electric bikes, rentals from this shop start at $14 per hour for city cruising bikes and range up to $100 per day for a premium electric mountain bike. Renting on the other side of Greater Palm Springs? There's a La Quinta location, too.
Bike Palm Springs is a well-known shop in Greater Palm Springs. A one-stop location for bike rentals for the whole family, the shop carries adult and child bikes of all types: mountain, road, beach cruiser, and even tandem bikes with child carriers. Hybrid electric bikes are also available.
Big Wheel Tours
If you'd prefer a fully guided tour to exploring on your own, Big Wheel Tours has you covered. They offer an easy Earthquake Canyon tour twice daily, where you can see fantastic geological formations and Greater Palm Springs' agricultural wonders, too. Looking for a custom tour? Big Wheel Tours will set up a custom ride based on what you want to see and how hard you want to work out. Everything is included–even snacks. All tours must be reserved in advance.
Located in Old Town La Quinta, Old Town Peddler will deliver and maintain each bike while it's being rented so you don't need to worry about anything except having fun. You can reserve a bike for delivery or stop by their shop to check out what's available for a daily bike rental. Choose from beach cruisers, hybrid bicycles, kids bikes or two-seater/tandem styles.
Bike Routes in Greater Palm Springs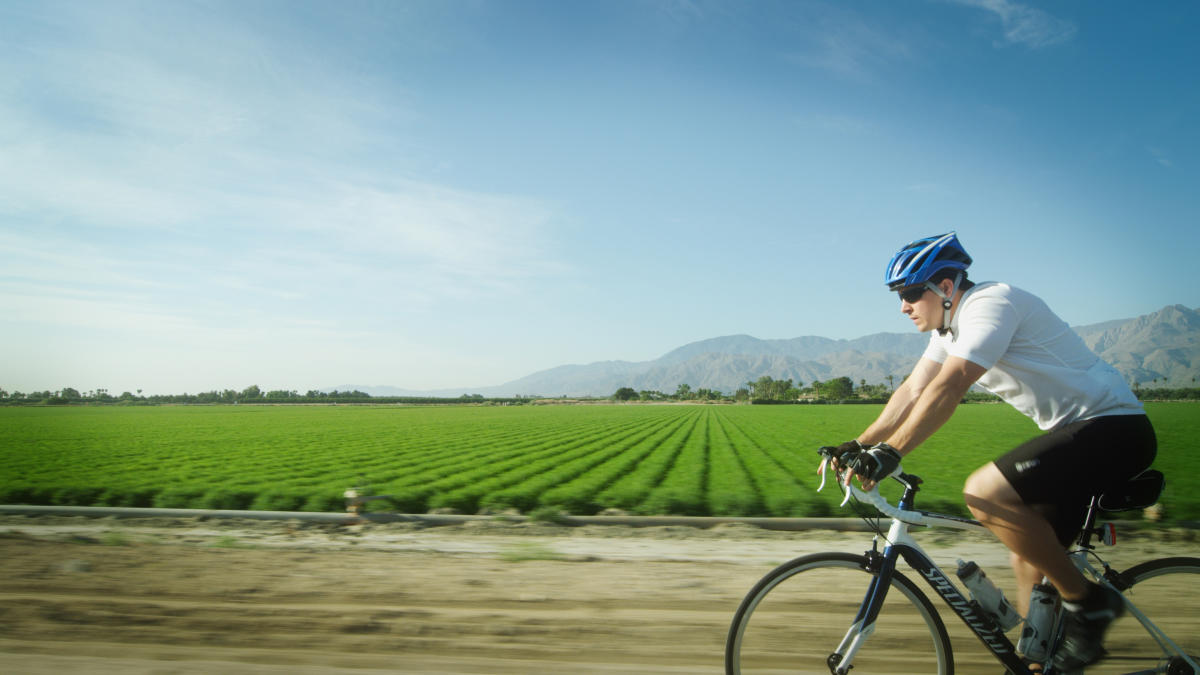 Now that you have your wheels, it's time to put your pedals to the pavement. Here's where you can bike your way through Greater Palm Springs.
City Routes
The City of Palm Springs offers a map of five different recommended routes through town. These pathways are great for a quick daytime ride with a rental road bike or cruiser. Interested in seeing the local architecture? Try this bike route that will bring you past some of the best mid-century buildings in town, which is a must-see on any visit to Greater Palm Springs.
Similarly, the city of La Quinta offers an interactive bike map with trails, facilities, drinking fountains and public restrooms.
Bump and Grind Trail, Palm Desert
This 4-mile mountain trek is popular with riders for its stunning mountain views. Although it's a quick ride, it's quite challenging due to the very steep grade. Be sure to watch for hikers here, too.
Palm Canyon Epic Trail, Palm Springs
Cyclists ready for an advanced challenge will find this trail right up their alley: a 28-mile single track route through cacti and sections of sand. Bringing a GPS is recommended.
Goat Trails, Palm Springs
Another challenging ride, the Goat Trails offer the challenge of rocky terrain but you're rewarded with beautiful views. The shortest route is only 7 miles, while the longer option is 14 miles.
Whether you're riding through vintage cityscapes or rocky desert, Greater Palm Springs offers scenery, architecture and adventure you won't find anywhere else. Looking for more ways to explore? Check out our page on outdoor adventure in Greater Palm Springs.
Featured image courtesy of Pedego Electric Bikes.