You know that feeling of surprise and amazement you get when you come across something unexpected? Think a double rainbow at the end of a long hike. Greater Palm Springs and its plethora of world-class resorts are chock-full of the unexpected. These hidden gems and unique finds will make your stay in this Southern California oasis extra special – that is if you know where to look!
JW Marriott Desert Springs Resort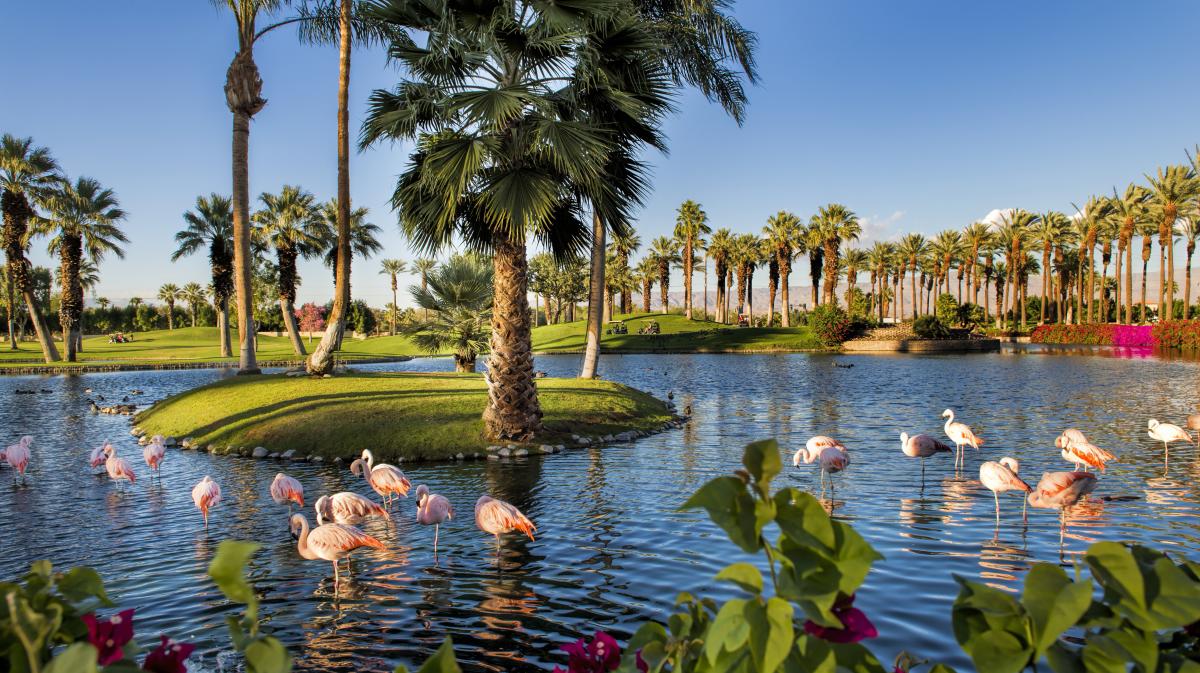 As soon as you drive up to the JW Marriott Desert Springs Resort, you'll want to keep your eyes peeled so you don't miss the flock of Chilean flamingos frolicking on Flamingo Island. These pink patrons are the resort's permanent celebrity guests. There are daily flamingo feedings guests can join while they learn all about the feathered friends. You'll want to stay extra vigilant and see if you can spot the two baby flamingos – the latest additions to the flock.
While at the resort, make sure to reserve your boat ride. Yes, the resort offers boat rides that take off from inside its vast lobby. Guests can get dropped off at Mikado Japanese Steakhouse or Rockwood Grill for dinner, or just relax for a tour and take in the scenery. 
Kimpton Rowan Palm Springs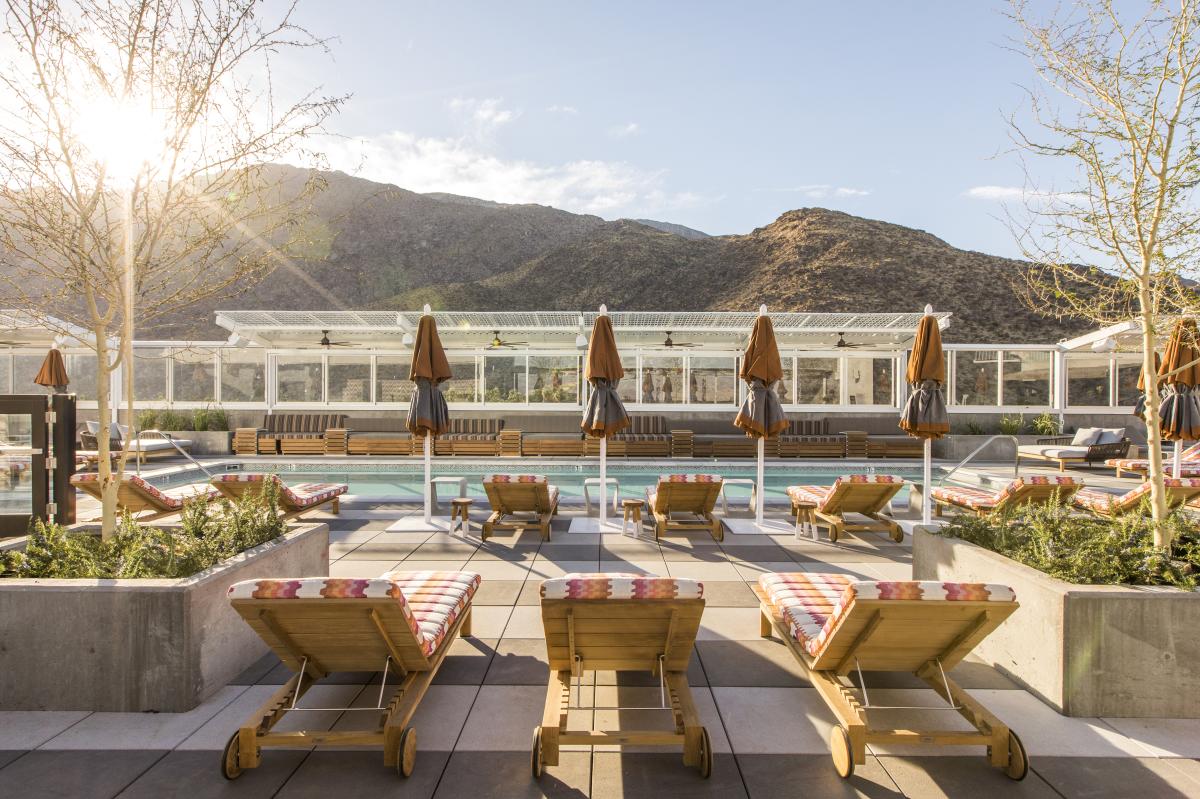 You don't often think of a resort pool as unique, but there is something different about the pool at Kimpton Rowan Palm Springs. Why you might ask? This crystal blue body of water sits on the 7th floor of the hotel and provides one of the most breathtaking views of Greater Palm Springs. At this height, it feels like you can reach out and touch the San Jacinto Mountains.  
While splashing around in the pool, you'll want to grab a cocktail from High Bar and then dry off around one of the fire pits. You can even see the iconic white windmills along Interstate-10 from this vantage point. It brings 'I Spy' to a whole different level!
Korakia Pensione 
As soon as you step onto the Korakia Pensione grounds, through its signature keyhole-shaped door, you will understand why the intimate Mediterranean-style resort is a popular backdrop!
Walking around the historic villas, past bungalows, lush landscapes, fire pits, and pools makes you feel like a glamorous Hollywood star from the 1950s. That's what makes their surprise find so fitting. At this resort, you can watch classic and foreign films under the twinkling stars, set up in one of their outdoor courtyards.
That's right! Watch Hollywood stars under the stars while feeling like a star yourself! 
The Saguaro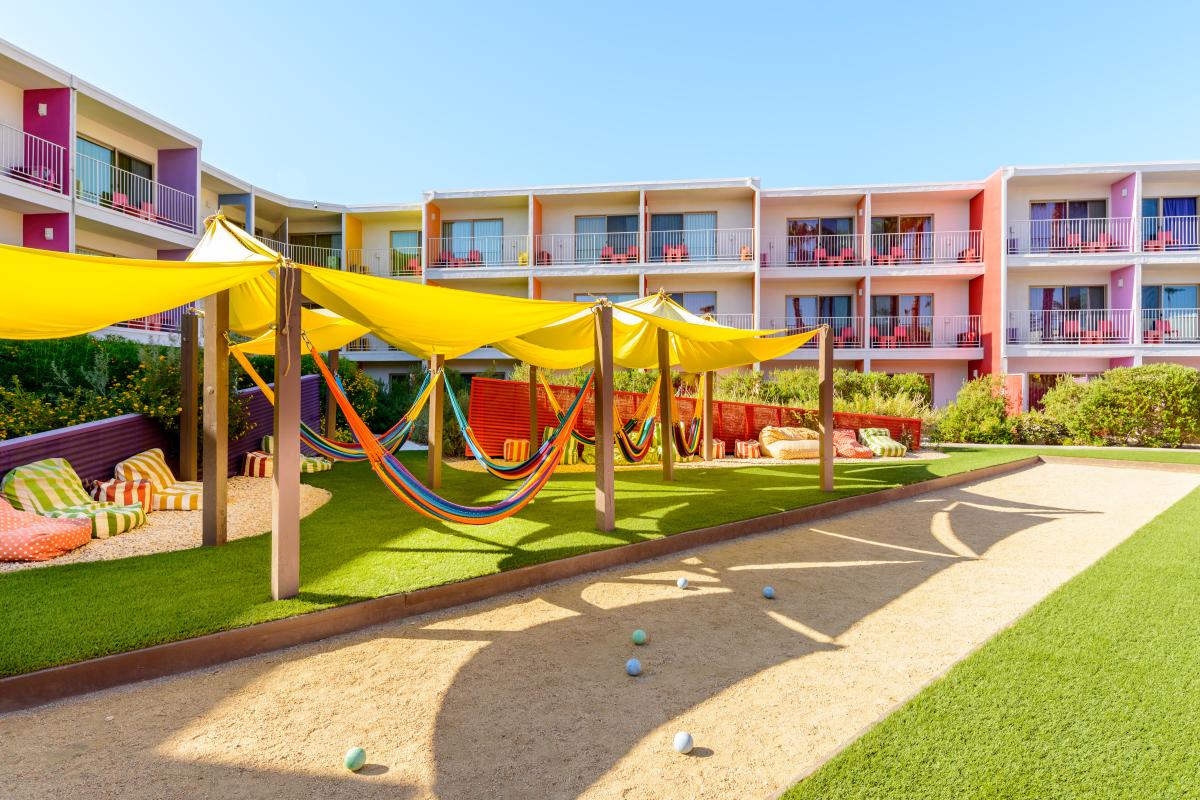 With its technicolored façade and funky décor, The Saguaro Hotel & Pool already offers lots in the eye-candy department. 
Over at Hammock Village, it's all about relaxation and comfort where a number of swaying hammocks invite guests to snuggle in. Who doesn't want to jump and lounge in a hammock when they see one? A canopy provides shade so you don't have to worry about the sun getting in your eyes as you curl up with a good book or that much-needed nap.  
There are also some sofas and a bocce ball court, so you can try your hand at some friendly competition after you've relaxed. 
La Quinta Resort & Club 

The historic La Quinta Resort & Club is known for expansive grounds that boast 41 climate-controlled pools – heated in the winter and kept cool in the summer. 
Its yoga and mindfulness programs are also a draw for people who want to improve their body, mind, and spirit. The perfect place to do that is inside their yoga studio surrounded by a myriad of Buddhas painted onto two of the walls. The gold and silver murals bring an instant smile to your face and transform an otherwise typical studio into a sanctuary for self-reflection. 
The murals were added to the resort in 2017, painted by Amanda Giacomini, an artist and yoga instructor as part of her 10,000 Buddhas project that consists of Buddha murals across the globe. It also makes for a great Instagram backdrop. The yoga studio and classes are open and available for guests only. 
Westin Mission Hills Golf Resort & Spa  
Westin Mission Hills Golf Resort & Spa is brimming with activities to keep the entire family busy. There's swimming, golf, massages at the spa, and bowling. That's right, bowling! The resort boasts its own 4-lane bowling alley where kids can play duckpin bowling while the parents watch close by from the microbrewery-style bar with arcade games. 
While most resorts are dog friendly, Westin Mission Hills hosts individual dogs until they are adopted through a partnership with Animal Samaritans. If you didn't show up with a dog, you can certainly leave with one.
Start planning your stay in Greater Palm Springs and discover many more unique finds! The question now is what will you find?