Breathe in. Breathe out. Repeat. While some meeting planners are only now incorporating wellness concepts into their group programs, others have been exercising that game plan for years.
Breaks should be designed to enhance a meeting rather than distract from it. The challenge is in how to balance a busy agenda with engaging, time efficient ways for mental recharging. Attendees need to both check in and check out so that when they return to a session, they plug back into the task at hand.
Planners and attendees nod to the value of pairing physical activity with outdoor time as much as possible. Imagine how this dynamic duo skyrockets in Greater Palm Springs, a destination defined by clear skies, sunshine and dramatic desert backdrops.
While each of Greater Palm Springs' nine communities has a distinctive personality, they are all linked by natural beauty and authentic experiences that energize.
The first thing meeting planners usually say when they are welcomed for a site visit is how they felt their stress melt away as soon as they stepped out of their plane and saw the blue skies, palm trees, bougainvillea and mountains close enough to touch. As their stays progress, planners tend to want a conference maximizing outdoor time. Nowadays, no one wants to hold meetings in typical conference space with four walls. This works perfectly for Greater Palm Springs, where we have more than 300 days of sunshine a year.
"Being outside has such tremendous health benefits," says Hillary Byrne, Director of Catering Sales at Renaissance Esmeralda Resort & Spa, Indian Wells. "With near perfect weather most of the year, we offer that environment. Whether it's taking a breakout meeting outside or enjoying meals outside, having a chance to get out of the meeting room and breathe fresh air is something very few destinations can offer."  
Byrne adds that Renaissance Indian Wells has launched a mind/body enhancement option for scheduled morning and afternoon session breaks. "We have charging stations set up, and four self-paced stations where guests can listen to a meditation, follow a yoga stretching video, follow a plyometric video and have some fresh juice and other healthy options that will fuel them."
"Being able to take advantage of the outdoors is so appealing to planners," says Jim Pedone, Director of Sales and Marketing at Westin Mission Hills Golf Resort & Spa in Rancho Mirage. "Most of our guests – both groups and leisure travelers – are into an active lifestyle and staying healthy. They want experiences. They want to be outside and enjoy the environment. It's hard to find a destination more conducive to that than Greater Palm Springs."  
Groups can jumpstart the day with yoga, walks and The Westin Run Program along the resort's golf courses. They can also enjoy quick 10-minute hikes to spots with incredible views spanning the Coachella Valley.
Groups meeting at La Quinta Resort & Club, a Waldorf Astoria Resort have access to a mother lode of uplifting break diversions. They can unwind with yoga or meditation, enjoy wellness-focused spa treatments and hone skills at the resort's tennis club or five championship golf courses. Planners can also arrange for team building and networking at the onsite PGA WEST Golf Academy.
At JW Marriott Desert Springs, delegates can unwind with mini-massages between meetings or take a 1.5-mile fitness walk for a breath of fresh air.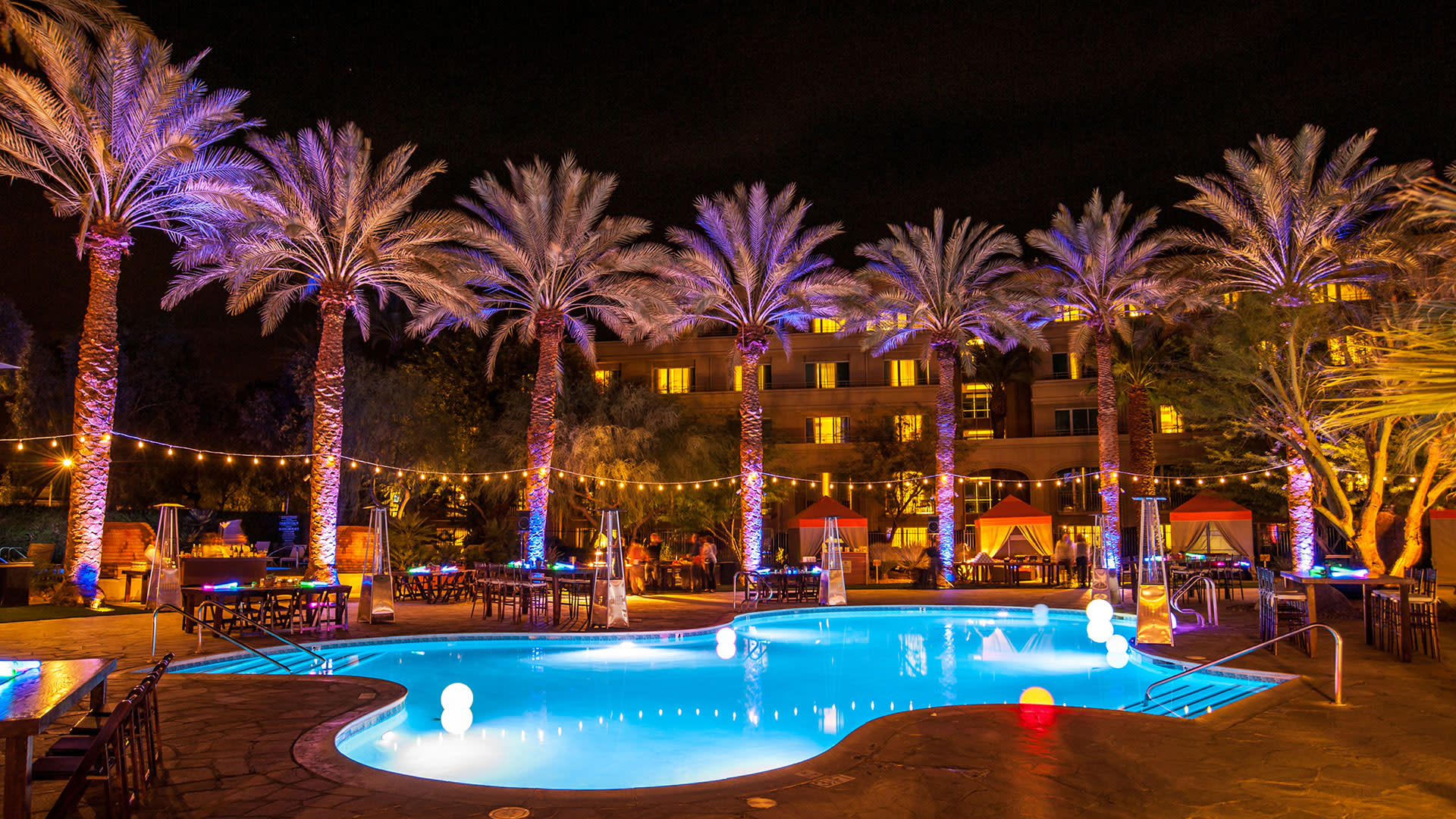 Another refreshing option is Hyatt Regency Indian Wells Resort & Spa's aromatherapy mixing station where attendees blend their favorite scents. The invigorating oils can be applied to pulse points to help maintain focus for the session's duration.
"We've also set up lunch breaks by the reflection pool at the spa, with side by side foot soaks in club chairs with back, neck and shoulder massages," says Joel J. Alexander, Director of Sales and Marketing. The resort's Vino & Vinyasa pairs the principles of yoga with consciousness wine tasting.
In Greater Palm Springs, planners are encouraged to think outside the box for creative ways to be outside the box.