Unless you're one of four Grand Slam tennis tournaments held each year in Melbourne, Paris, London and New York City, there's no grander stage than the Indian Wells Tennis Garden's BNP Paribas Open each March. In fact, IWTG's 16,100-capacity Stadium 1 eclipses all but the U.S. Open's Arthur Ashe among the largest tennis stadiums in the world.
If the facility that opened in 2000 can flawlessly accommodate two weeks of WTA and ATP touring pros as they compete in a 96 singles and 32 doubles draw – plus attendance that hit the 430,000 mark in 2016 – any other racquet sport event is a breeze. During the event, nine courts are utilized for match play, with 20 reserved as practice courts.
But the venue isn't reserved simply for the sport's globetrotting elite. Recreational youth, adult and collegiate players have served and volleyed their way to titles during Babolat World Tennis Championships, Big West Conference Championships, USTA National Championships and World Team Tennis National Championships.
From 2008-2010, Stadium 1's PlexiPave court made way for a NBA court as the Phoenix Suns took hoops action outdoors against the Denver Nuggets, Golden State Warriors and Dallas Mavericks in consecutive-year pre-season exhibition games. Rather than bright lights and flashy clutter, the roofless NBA-style arena dazzled with Southern California's Santa Rosa Mountains painting a beautiful backdrop.
Other headline events include the Indian Wells Arts Festival and concerts by Andrea Bocelli, The Eagles, The Who and Tom Petty.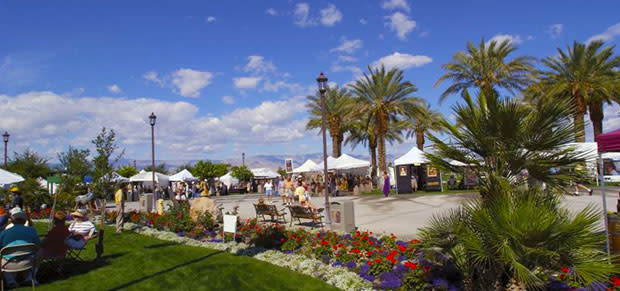 By late December 2009, Oracle co-founder and CEO Larry Ellison became the new owner of the BNP Paribus and IWTG. Mr. Ellison continues the passionate vision of evolving the venue and the tournament to loftier levels.
In fact, the excitement of "holding court" here is ramping up even more. The 2017 BNP Paribus Open will roll out multiple improvements to Stadium 1 that include upgrading, expanding and adding suites, concessions and restrooms.
"The Indian Wells Tennis Garden is one of the best venues in the world for hosting tennis tournaments, and it is also a dynamic multi-purpose facility that can be a perfect site for other events – big and small, says Rolf Hoehn, Director of Business Development.
The improvements that we are making right now in Stadium 1 are focused on the suites, concessions and bathrooms. In addition, we will create spaces in Stadium 1 that are more conducive to hosting meetings, social events and a variety of other activities beyond world-class sporting events."
Other project enhancements that will benefit any sporting event, competition, festival or tournament at IWTG will be a greatly expanded workout area for participant use, plus a new Player Services building providing seamless access to locker rooms and the Players Lounge.
Venue Specs
Stadium 1 – 16,100 seating capacity, 12 broadcast booths, 44 stadium suites and 8,000 sq. ft. food commissary (suites and food commissary figures to change with upgraded completion by March 2017)
Stadium 2 – 8,000 seating capacity, 6 broadcast booths and 3 fine dining restaurants
2 19,000 sq. ft. shade structures
29 concrete courts with PlexiPave surface (23 lighted)
4 acres of outdoor exposition space
4 box offices
Full service year-round tennis club
Locker rooms, fitness area, pro shop and members lounge
54 acres inside the gates
68 additional acres that includes 10,945 parking spaces