The natural assets adorning Coachella Valley's great outdoors elevate Greater Palm Springs events by breaking away from the stereotypical mold. Imagine the merging of fresh air, sunshine, blue skies and dramatic mountain backdrops to spark creative thinking, bold concepts and mental rejuvenation.
While this oasis offers planners plenty of epic offsite options, they're also privy to splendid, innovative al fresco venues literally at hotel and resort doorsteps. Think seasonal concerts beneath the stars at Spa Resort Casino in downtown Palm Springs, Splashtopia onsite water park thrills at Omni Rancho Las Palmas Resort & Spa in Rancho Mirage, and a trifecta of gazebos, mud cabanas and Watsu pools at Two Bunch Palms in Desert Hotel Springs.
Ace Hotel & Swim Club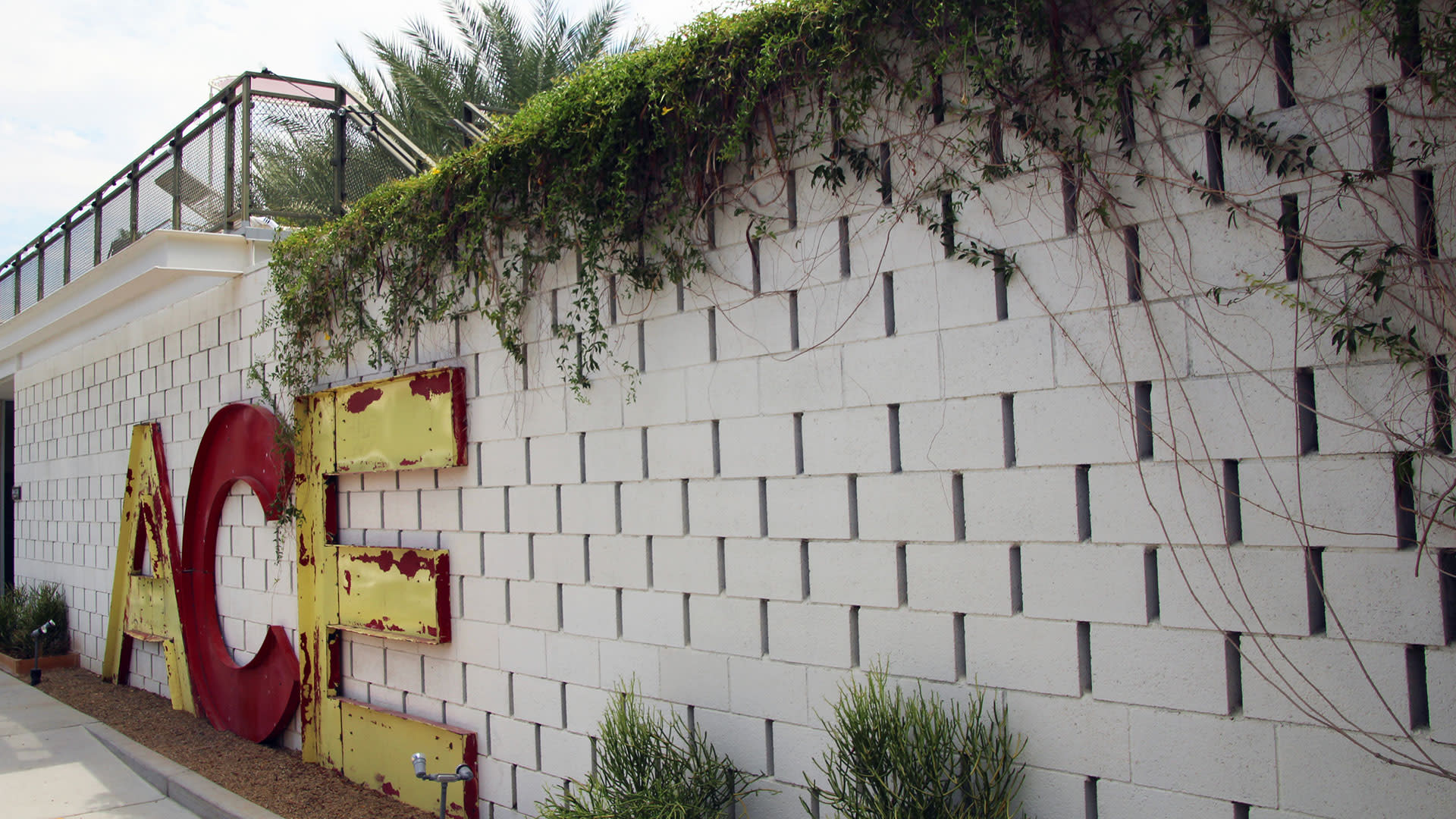 Bringing chic, artistic edginess to a vintage scene, the midcentury modern Ace Hotel & Swim Club lures attendees into outdoor encounters draped within a 1950s motor hotel vibe. The 176-room retreat's design is both organic and bohemian, as are event areas that include the Stargazing Deck that overlooks a hip swimming pool and the San Jacinto Mountains.
The 3,000-square-foot indoor-outdoor Commune features floor-to-ceiling glass windows rolling up garage door style to reveal a circular pool and intimate amphitheater. Follow PowerPoint presentations with brainstorming sessions in beanbag chairs surrounding a fire pit, on a covered patio or poolside. Or send adventure lovers on a Palm Springs scavenger hunt pedal-powered by the hotel's bicycle fleet.
Westin Mission Hills Golf Resort & Spa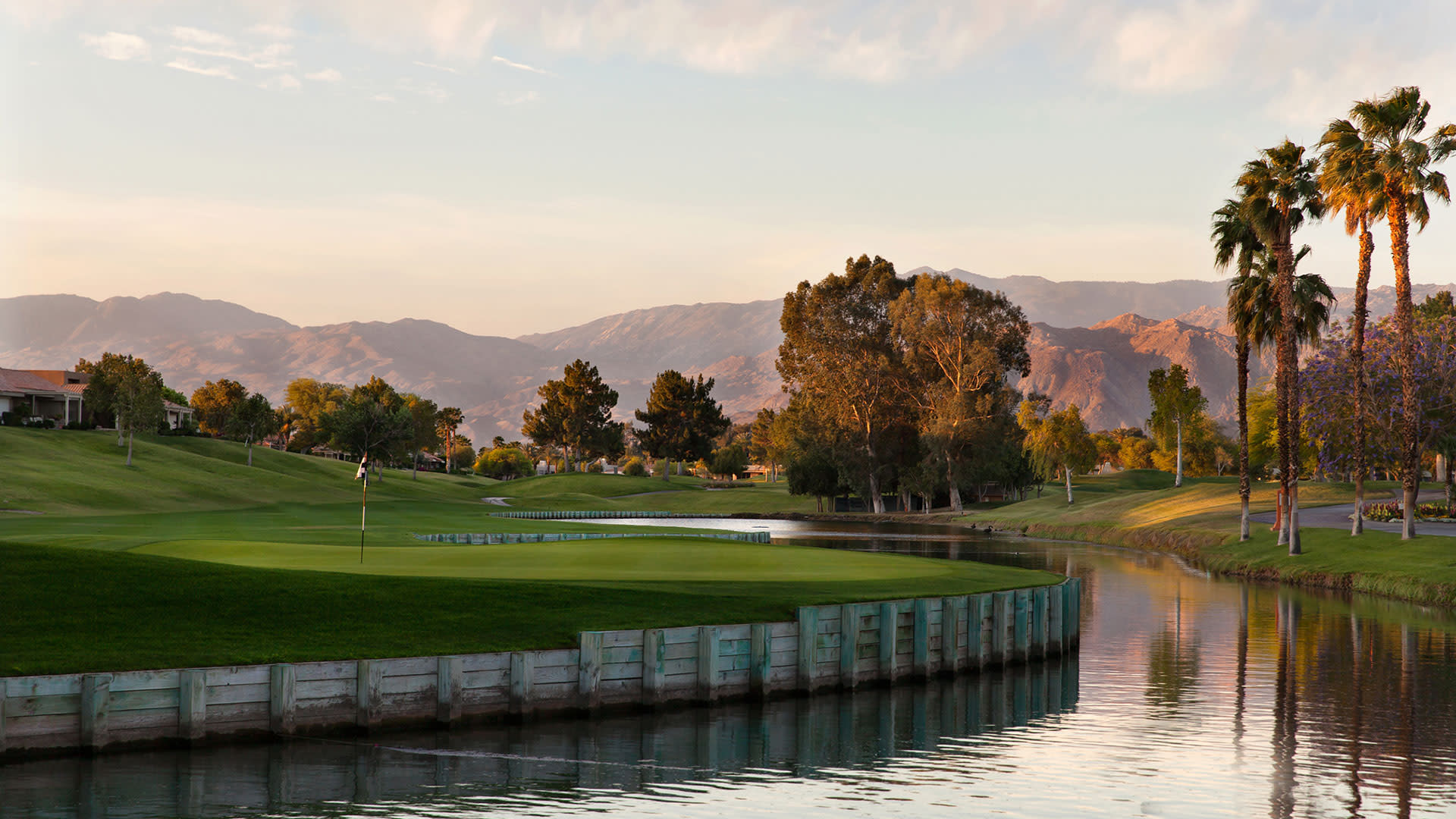 The 512-room Westin Mission Hills Golf Resort & Spa in Rancho Mirage unleashes animal instinct via a canine fostering program that takes both two- and four-legged participants outdoors for team building or pure re-energizing.
"Attendees love to play with the dogs and take a mental break from their meeting," says Mayra Cisneros, the resort's meeting & event manager. "Many dogs have actually been adopted that way."
Cisneros adds that glow putt golf enhances gatherings without requiring a single step onto the resort's 36 holes of Pete Dye- and Gary Player-designed courses.
"This is a fun activity that everyone can participate in," she says. "We can do this on the golf course's putting green in the evenings or host a chipping contest from our Masters Plaza onto the 18th hole."
Renaissance Esmeralda Resort & Spa, Indian Wells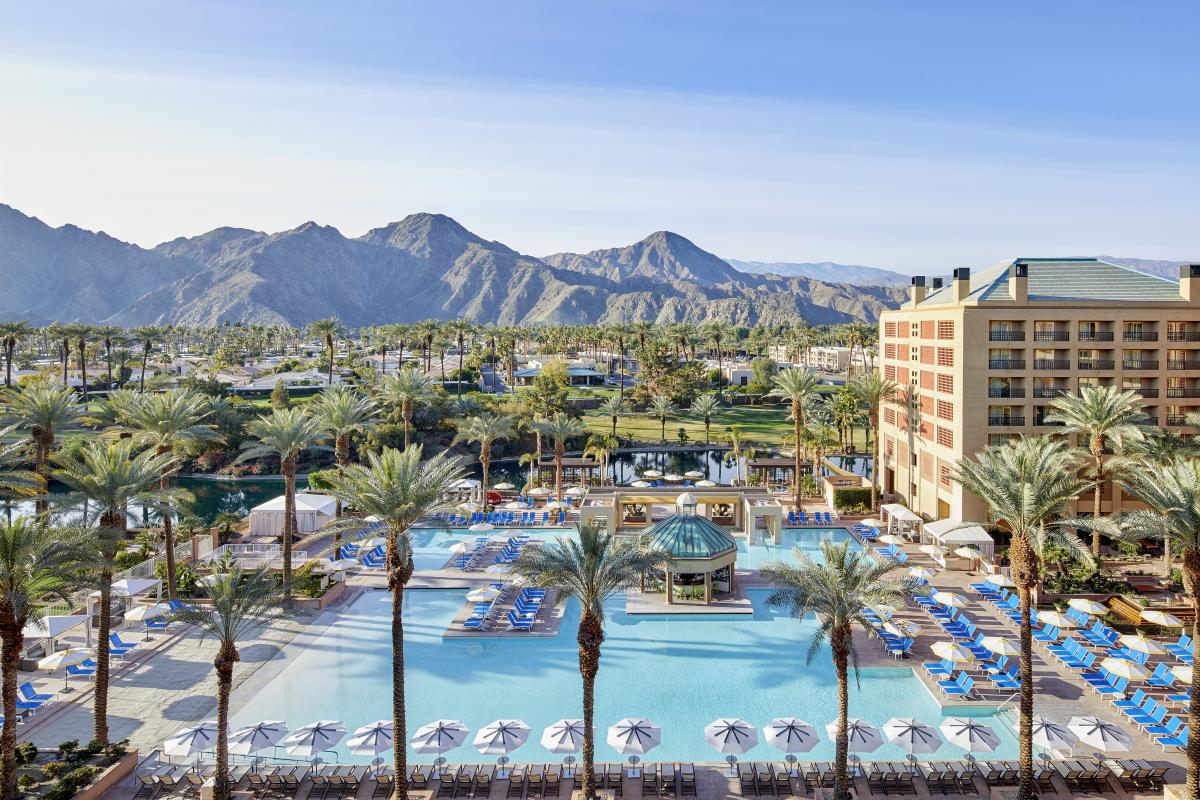 At the 560-room Renaissance Esmeralda Resort & Spa, Indian Wells, planners relish a fusion of today's conveniences and iconic midcentury modernism that flows seamlessly with a vintage Palm Springs theme.
After a late afternoon registration in the Esmeralda Ballroom foyer that peers out to the pool, casually clad delegates are blindsided by an evening of digging toes into a sandy beach for a traditional clambake. Locally sourced nosh nourishes in food stations brimming with Carlsbad mussels, shrimp king crab, clams and corn on the cob.
The resort plays its trump card in an oversized cabana ideal for small group sessions. Three distinct pools with sandy beach entrance, waterfall and hot tubs chalk up to the California desert's largest swimming pool.
Planners can also flip from indoor sessions to the versatile 8,400-square-foot Rose Garden for breakouts in pods of comfortable furniture, team building activities and concerts beneath the stars framed by illuminated swaying palms.
JW Marriott Desert Springs Resort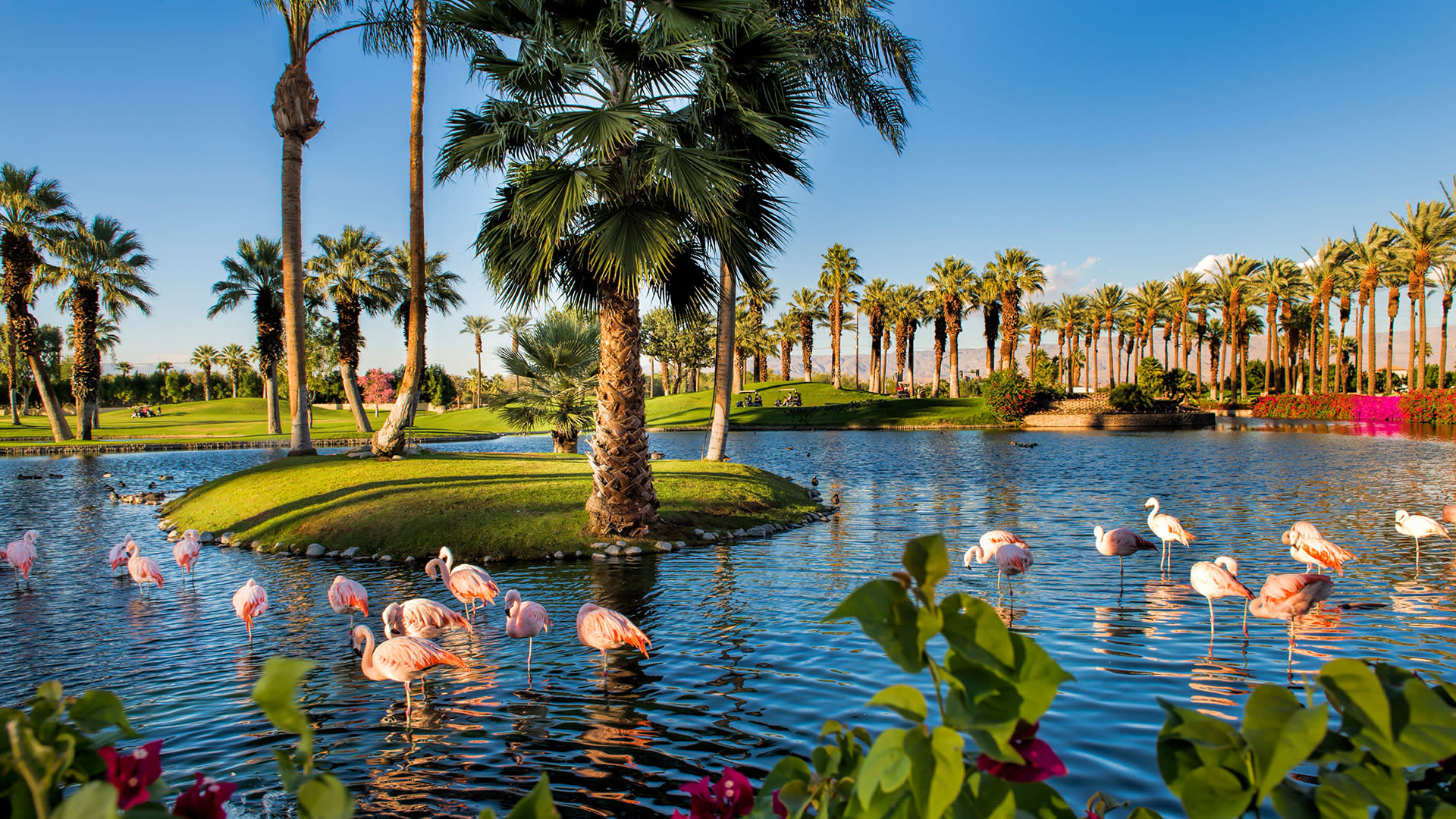 Encouraging planners to go with the flow, the sprawling 884-room JW Marriott Desert Springs is a virtual water world wrapped around the desert's largest lake. While the 45-acre property is grand in scope, it also features elements of intimacy to embrace smaller groups.
Venetian-inspired waterways sprinkled with gondolas ramble from the atrium-styled lobby past a decadent spa, plus mega pool complexes adorned with 10-capacity cabanas for outdoor brainstorming.
Groups can convene for lectures, breakouts and receptions while surrounded by Mother Nature's handiwork in the palm and fruit tree-lined Grove, Springs Pool and JW Pavilion. Or take it to courts for round robin tournaments, clinics and concerts at the Desert Springs PBI Tennis Club that sports a trio of surfaces.
The venue's Lawn Games program unfolds as another outlet for recharging through badminton, croquet, horseshoes, putting, lawn bowling and half-court hoops. Of course, golf swings onto the scene for competition on a pair of Ted Robinson-designed courses and an 18-hole putting green.
La Quinta Resort & Club, A Waldorf Astoria Resort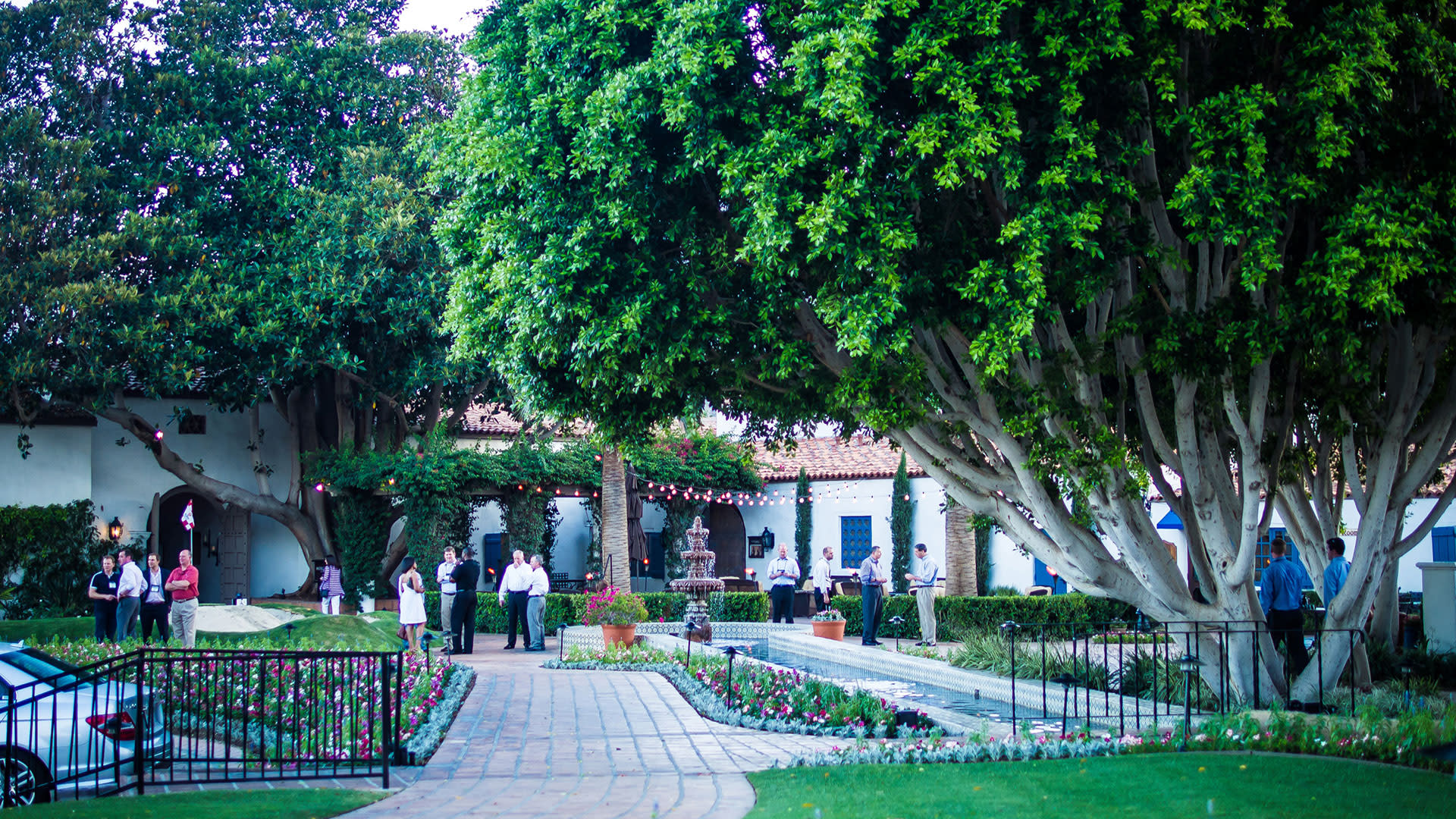 While Clark Gable frequented La Quinta Resort & Club to revel with his high-spirited Hollywood cronies, Greta Garbo came to escape the spotlight. Planners can dial into either extreme in this 45-acre retreat designed with intimate whitewashed accommodation enclaves clustered around 41 pools and 53 jet spas.
Rumor has it that Garbo shunned society at La Casa, now an alluring function venue with 10,500-square feet of al fresco space. Attendees can schmooze in the courtyard, brainstorm on the lawn, and imbibe with cuisine and spirits on the patio.
For less reclusive hoopla, two Plaza levels are embellished with winding walkways trimmed by fountains, waterfalls and colorful foliage. Meetings and trade shows can plug into outdoor seating areas for networking, create "pop up" displays and wow with roaming dinners featuring farm-to-table stations that make everyone feel like an A-Lister.
Parker Palm Springs
With only 144 guest rooms and suites amid 13 acres, the midcentury modern Parker Palm Springs is plush with outdoor event spaces oozing sophisticated style. Function spaces roll out in linked French gardens laced with lavender, rosemary and olive trees.
Delegates can meander along pathways to break for a few sets on clay tennis courts, team build on bocce/pétanque courts or the croquet lawn, and banter in butterfly chairs at a fire pit. Or recharge hard workers after a general session through a roaming picnic at tables tucked into nooks and crannies near the spa, pools or Palm Court.
Ready to plan your next meeting in Greater Palm Springs? Submit an RFP and let us help!