Travelers, whether journeying for work or play, often sacrifice their fitness routines while on the road. But for those visiting Greater Palm Springs, there are plenty of ways to keep fit on the go. With year-round warm weather, breathtaking nature and countless fitness options, it's as if the destination was designed for health and wellness.
Regardless of your fitness schedule and preferences, the area's nine cities can help you maintain your routine away from home. Or if you're looking to mix it up and explore new classes or practices, Greater Palm Springs offers many unique ways to stay fit.
If You Want to Stretch Your Body
Greater Palm Springs boasts countless yoga studios for visitors to get into their fitness flow. If you're looking to maintain your yoga routine while traveling, visit Power Yoga or Evolve Yoga in La Quinta. Both studios offer drop-ins and weekly passes at a small fee. Unique to Greater Palm Springs are the trapeze yoga classes at Bikram Yoga in Palm Desert, which offers these classes almost daily.
Looking to take your downward dog outside? Power Yoga holds yoga at Wellness Park for a $10 donation. On Saturday mornings, Sunnylands Center & Gardens in Rancho Mirage offers free yoga; when you're done, you can stay to explore the historic Annenberg Retreat or attend a guided tour of the beautiful gardens.
If You Want to Work Up a Sweat
Your resort's gym is always great, but take a look at Greater Palm Springs' additional fitness options. Pedal Spin Studio in Rancho Mirage, which offers a variety of drop-in classes, is perfect for those who enjoy spinning. In-Shape in Cathedral City and EOS Fitness are two of Greater Palm Springs' general fitness centers that also offer seven-day passes. Unique to Greater Palm Springs is Kirkfit, a $15-per-day gym in Indio that offers a variety of classes and personal training.
If You Want to Try Something New
Looking to incorporate new fitness routines into your getaway? If you've never tried CrossFit, Coachella Valley CrossFit offers classes for beginners. Take a break from traditional fitness by trying Desert Serenity Float in Palm Desert, which, just like a workout, can increase your energy, boost your immune system and improve your body's overall health.
If You Want to Immerse Yourself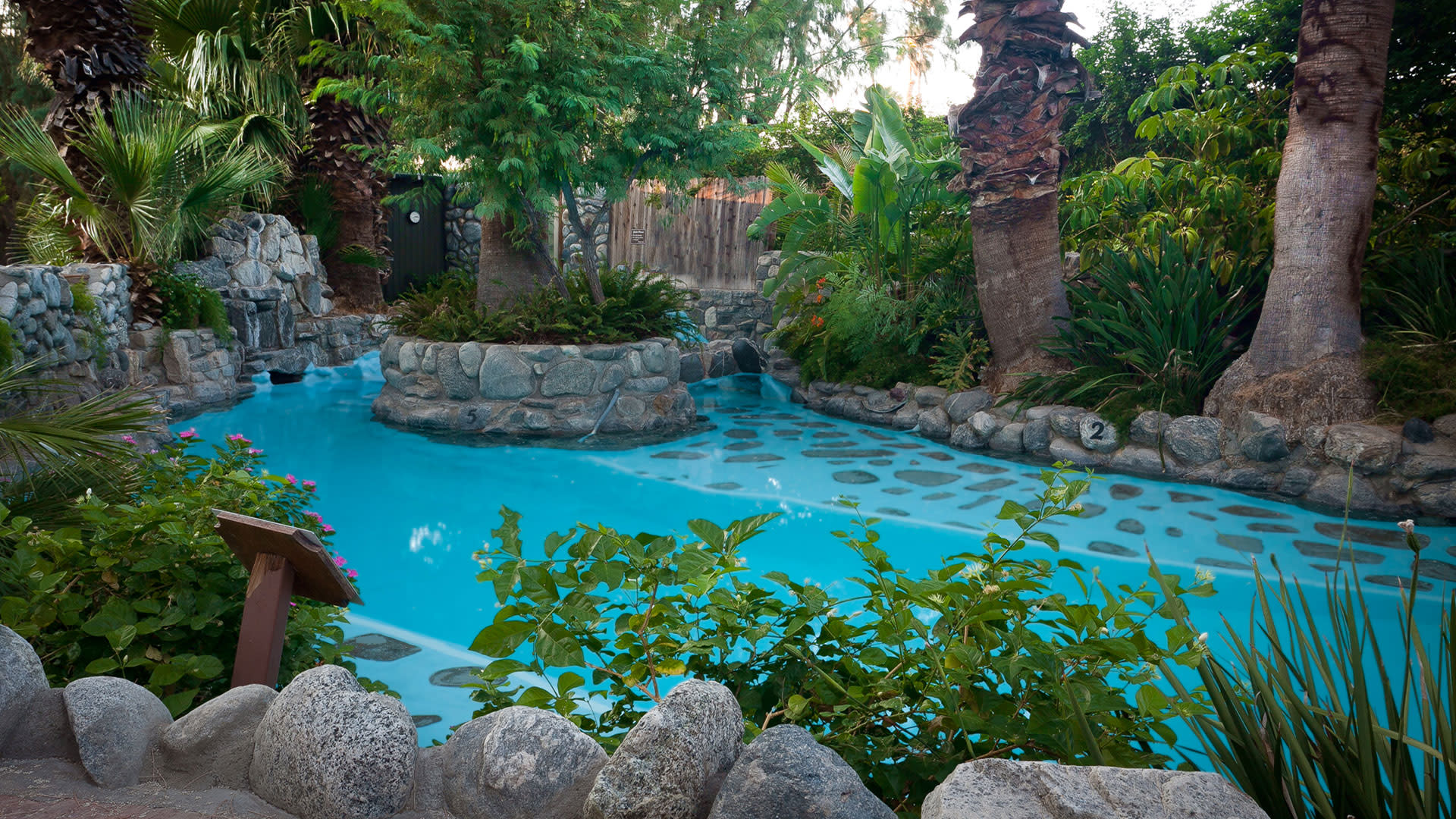 Greater Palm Springs is well-known for its boutique retreats and luxury resort spas. If you're looking to fully immerse yourself in a health and fitness experience, check out Two Bunch Palms in Desert Hot Springs or simply check into your resort's own spa, such as The WELL Spa at Tommy Bahama Miramonte Resort & Spa in Indian Wells. With natural underground mineral springs feeding its pools, Two Bunch Palms offers almost 20 different Movement and Enrichment classes. It's just one of dozens of spa options in Desert Hot Springs. The WELL Spa offers a saltwater pool, 24-hour fitness center and a whole host of unique treatments, such as the Pittura Festa—a couple's body painting treatment that uses a palette of therapeutic and colorful muds. Both offer complete getaways from the stressors of everyday life while providing holistic mind and body wellness. For more spa ideas in Greater Palm Springs, check here.
If You Want to Get Outside
Greater Palm Springs experiences more than 300 days of sunshine each year, so it's natural for visitors to want to spend much of their time outside. Options for outdoor exercise combined with sunshine and scenic beauty are endless.
Enjoy a long hike with a choice of more than 160 trails around Greater Palm Springs. The historic trails of the Indian Canyons are open to hikers and horseback riders alike. Hop on the Palm Springs Aerial Tramway to hike or camp at Mount San Jacinto. Enjoy over 20,000 acres of trails, wildlife, and desert wilderness at the Coachella Valley Preserve, known for its many oases.
Also, consider renting a bike at one of the many bike rental shops around Greater Palm Springs. Most rentals include a free map, routes and equipment. To learn more about where best to hike and bike, visit the Hike Greater Palm Springs website.
Photos courtesy of Chris Miller and Point7West Videography.