From perennial sunshine that nourishes Greater Palm Springs' fertile agricultural scene to therapeutic mineral waters and boundless outdoor recreation, the oasis continues to fuel its legacy as Southern California's premier health and wellness destination.
Beyond this spectrum, Greater Palm Springs further bolsters its wellness focus with culinary offerings that encourage healthy food choices that are both sustainable and locally sourced.
Planners can easily incorporate the whole shebang into group events that wow with nosh contentiously prepped with fresh, locally sourced ingredients.
State Fare Bar + Kitchen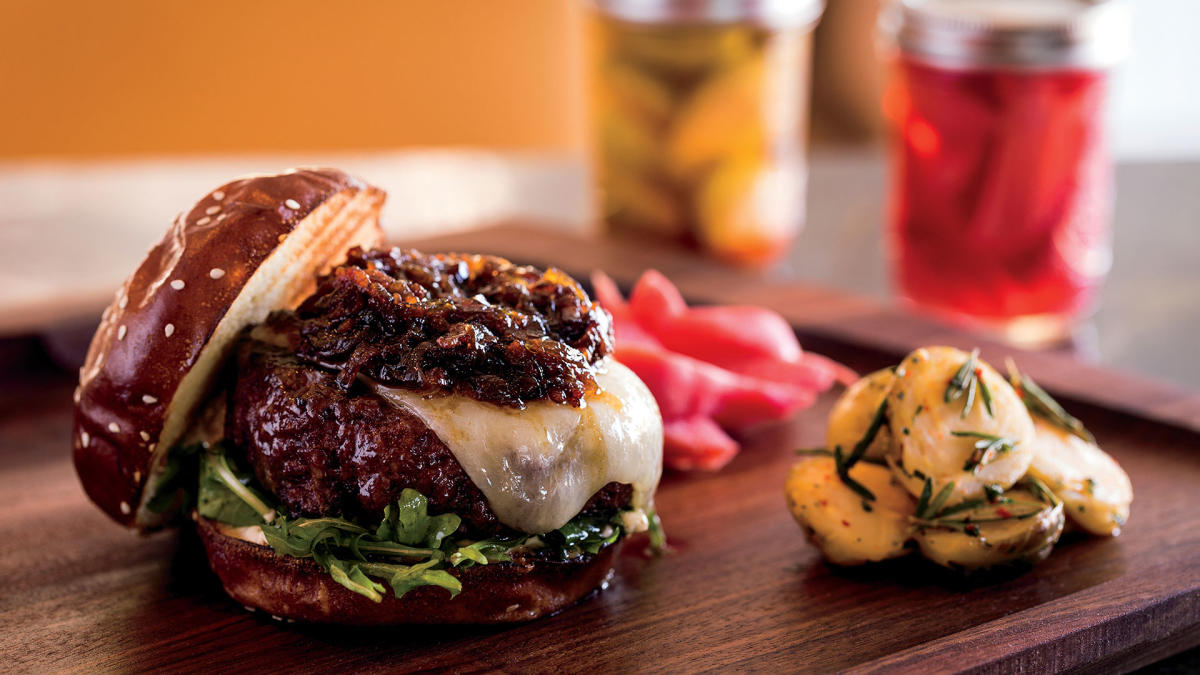 Helmed by Executive Chef Bruno Lopez, The Ritz-Carlton, Rancho Mirage's State Fare Bar + Kitchen dazzles with a fresh, creative California menu prepped in a lively display kitchen. Planners can herd group grazing to the distinctive chef's table, private dining room and terrace overlooking the region's stellar landscape.
"State Fare Kitchen pays tribute to California's prized harvest and ingredients, inspired by offerings from the finest purveyors in Greater Palm Springs, inland Southern California and the Pacific Coast," says Tiffany Gorman, the resort's director of sales and marketing.
Among local farms, ranches and fisheries making Chef Bruno's cut for their sustainable practices are County Line Harvest, Harry's Berries Farm, JJ's Lone Daughter Ranch, Windrose Farms and Shields Date Gardens.
"One of our favorite dishes embracing Coachella Valley's farm-to-table agriculture is the Baby Arugula Salad, made with feta cheese, almonds, honey shallot vinaigrette, and topped with locally sourced Medjool Dates," says Gorman.
Other rave-worthy selections include Roasted Half Cornish Hen, Skuna Bay Salmon and 7 oz. Filet Mignon. As a sumptuous sipping complement, recommend the signature Wolfskill & Pine merging FAIR Vodka, lemon, Rosemary and Chandon Brut.
Twenty6
At La Quinta Resort & Club's Twenty6, Chef de Cuisine Sergio Garza inspires with his innovative approaches to classic dishes prepped with the oasis' finest seasonal ingredients.
Flexing his farm-to-table muscle, the Michoacán, Mexico born and raised chef gravitates to fresh tomatoes harvested literally behind the Madison Street Produce fruit and vegetable stand in Indio. "I love tomato because it's a universal ingredient. You can use it in so many ways and there are hundreds of different varieties, "says the chef.
"I remember as a kid seeing tomatoes in my mother's kitchen all the time. This is a healthy and delicious snack that can simply be enjoyed with a pinch of salt, pepper and olive oil. At  Twenty6, we utilize this ingredient in soups, sauces, salads and pizzas, and we also garnish some of our dishes with it."
Chef Sergio doubles the pleasure of this almighty vine fruit in his Tomato Gazpacho garnished with Tomato Cucumber Relish, as well as in the eatery's Spaghetti with Meatballs marinara sauce. Aside from working with local purveyors, he also taps into the 45-acre resort's citrus groves flourishing with juicy oranges, tangerines, grapefruit, limes and lemons.
Among the bistro's classic comfort foods satiating with imaginative twists are Rosemary Roasted Chicken, Seared California Bass and Chicken Pot Pie. Mocktails play out with a Spiced Prickly Pear Soda and The Lily that quenches with freshly squeezed lemon juice, lemon oleo Saccharum and club soda.
Tommy Bahama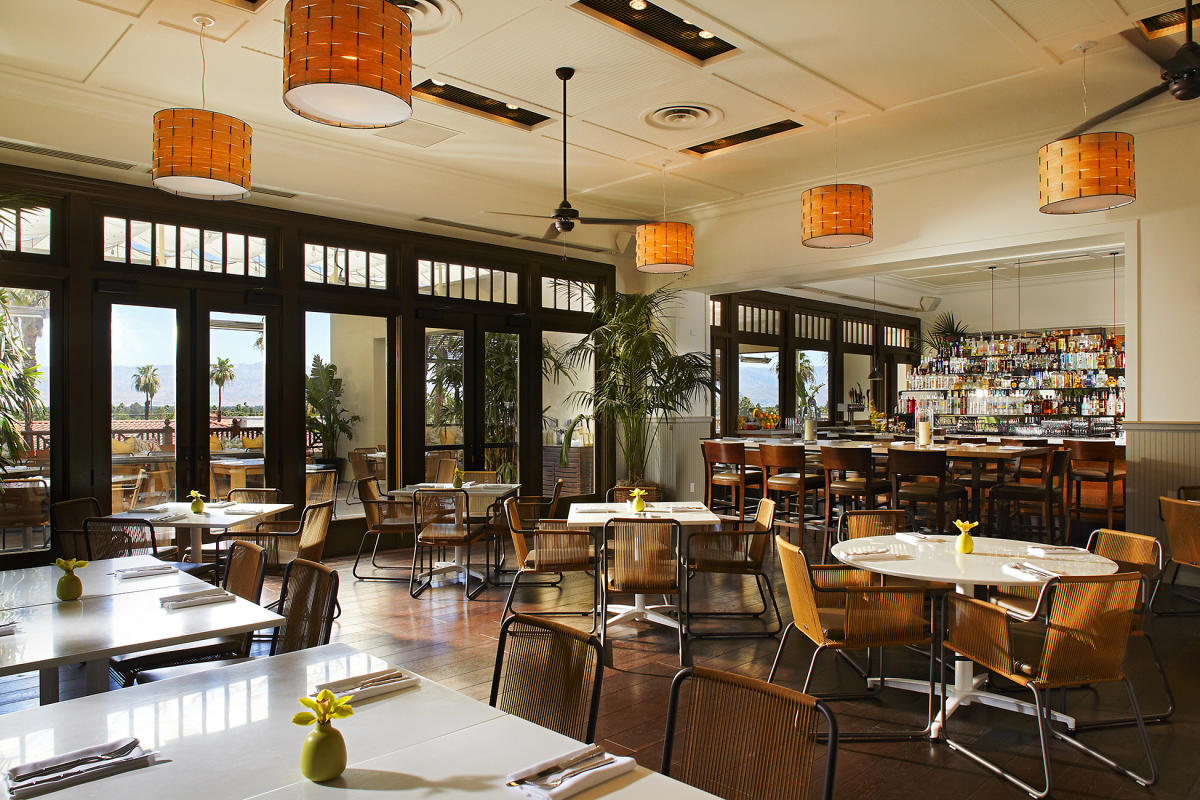 Some justify that nothing works up an appetite quite like a day of vigorous shopping. Especially if that retail rolls out on Palm Desert's El Paseo, Tommy Bahama Restaurant, Bar, and Store at The Gardens is an ideal refuge for refueling.
With a trio of dining rooms accommodating up to 120 for dinner and 180 for receptions, this refreshing alternative to a stagnant ballroom setting spins its locally-infused dishes to gluten-sensitive and vegetarian palates as well.
Think Roasted Seasonal Vegetables with warm farro salad, cauliflower steak, lemon arugula, miso carrots, haricot vert, shiitakes and roasted broccolini garnished with optional shrimp or grilled chicken.  
Considered a younger, hipper cousin to the El Paseo site, Palm Springs' Tommy Bahama Marlin Bar & Grill debuted in 2018 as the first California outpost of the brand's new dining concept. As part of the deluxe Palm Canyon Drive downtown redevelopment project, the casual eatery emits a go with the flow energy for relaxing with cocktails paired to a lighter fare–all topped with the guiltless indulgence of organic soft-serve ice cream.
Signatures include the tried-and-true Chicken and Mango Salad, Ahi Bowls, Lump Blue Crab Salad, Mango Habanero Margarita and Grapefruit Basil Martini.
Trilogy at The Polo Club June Hill's Table
Where Greater Palm Springs' equestrian district seamlessly gives way to vast agricultural lands, Trilogy at The Polo Club stands as a private Indio resort community with a delicious edge. It's home to June Hill's Table, OpenTable's 2019 Diners' Choice for "Healthy Cuisine" and "Scenic View" in Palm Springs and Palm Desert.
The restaurant's moniker was inspired by one of the oasis' most renowned founding residents and the communal table where Chef Jesus Sandoval presents seasonal dishes made from scratch with fresh, local ingredients.
Planners can plug into the private club environment with seating in dining areas with floor-to-ceiling glass walls or an adjacent wrap-around alfresco patio with dramatic mountain vistas. Attendees sip and schmooze over cocktails by the indoor fireplace or around large outdoor fire pits as the sun sets to mark the end of another productive day.
Chef Jesus' specialties include the Local Field Cobb Salad, June's Pot Roast with garlic mashed potatoes, and the Millionaire Burger with Angus brisket blend, white cheddar, house sauce, bacon caramelized demi onions, iceberg lettuce, tomato and brioche. Attendees with picky palates enjoy the option of adding their own touch in Build-Your-Own Wellness Plates that include a choice of protein and sides.
The club is also home to McCarroll's Kitchen culinary studio, where delegates can team-building with a gourmet cooking competition led by onsite chefs.
Kaiser Grille Palm Desert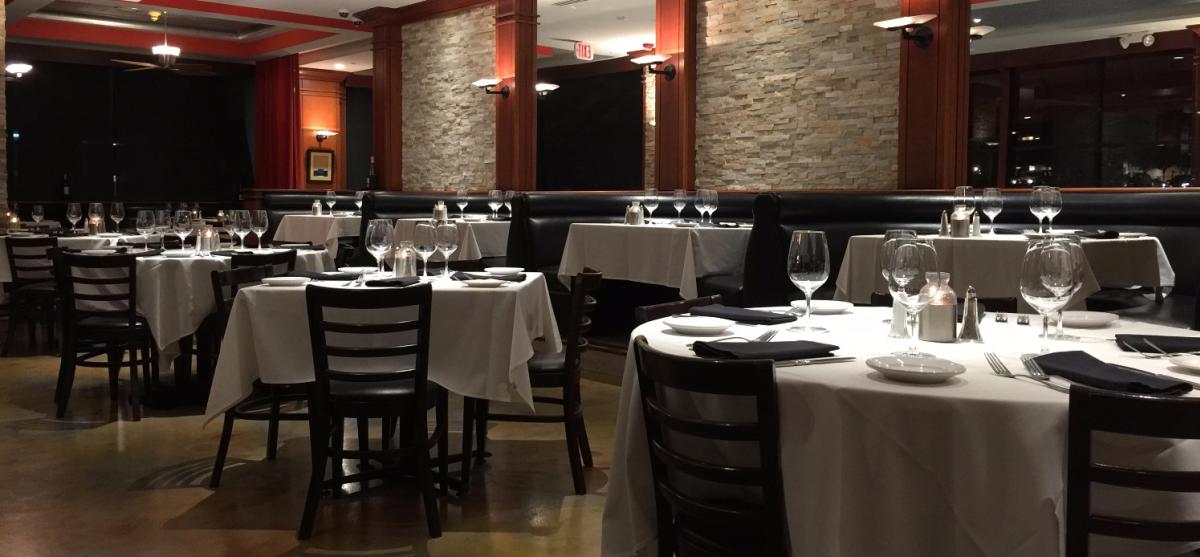 Owner/Operator Eric Morcus and his Kaiser Grille culinary team firmly believe that "You are what you eat" adage. Palm Desert's only locally owned steakhouse takes pride in its thoughtfully curated menu that incorporates all-natural and hormone-free PRIME USDA beef butchered in house daily, free-range organic chicken, sustainable/wild seafood and fresh local produce.
Naturally, beef is king. Highlights include Kaiser's Prime Steaks seasoned with a house blend of sea salts, cracked black pepper and roasted fresh herbs. Other consumable masterpieces include organic Free Range Chicken Piccata and dairy-free and gluten-free Vegan Cauliflower Steak grilled with tofu, spinach and garlic.
Kaiser also scores high marks within the Greater Palms Springs community as revealed in Palm Springs Life Magazine's annual Best of the Best list. For 2019, this favorite was tapped among the tops in Barbecue, Continental, Craft Cocktail, Romantic Dining and Steakhouse categories.
Up to 200 can bliss out for private dining with Kaiser's healthy, satiating fare. Or planners can opt for a total buy-out of this beefy establishment.
Rockwood Grill
Setting a seductive stage for one of Palm Desert's most sophisticated dining experiences, JW Marriott Desert Springs Resort & Spa transports groups to Rockwood Grill and the adjacent Blue Star Lounge via meandering gondolas on Venetian-style waterways.
Rockwood's culinary offerings are equally impressive, as chefs procure fruits and vegetables from California farms and local purveyors that include Suzie's Farms, a USDA-certified organic farm just 13 miles south of San Diego.
These ingredients merge to perfection in such dishes as Lamb Ragu, Half Mary's Organic Rotisserie Chicken, Charred Cauliflower Steak, Chicory Salad and Prime Cowboy Ribeye. Complement a classic closing dinner with Blue Star's salute to Greater Palm Springs in the Desert Harvest with Nolet's Gin and Oasis Heat with Ketel One Vodka, mango puree, lime juice, jalapeño and tajin.
Planners can share this Marriott magic in an elegant private dining room for 60, smaller venue handling 20 or outdoor terrace enhanced by fire pits.
Ready to plan your next meeting in Greater Palm Springs? Take a look at these unique and off the wall venues in the oasis, guaranteed to leave you inspired.