Greater Palm Springs encourages planners to think outside the box for unleashing the power of fresh air, clear skies and dramatic settings that spark innovative thinking, bold concepts and mental rejuvenation. From retro-cool celebrity hideaways to rooftop pools in the heart of the high-buzz action, our meeting oasis invites you to let your creativity run amok.
The Living Desert Zoo and Gardens
For a walk on the wild side, the 1,200-acre Living Desert Zoo and Gardens transport attendees across the globe to an African village, lush Morocco gardens and North America's Rocky Mountains. Some 450 carnivores, herbivores and omnivores cohabitate in the only American zoo and botanical gardens dedicated exclusively to sandy habitats spanning across the globe.
Make a day of it with general sessions surrounded by 50 species of palms on the open-air Palm Garden Patio, interactive lunch breaks with giraffe feedings at Savannah's Landing and team building scavenger hunts along undisturbed hiking trails.
As daylight slips toward darkness, savor farm-to-fork fare in WaTuTu, a 1,000-capacity northern Kenyan Village replica where the intimate District Commissioner House seats 40 for dining with a breathtaking viewing port to the museum's endangered Amur Leopard.
Then put a spin on desert nightlife with a tram tour that unfolds to the sound of zoo residents rustling in the bushes, owls and bats flying through the sky and nocturnal animals staying active beneath the desert moon.
Kimpton Rowan Palm Springs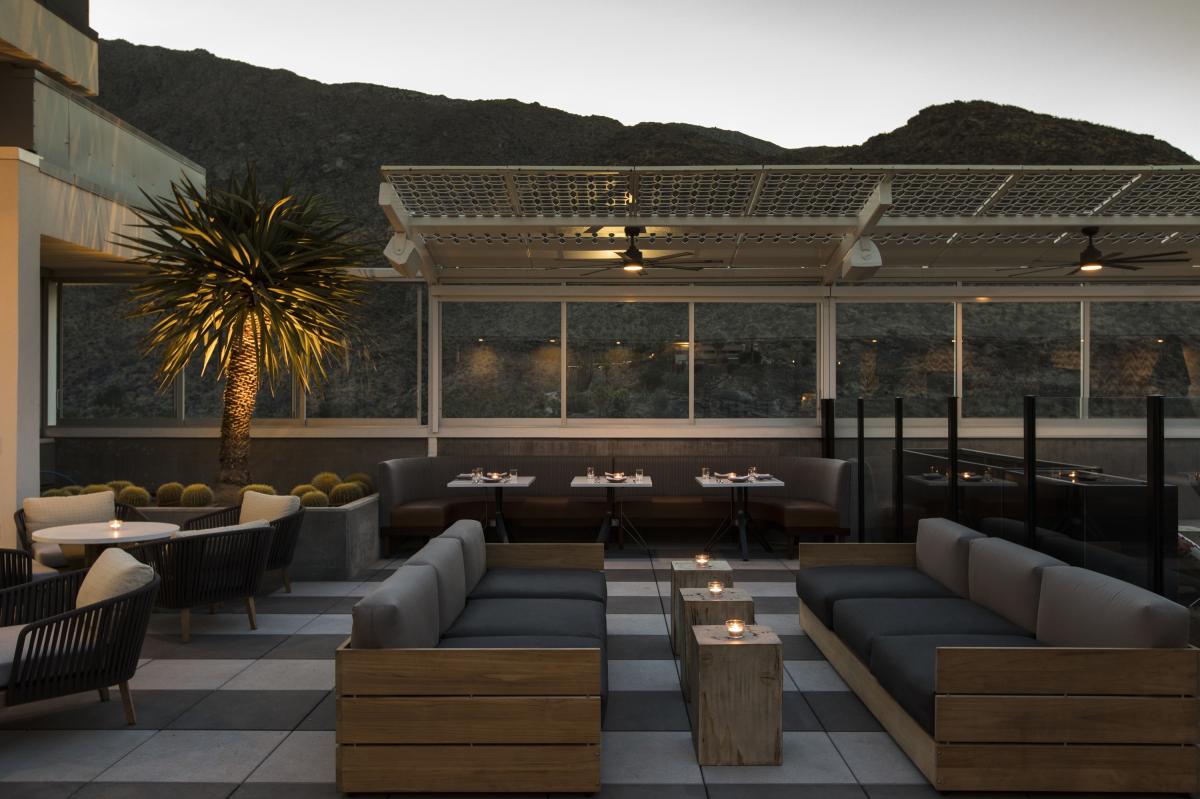 Photo by Laura Joilet
Merging midcentury modernism and vintage touches with a stunning mountain backdrop, the 153-room Kimpton Rowan Palm Springs dazzles as a contemporary haven of cool on West Tahquitz Canyon Way.
Begin the day with an opening session in the Sky Ballroom and shareholder's meeting in the Jasper Boardroom. Add a dash of desert magic with breakouts on the seventh-floor rooftop with a swimming pool and multiple terraces overlooking the dramatic desert valley.
Then wrap up a productive day with a private soiree for 300 on the Rooftop Terrace, where surreal sunsets morph into the seductive nightlife scene. Executive Chef Stephen Wambach of the rooftop's 4 Saints amps up the Valley's fresh, seasonal ingredients with global flavors and techniques.
 
Palm Springs Aerial Tramway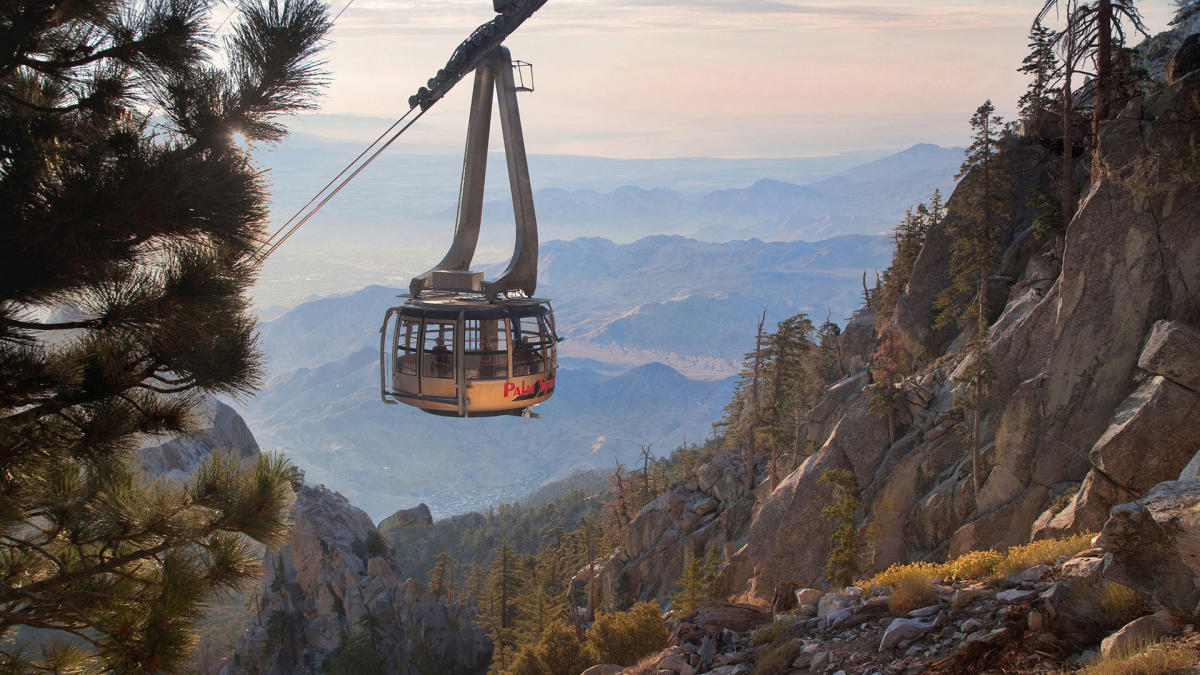 Since debuting in 1963, the engineering marvel Palm Springs Aerial Tramway has hauled nearly 20 million passengers along North America's steepest escarpment. In a swift 10 minutes, modern rotating tramcars transport 80 passengers through 12 climate zones along a 2.5-mile Chino Canyon cliffside climb to San Jacinto State Park's 8,516-foot Mountain Station. Attendees coveting cooler environs revere this perch where the thermostat typically dips nearly 40 degrees from Greater Palm Springs' floor.
Depending on the season, groups can team build in awe-inspiring outdoor settings, and then explore 14,000-acres of pristine wilderness via hiking or cross-country skiing and snowshoeing. From mid-November to mid-April, winter sports addicts can tap into The Adventure Center for gear outfitting.
Peaks brings the beauty beyond inside via floor-to-ceiling windows. Attendees are satiated with fresh bread from local bakeries, and Valley-sourced vegetables, greens, dry-aged meats and poultry. 
Indian Wells Tennis Garden
Unless it's one of the four Grand Slam tennis events held annually in Melbourne, Paris, London and New York City, planners are hard-pressed to find a grander stage than Indian Wells Tennis Garden. Home to the BNP Paribas Open each March, IWTG has upgraded its 16,100-capacity Stadium 1 that now eclipses all but the U.S. Open's Arthur Ashe as the second-largest tennis-dedicated stadium in the world.
But the venue isn't reserved simply for this racquet sport's globetrotting elite. Along with Empire Polo Club that hosts the annual Coachella and Stagecoach music festivals, IWTG has gone concert-centric by welcoming The Eagles, The Who, Luis Miguel, and opera legends Luciano Pavarotti and Andrea Bocelli.
Recent improvements unveiled opulent Stadium 1 suites and remarkable spaces serving up group luxuries and conveniences. Planners are also privy to the flexible venue's concourse that morphs from a trade show setting into an engaging village where attendees can shop while sampling local delicacies in the shaded open-air pavilion.
La Quinta Resort & Club, A Waldorf Astoria Resort


On the heels of its successful 1926 opening, La Quinta Resort garnered raves from the cinema elite required to restrict travel no further than two hours from Hollywood to avoid reshoot delays.
Greta Garbo, Clark Gable and Shirley Temple were among marquee stars to frequent this desert hideaway. While Gable sought revelry with his highly spirited cronies, Garbo came to escape the spotlight. Planners can dial into either extreme in this 45-acre retreat designed with intimate whitewashed accommodation enclaves clustered around 41 pools and 53 jet spas.
The reclusive Garbo dodged the spotlight at La Casa, now a socializing function venue with 10,500 square feet of alfresco space. Attendees can brainstorm on the lawn, socialize in the courtyard, and imbibe with cuisine and spirits on the patio.
For mainstream hoopla, two Plaza levels are embellished with winding walkways trimmed by waterfalls, fountains and vibrant foliage. Meetings and trade shows can plug into outdoor seating areas for networking, create "pop up" displays and wow with roaming dinners where farm-to-table food stations present the region's sustainable food.
JW Marriott Desert Springs Resort & Spa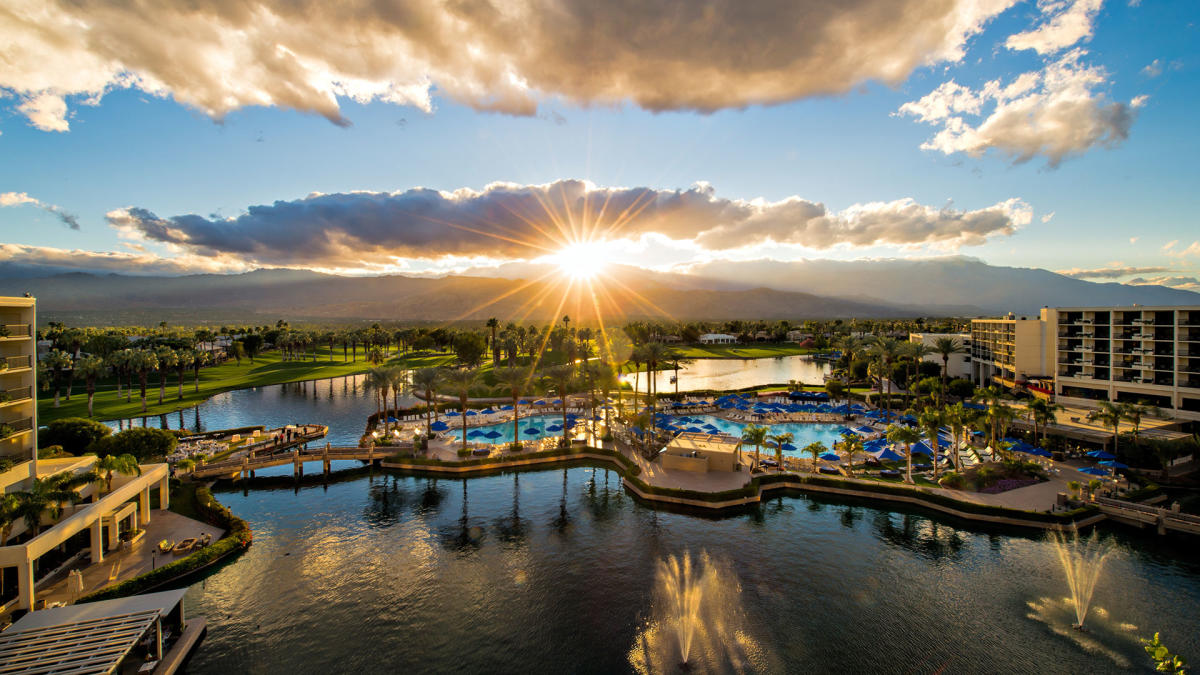 Defining the "go with the flow" adage, the 884-room JW Marriott Desert Springs Resort & Spa wows with Venetian-inspired waterways sprinkled with gondolas rambling from the atrium-styled lobby past The Spa at Desert Springs, and swimming complexes trimmed by five poolside cabanas for breakout sessions and networking.
Fuel lectures, breakouts and receptions with "solar power" in the palm and fruit tree-lined Grove and Springs Pool. Or court tennis-centric attendees with round robin tournaments, clinics and camps at the Desert Springs PBI Tennis Club.
The resort's Lawn Games program unfolds as another outdoor outlet for team building through badminton, horseshoes, croquet, lawn bowling and a half-court NCAA basketball setup. Golf also swings into play, of course, on a pair of Ted Robinson-designed courses and 18-hole putting green.
Escena Golf Club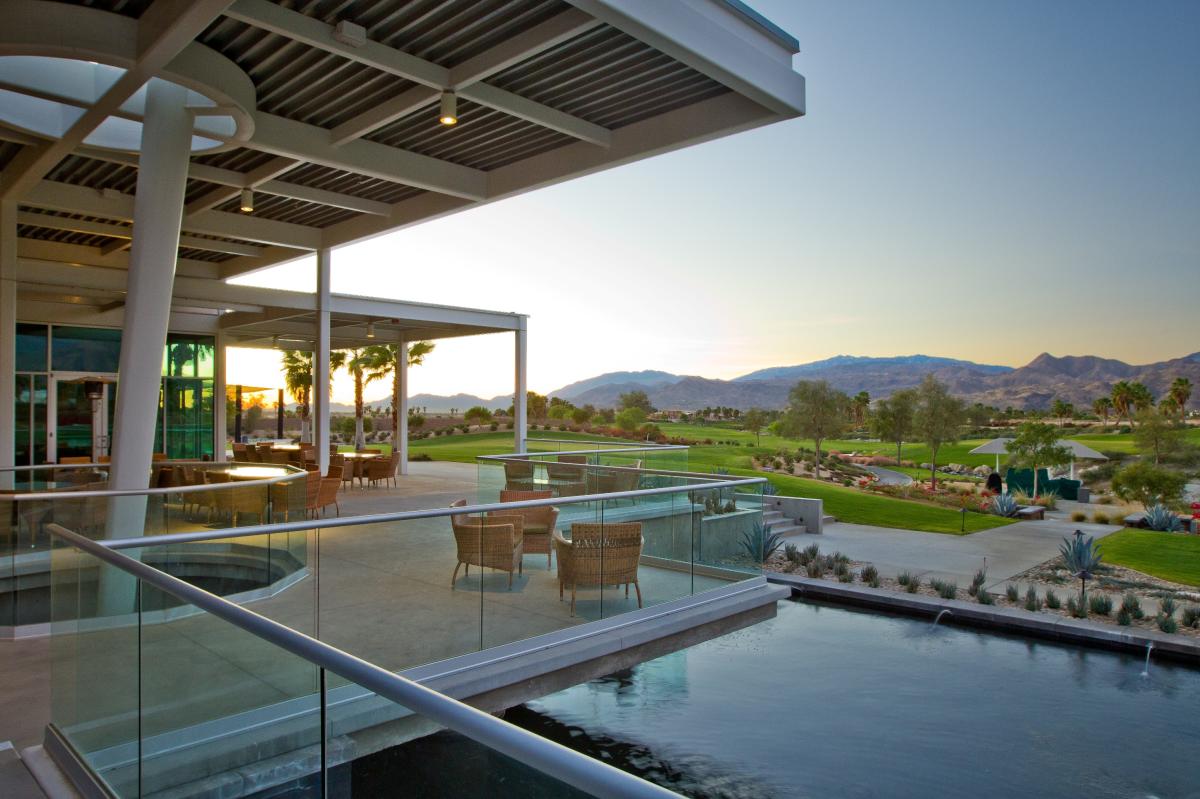 Turning heads with indoor and outdoor event spaces that include a private dining room and event patio, Escena Golf Club welcomes planners to plot a plan with traditional and non-traditional event formats and intra-tournament competitions that can be mixed in with Jack Nicklaus Design Golf.
Prompt interactions with everything from team building via synchronized swimming and croquet tournaments to fireside chats, mixology competitions, and Sinatra-themed evenings infused with martinis and dancing to a 10-piece orchestra.
McLean Company
It should be no surprise that homes of former affluent Palm Springs residents possess perennial appeal and intrigue. Just imagine the rush of gathering in the original home of Liberace, the Las Palmas estate built by Hollywood's singing cowboy Hoot Gibson, and other domains occupied by Elizabeth Taylor, Marilyn Monroe, Dinah Shore and World War II General George Patton.
Among McLean Company's newest venues is The Bella Donna Estate, an artistic masterpiece merging two separate La Quinta homes into one. "The previous owners who were both artists decided to combine their homes to create one palatial estate," says Ashley Kuregian, McLean Company's Event Coordinator.
"The backyard is a beautiful oasis with a 25-foot waterfall feature, an infinity-edge pool, palapa bar and hidden cove with a hammock." Kuregian recommends that planners plug into the venue for opening receptions, dinner parties, corporate mixers, cocktail hours, seminars and closing banquets."
She also applauds Colony 29, the former home to Palm Springs artists, musicians and writers destined to escape Los Angeles for a less frenzied desert life.
In 1929, John Burnham, son of NYC's Flatiron Building architect Daniel Burnham, built his residence here in what would become Coachella Valley's first gated community. "Each villa's walls are adorned with black and white photos of Palm Springs during the 1940s, 1950s and 1960s, and the charm of old Palm Springs can be felt in every nook and cranny," says Kuregian.  "With furniture dating back to when the homes were first built, Colony 29 is truly is a special experience with magic during the day and perpetual mystique at night." 
She comments that Colony 29's unique qualities include a palapa treehouse, outdoor bathtubs, two swimming pools in the lower grounds, a large saltwater pool with attached Jacuzzi, waterfalls and a waiting pool at the main house. "Our clients appreciate these built-in amenities when they are crunching numbers for their event budgets," Kuregian says. "The mature and lush grounds make you feel as if you are in another world after entering the gates."

With near perfect weather and astounding views, Greater Palm Springs is the perfect place to meet outdoors. Take a look at some of the best outdoor venues in the oasis here.