Located in the heart of Greater Palm Springs, tucked against the base of the awe-inspiring Santa Rosa Mountains, lies your next meeting oasis—the city of Indian Wells. From an impressive collection of resorts and unique venues to a diverse selection of off-site activities, there are endless reasons why a trip to this beautiful destination is bound to be unforgettable. If you're looking for a great place to host your next business meeting, conference, or special event, here are six reasons why Indian Wells should be at the top of your list.
1. Scenic Beauty & Ideal Weather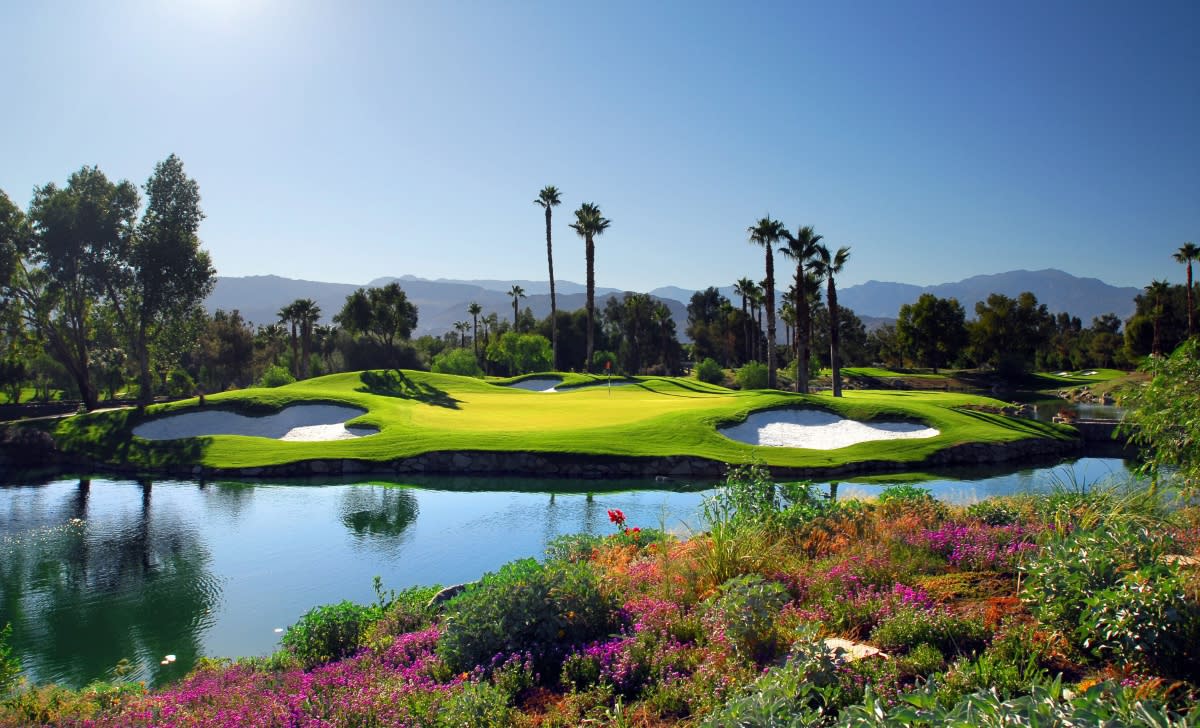 The breathtaking panoramic views that surround Indian Wells make for the perfect backdrop for any meeting or event. The natural beauty of the area is sure to impress, and you can take advantage of it by hosting an outdoor event or choosing a venue with expansive windows and outdoor terraces. The city also boasts an average of 350 days of sunshine each year, making it the perfect destination for work or play.
 
2. Accessibility 
An exceptional meeting experience begins the moment attendees arrive at the Palm Springs International Airport (PSP), known for its ease of travel, relaxing ambiance and open-air breezeways. In fact, PSP was named one of the "Top 10 Most Stress-Free Airports in America" by SmarterTravel.com. To meet the ever-increasing demands of the business traveler to Greater Palm Springs, PSP now offers 12 airlines flying nonstop to PSP from 32 destinations and connecting from more than 500 destinations worldwide. From the airport, it's only a 20-minute drive to the city's four world-class resorts. Once you arrive in Indian Wells, the city is easy to navigate. Four of the city's resorts, hotels and event spaces are located within walking distance of each other, and parking is typically available on-site or nearby. However, if you aren't planning to fly, Indian Wells is also located near main highways, including Interstate 10, making it easy to access from Los Angeles, San Diego, and other major cities.
 
3. World-class Resorts
With over 250,000 square feet of unique and flexible indoor and outdoor meeting space, Indian Wells offers four world-class resorts that can accommodate both large and mid-sized groups.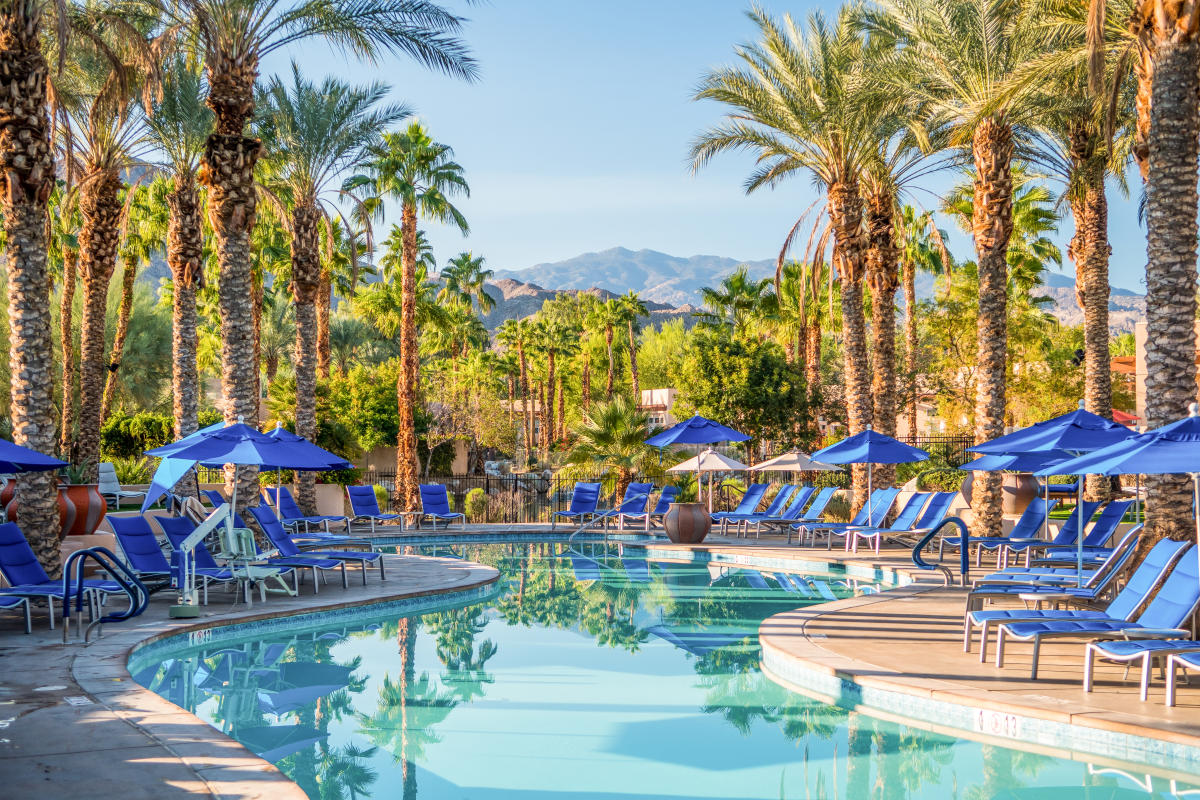 The Hyatt Regency Indian Wells Resort & Spa is an expansive resort featuring 530 guest rooms and suites, along with 88,000 square feet of indoor and outdoor event space, including a 20,000-square-foot ballroom. Reimagined dining areas, unique outdoor meeting and breakout spaces, and an updated lobby. If you follow this four-star resort out to the scenic mountain views, you will see the new 450-foot lazy river, 30-foot waterslides and seven swimming pools, making it a fun location for attendees to bring their families! The resort offers a variety of amenities, including tennis courts, an award-winning spa with a fitness center, and championship golf.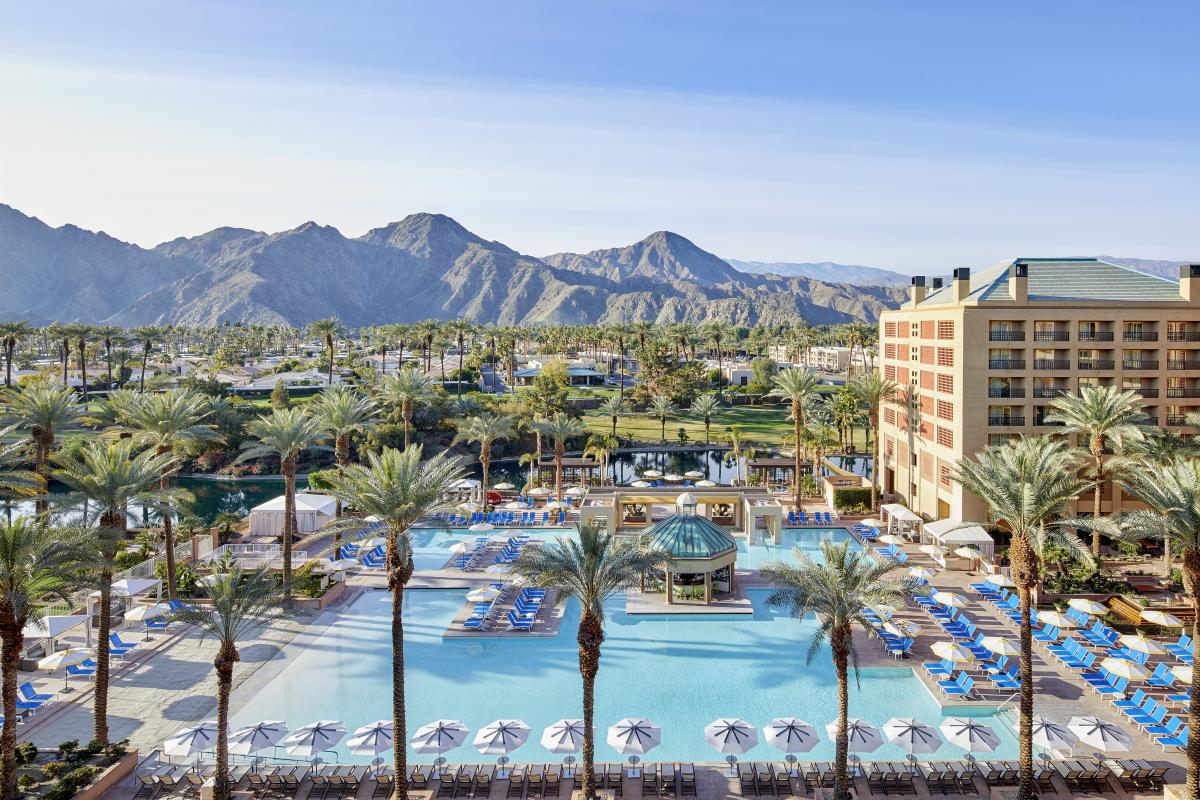 The Renaissance Esmeralda Resort & Spa features 109,000 square feet of indoor and outdoor unique and modern meeting spaces that flow to sunny event lawns, gardens and poolside terraces. Find guest rooms and suites designed with a combination of mid-century modern style and hues that draw on the vibrant aesthetic of Southern California. A recent 560-room renovation — including 103 suites — looks out upon breathtaking views of the mountains. Here you will find a beautiful olive grove for your next lawn event, a refreshed lobby and bar and a fitness center complete with Peloton bikes and state-of-the-art exercise equipment.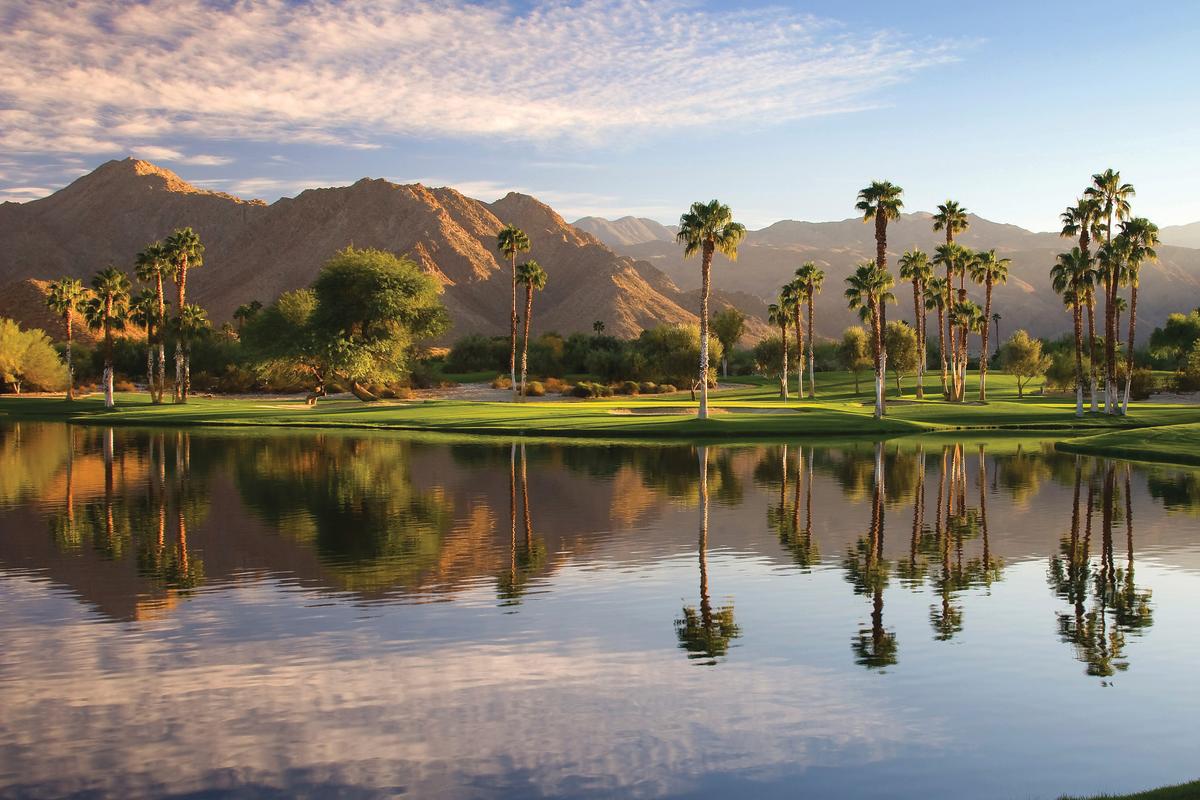 Take a step back in time at the Indian Wells Resort Hotel, founded by Lucille Ball and Desi Arnaz in 1957. Today, this beautiful property is equipped with over 30,000 square feet of indoor and outdoor event space, two pools, two tennis courts, live entertainment,  in-room or poolside massages, a daily free breakfast buffet and a retro atmosphere resembling that of the Rat Pack era.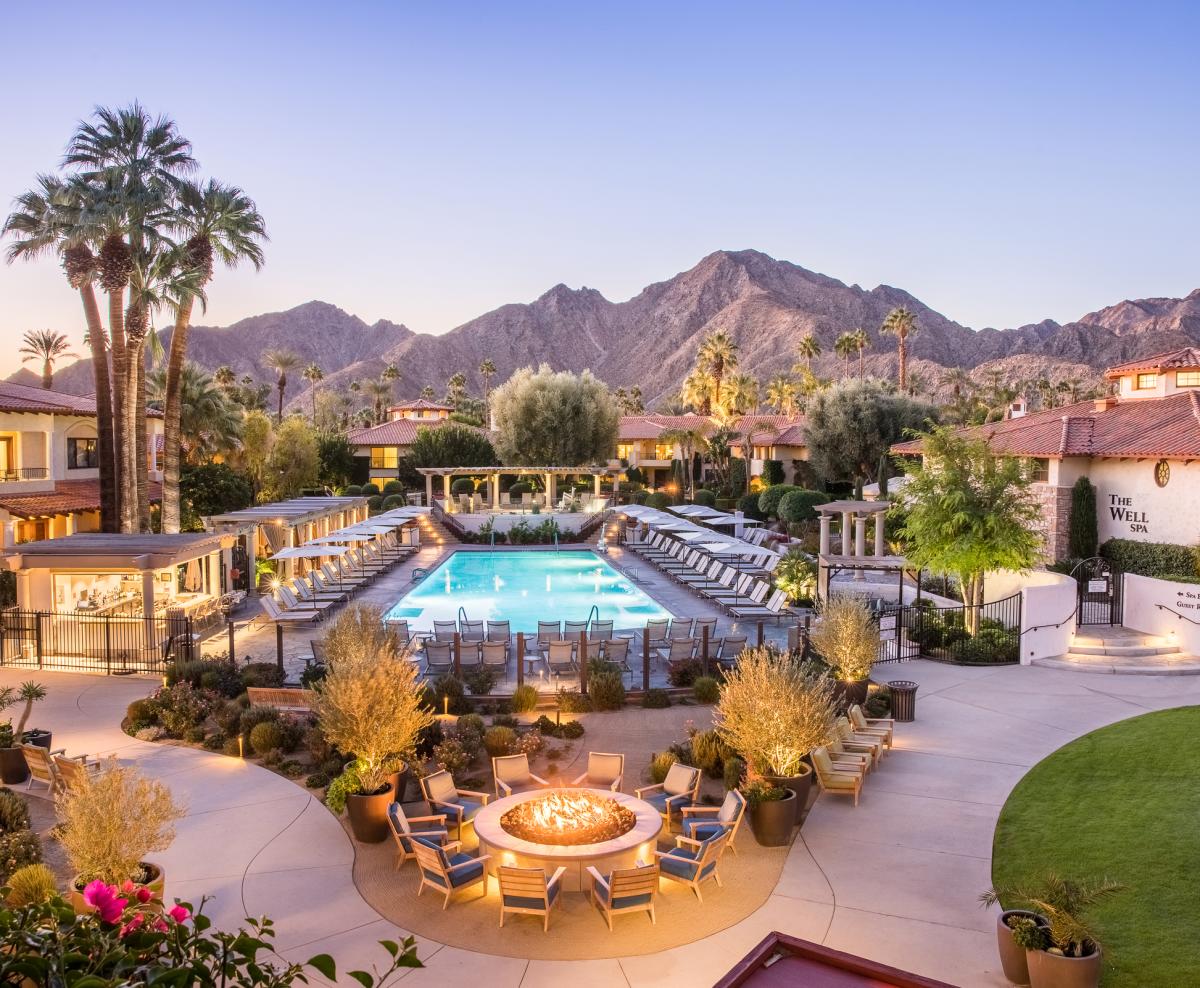 Miramonte Resort & Spa offers stunning views and an intimate location for groups. The guest rooms, suites and villas are woven into 11 acres of olive trees, citrus groves, rose gardens and the chef's own herb and vegetable garden.There are 215 guest rooms and suites, as well as 18,000 square feet of indoor and outdoor event space. The hotel is currently undergoing a stunning property-wide transformation, which will include redesigned and upgraded rooms, a new restaurant and bar concept, new outdoor dining and gathering spaces, modernized meeting rooms and an updated pool experience.
4. Eclectic Dining
Indian Wells has a thriving culinary scene, with a variety of restaurants and cafes offering everything from fine dining to casual eats. Each of the city's resorts also feature award-winning restaurants, making it easy to host a delicious meal for your group without even needing to leave the hotel. 
However, if you're looking to wander beyond your resort property, grab a table at Vicky's of Santa Fe, which has been awarded "Best Hot Spot" and "Best Live Music Venue" by OpenTable numerous times, or head to the VUE Grille & Bar at the Indian Wells Golf Resort for award-winning cuisine from an expert culinary team and the most impressive bourbon selection in the valley.
For something a bit more casual, try Don Diego's, known for their delicious authentic Mexican cuisine, Eureka!, which serves classic American food, or IW Coffee for a small bite and pick-me-up latte. Their coffee is actually made with fresh, locally roasted beans from Joshua Tree!
If elevated dining is more your style, make a reservation at Nobu, which is now permanently open to residents and visitors. This world-famous Japanese restaurant located in Stadium 2 of the Indian Wells Tennis Garden has recently opened its doors to the public year-round after a successful debut during the annual BNP Paribas Open.
5. Premier Golf Courses
Make your business trip a perfect balance between work and play by swinging into a golfer's paradise at the Indian Wells Golf Resort. After all, some of the best ideas have been prompted from an afternoon on the green. The Indian Wells Golf Resort is home to 36 holes, lush fairways, and panoramic mountain views. The Players and Celebrity courses have ranked in the Top 25 "Best Municipal Courses in the United States" by Golfweek Magazine and hosted Golf Channel's Big Break and the PGA's Skins Game. 
6. Off-Site Activities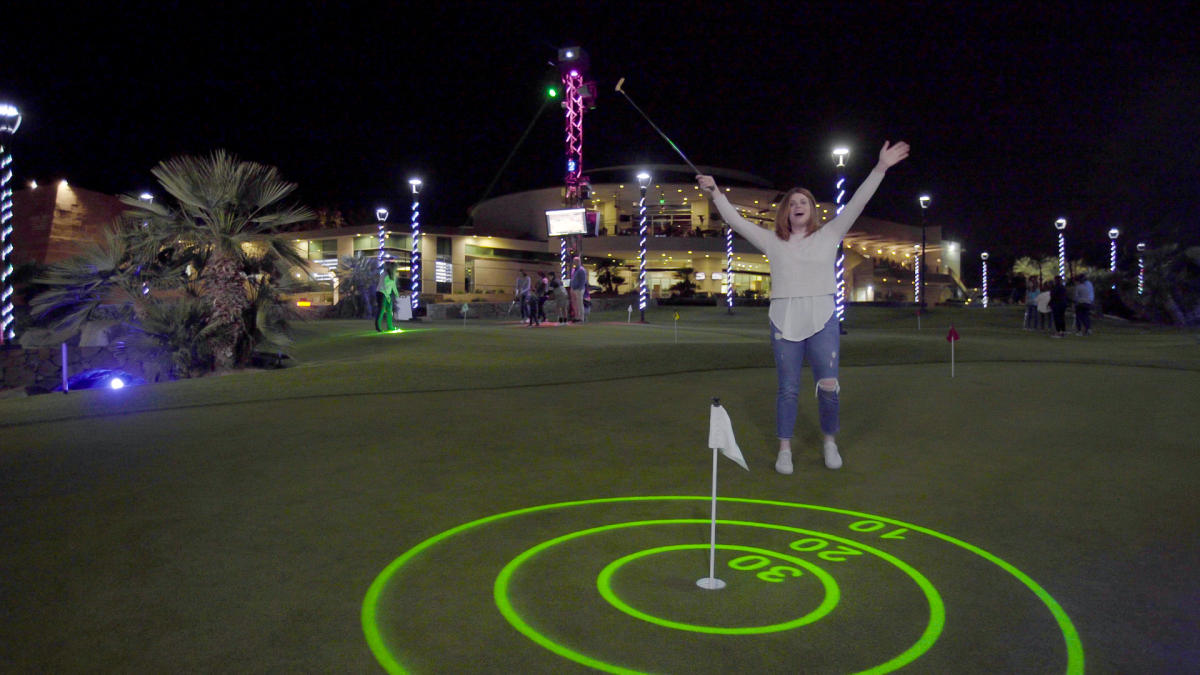 In addition to golf, Indian Wells offers a variety of activities for your group to enjoy. Soak up the fresh air and perfect weather while treating attendees to a unique outdoor team-building activity like Shots in the Night, an after-dark golf experience at the Indian Wells Golf Resort that mixes mini-golf with colorful lasers, glow-in-the-dark targets, music, food and whole lot of fun. 
Or, embark on a special adventure in a hot air balloon ride above Greater Palm Springs. Celebrate the end of your meeting among the mountains with Fantasy Balloon flights.
Groups can also take a walk on the wild side with a day at the Living Desert Zoo & Gardens. The Living Desert actually offers 12 indoor-outdoor venues of their own. They can accommodate anything from intimate C-suite affairs to black-tie dinners and large conferences. Zoo officials can even coordinate special experiences with animals!
The city is also home to several spas, shopping centers, and attractions, including the Indian Wells Tennis Garden, which hosts the BNP Paribas Open, one of the largest professional tennis tournaments in the world. 
If the above reasons aren't enough to plan your next event in Indian Wells, be sure to check out the Meeting Oasis Incentive program. Visit Greater Palm Springs will provide clients with a rebate that can be utilized for facility rental, food & beverage expenditures, audio-visual expenses, or other meetings-related fees.
With its stunning scenery, accessibility, world-class facilities, golf courses, dining, and activities, you'll find everything you need to host a successful and memorable event in the city of Indian Wells. Explore more reasons to visit beyond this list and start planning your next meeting in Indian Wells.